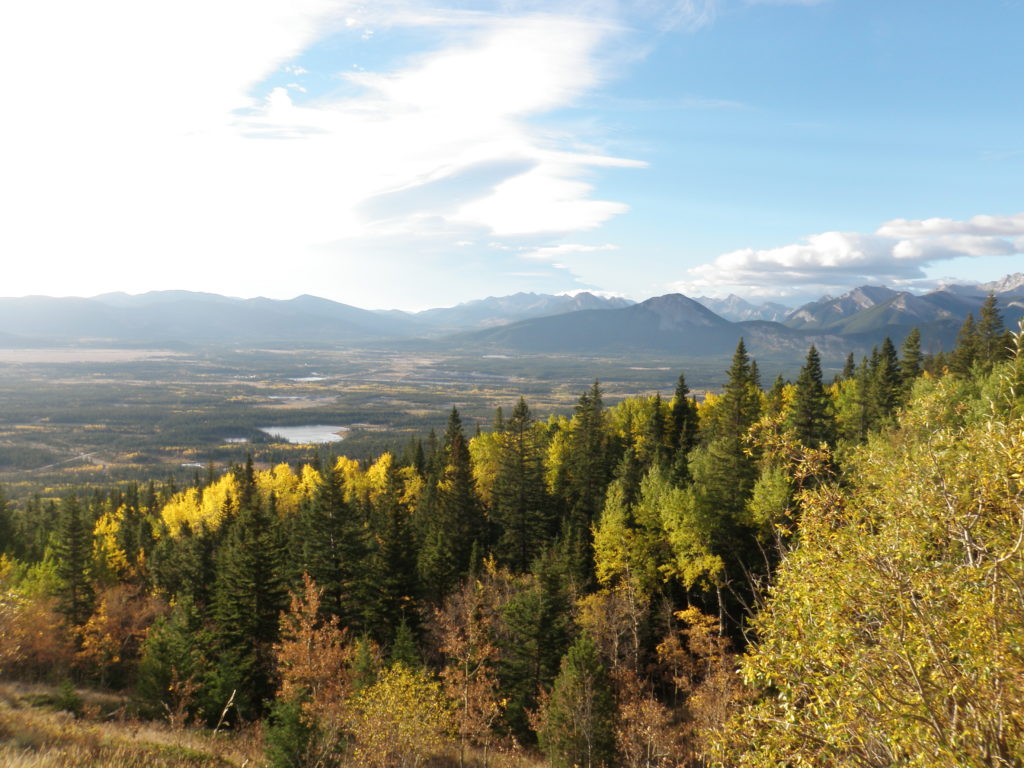 Look dear, it's Bambi! One of the greatest joys of hiking after simply enjoying the amazing views is the chance to view wildlife in its natural habitat.  Watching for different animal tracks, looking for animals, and playing related games can keep children entertained and excited on a hike.
Websites such as Nature Tracking  are useful for looking up and learning about the different tracks and trails that different animals leave behind. They also have a handy app that can help you identify animal tracks that are encountered on the trail.
Checking with your park ranger or Parks Canada visitor centre for recent wildlife sightings, trail closures, and track information is a great first step for planning any hike. They can also help to educate you and your children on the type of wildlife that you are likely to encounter in your area and how to best handle them.
The best bet for safe wildlife encounters of all kinds is to follow these simple pointers:
Remain calm – do not run, panic, or shout

Keep children within eyesight, if not within arms reach

Teach children what to do for each type of wildlife

Keep pets on a leash

Give the wildlife space and do not approach

Allow large wildlife a minimum of 100 meters of space
Here's more details on how to survive wild animal attacks, bug bites, snakes and critters:
Little Critters: Squirrels, Chipmunks, Skunks, Foxes, Birds, and Badgers
For most little critters,  there is no danger, other than startling you when they suddenly cross the hiking trail.
Squirrels and chipmunks will usually run up a tree and start chattering quite loudly at passing people, which can be unexpected in the relative peace and quiet of nature. Birds will hop from tree to tree or along the trail, sometimes seeming to lead people down the trail, especially during nesting season if the trail happens to pass near a nest.
The best way to handle these critters is to simply stop and enjoy watching them for awhile. Although cute and sometimes friendly, it is best to avoid feeding even the little critters as this can turn them into a partially domesticated nuisance.
Some small animals, such as foxes and raccoons may carry rabies, which is a good reason to simply keep your distance and enjoy watching them. Keeping your distance from even little critters is the best practice as any animal may attack if it feels cornered and threatened.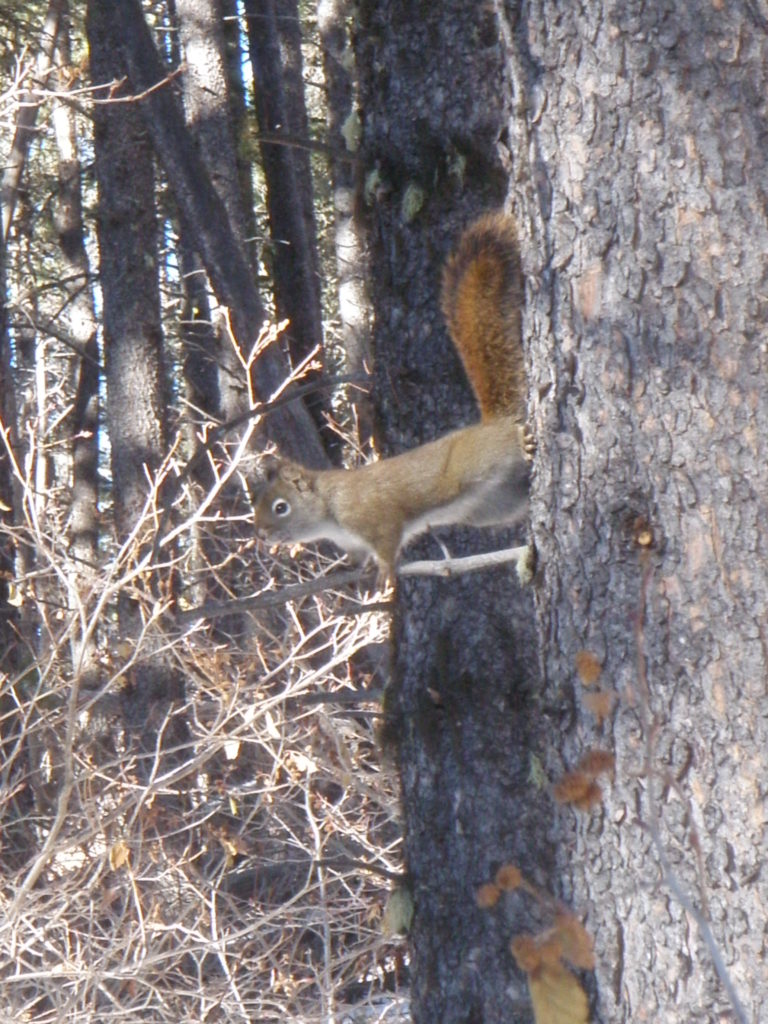 A few special notes about some of these little critters.
Foxes and Badgers
Foxes and badgers are extremely rare and will generally run at the sight of a human. Frequently they will have heard you well before you have heard or seen them so chances are that you will not see any.
The only real danger from foxes and badgers is if they carry rabies or if you get between a mother and her kits. In both situations, it is best to keep your distance from the animal as soon as you notice it and avoid making any sudden movements. 
Of course, like all animals, foxes and badgers can fight fiercely and aggressively if they feel threatened or cornered. Do not approach them if you see them. Allow the animal an escape route and back away if they are acting aggressively towards you or your family.
Skunks
Try to avoid startling skunks. Most people are quite concerned about the possibility, but a skunk will generally only spray as a last defense. A skunk that feels threatened will stamp its feet, hiss, and growl before turning its back to your family and raising its tail. A skunk has very poor eyesight, but can accurately spray from 10-15 feet.
If anyone is unfortunate enough to get sprayed then there isn't much to do until returning to home other than suffer through the scent. Tomato paste, commercial skunk-scent remover, or a combination of hydrogen peroxide, baking soda, and dish soap are all effective home remedies for removing the offending scent.
Skunks are generally most active at dawn, dusk, and on moonlit nights, except in late spring and early summer when the female skunks are active during the day teaching the kits how to forage for food. Dogs are often sprayed by running off trail and surprising a sleeping skunk; this can be prevented by keeping both dogs and children under control and on the trail at all times.
Big Critters: Encounters and Attacks by Deer, Elk, Bighorn Sheep, and Moose
Majestic, quiet, and peaceful herbivores, these animals are all large and beautiful. Being relatively common, it is almost certain that an avid hiker will encounter one of these large creatures at some point.
The largest danger from these big critters would be hitting them while driving so it is essential to remain aware at all times while driving. Otherwise these animals are generally content to simply let you be, provided that you keep your distance.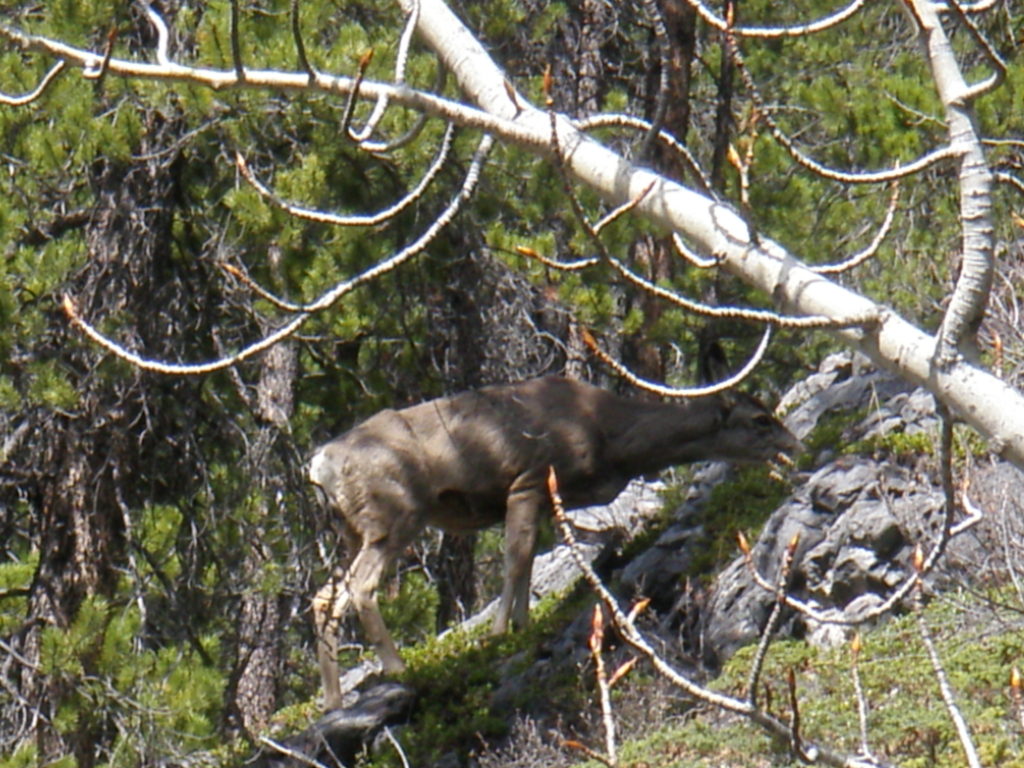 Of course, there is always the odd exception. One bighorn sheep decided to take exception to an outhouse. Unfortunately for my husband, he had just entered the outhouse and ended up trapped there for nearly half an hour! Every time he opened the door a crack to see if the sheep had left, the sheep butt the door closed again. Eventually the sheep decided to investigate the back of the building and my husband managed to creep out the door and into the trees where the rest of our hiking group was watching the situation unfold.
Common Habitats for Deer, Moose and Elk
Deer, moose, and elk tend to be spotted in large clearings, mountain slopes, and fields. Bighorn sheep and mountain goats tend to prefer somewhat steep rocky slopes, although they can also be spotted in mountain clearings. In areas where salt is used on the roads in the winter, they are commonly spotted at the side of the road licking salt off the pavement.
Moose also tend to prefer dense stands of trees and can hide amongst the trees rather effectively despite their size. Areas with a creek, clearings, and tree cover in close proximity are a haven for these large animals.
Apart from spotting the animal itself, they tend to leave fairly noticeable tracks on any dirt or mud trail. During rutting season it might also be possible to see scratches or peeled bark on trees due to their antlers.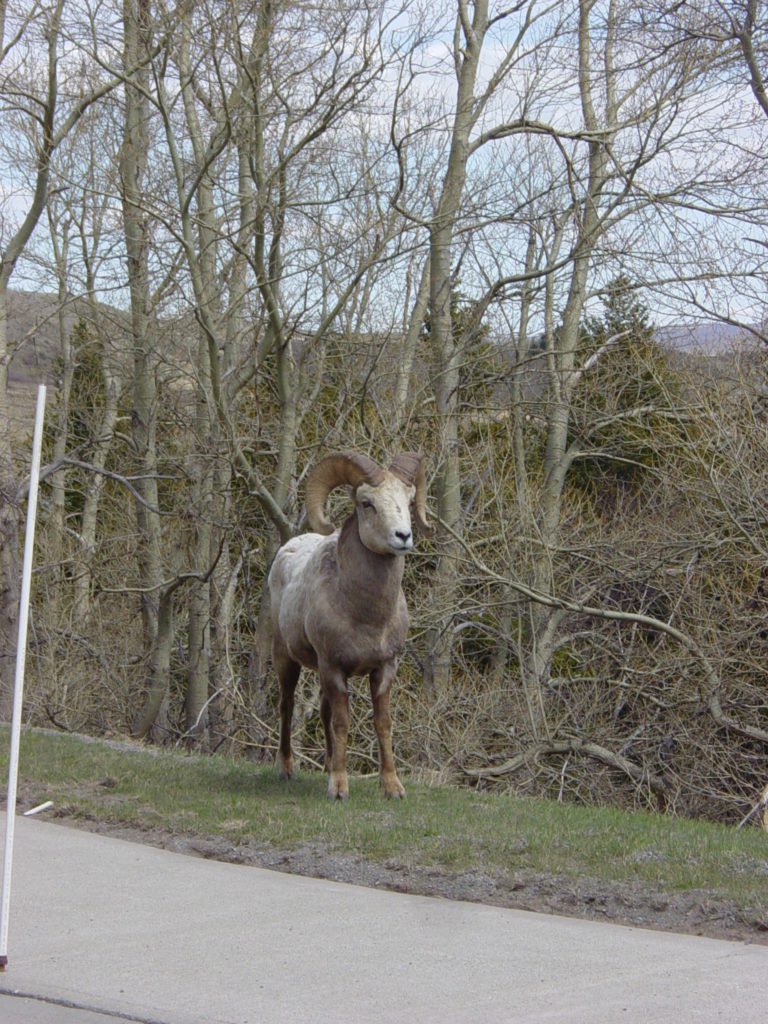 What to do if you are hiking and encounter a Bighorn Sheep, Moose, or Elk
Encountering these animals on a hike can be both awe-inspiring and terrifying. Although most people tend to consider bears to be the most dangerous animals in the wild, the sight of a 400 pound bull moose charging down a trail is one that isn't soon forgotten!
If you encounter one of these animals while hiking, most importantly, remain calm!
If you are less than 100 meters from a large animal
Being this close to such a large animal can be intimidating. It also places you and your family within the 'danger zone'. The animal may feel threatened and may react aggressively to your presence. Deer are more passive and are much more likely to flee. Moose, elk, and bighorn sheep/mountain goats are more likely to react aggressively.
Generally they want to avoid you as much as you want to avoid them. Unless you have startled them, the deer, elk, or moose is likely to simply walk away from you or look at you. While hiking it is advisable to make noise, carrying on a conversation or singing to keep from startling nearby wildlife.
If you see the moose, deer, elk, or sheep exhibiting the following warning signs, remain calm.
Flattening ears to skull

Showing the whites of the eyes

Stamping or pawing at the ground

Lowering the head to expose antlers or tossing the head

Urinating on their back legs
If they are exhibiting these warning signs, a confrontation is possible. They are generally trying to drive you off and establish dominance. Do not stand your ground and do not run. Back away, talking to the animal in a calm and soothing voice. If possible, put a tree, boulder, or other large object between you and the moose, sheep, or elk. Continue backing away until they turn and leave. If they continue to approach, leave the trail and allow them ample room to pass.  Make a lot of noise to ensure that they remain aware of you.
Even with these actions, moose, bighorn sheep, or elk may still charge. This is particularly likely in early summer when mothers have calves or in the mid-fall rutting season. If they do charge, then run! Being herbivores, they lack the predator instinct that encourages them to chase running prey and are instead trying to drive you away. Dodge behind trees to avoid an impact from the charge.
If you are knocked down, then curl up in a ball, protect your head with your arms,. Avoid standing until you are certain that the animal has left the area. Once it feels you are a safe distance away, they should turn and walk away, leaving you and your family alone.
If you are more than 100 meters from a large animal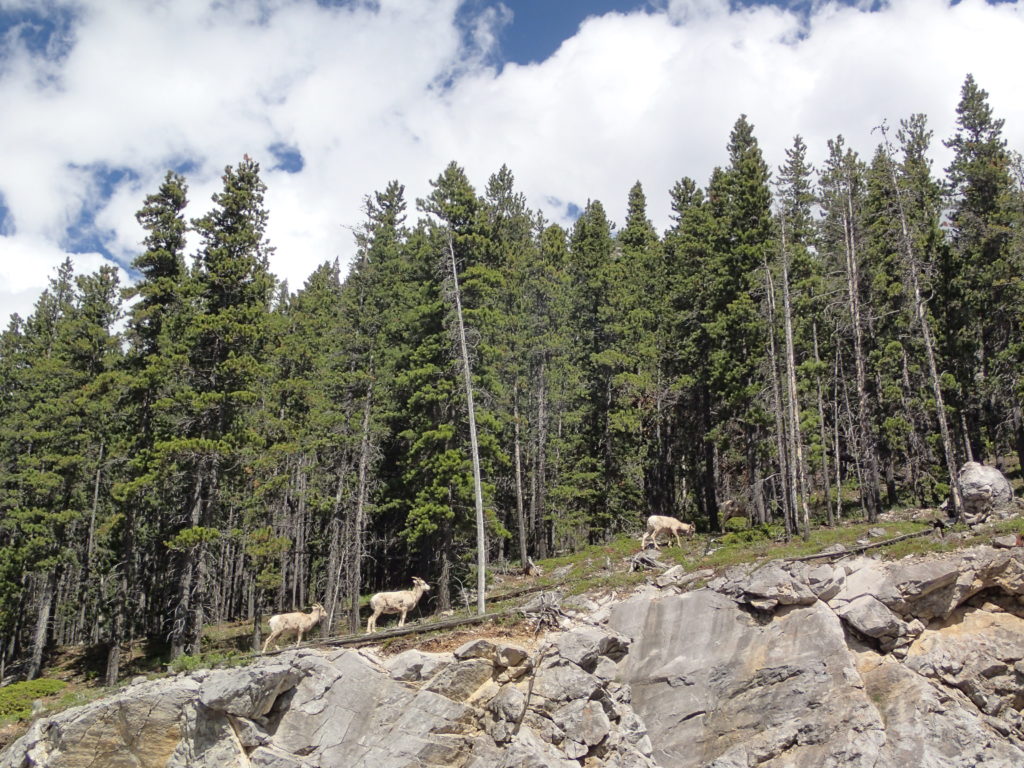 Stay alert and enjoy the experience! Watch for the warning signs mentioned above.
If the animal is walking towards you on a narrow path, make sure to step to the side to allow it room to pass. If possible, step well off the path and put a tree or other object between yourself and the hiking trail. Talk quietly and continue to make noise as it passes. This ensures that it remains aware of your presence and is less likely to startle and react aggressively.
Of course, elk, bighorn sheep, and deer tend to travel in herds. A flashlight can be a useful piece of gear to carry in the event that a hike doesn't go as planned. While hiking a loop track a large herd of elk, that a friend estimated to be around 300 strong, decided to cross both halves of the hiking track, blocking his exit. They loitered there for nearly four hours and only moved on as the sun was setting.
What to do if you are in a vehicle and encounter a Bighorn Sheep, Moose or Elk
Stay in your vehicle! Please keep in mind that this is not Bambi or Bullwinkle. Although vegetarians, these are large and wild animals. If spooked, a single kick or charge with the antlers is enough to seriously injure or kill a grown adult, let alone a small child.
If you are driving on a busy highway, then keep driving. Traffic jams have been known to slow or stop traffic for hours due to people pulling over to get out of their vehicles to look at and take pictures of Elk and such.
If you are on a back road and it is safe to do so, then feel free to pull over to the side of the road to observe the animal. Remain in your vehicle and keep the vehicle running. Take a few pictures, admire the majesty of the wildlife, and then move on. Even in the vehicle do not approach too close and if the animal shows signs of agitation, then keep driving. Bull moose and elk in rutting season have been known to attack vehicles that they perceive to be a threat.
Driving at night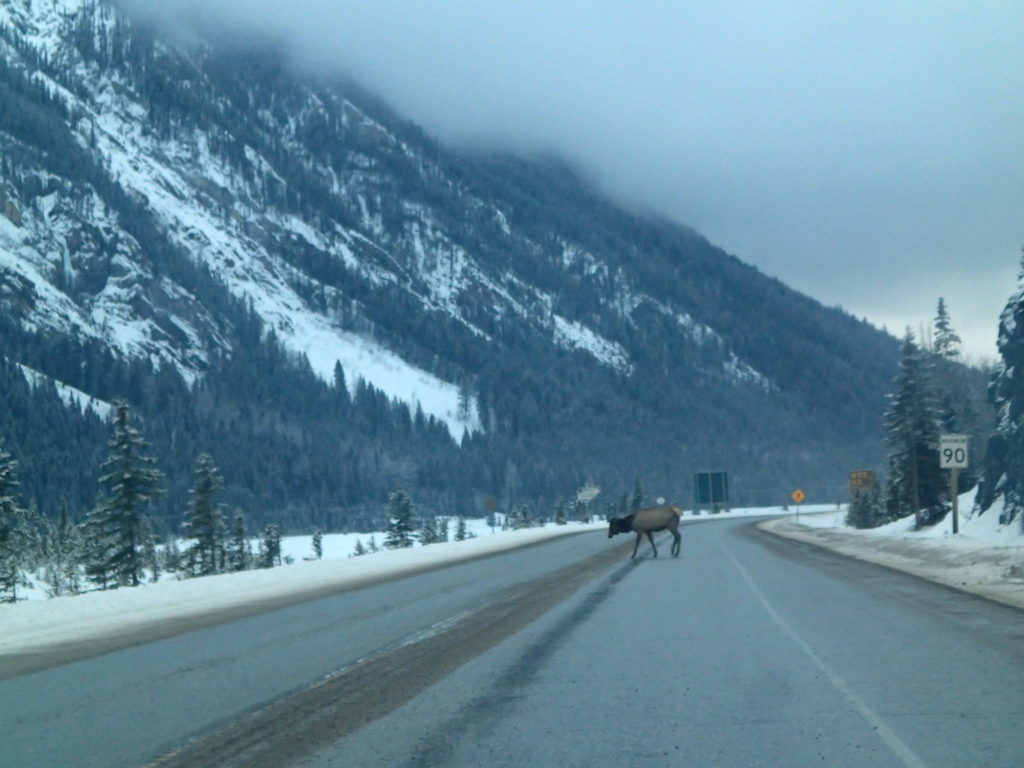 Driving at night through mountainous regions has additional dangers due to the possibility of encountering a large animal on the road. It is best to remain alert and, if possible, have the passenger alert to watch for wildlife as well. If it is at all possible, it is best to avoid driving at night, although the light of a full moon can be quite helpful.
Dawn and dusk are generally the most hazardous as this is when, statistically, animals are more likely to be active. Depending on the position of the sun, this is also the time period where deer and such are more difficult to see.
Being alert for movement is key. Constantly scan the sides of the roads, particularly where there is tall grass, for any sign of movement. Once it is dark, it is also possible to watch for small pinpoints of light that are created by the vehicle headlights reflecting off of the animal's eyes.
Moose are particularly dangerous at night as their coat helps them blend in and their eyes do not produce any kind of reflection. For moose, watch for a dark shadow moving against the darker night.
Cougar / Mountain Lion Encounters and Attacks
Cougars, also known as mountain lions, puma, and panthers, are the largest of the wild cat species native to North America. Their coat is light brown in color, allowing them to blend in fairly easily to trees and mountain surroundings.
Cougars are also extremely secretive; it is extremely rare to see a cougar in the wild. They have extremely good vision and are quiet stalkers. They usually hunt deer, but will take on rabbits, young moose, and other creatures when opportunity presents itself. Travel from dusk until dawn, when cougars are most active, requires special care.
The WildSafeBC website has a lot of information about these elusive cats, including how to work and play in their territories, protecting children, and keeping your home cougar-safe.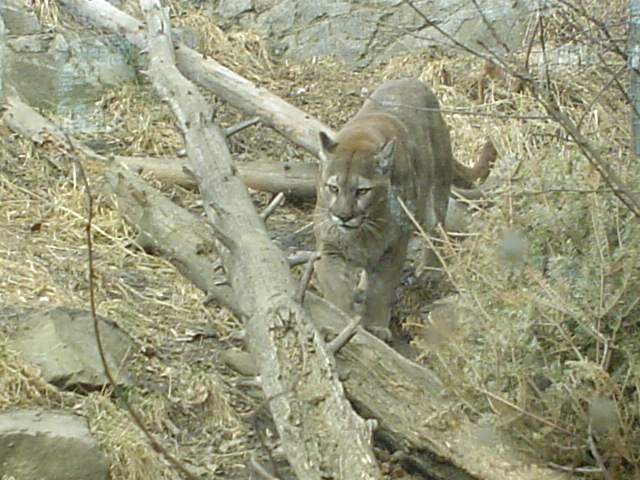 Signs of a Cougar
Cougar tracks are similar to a housecats: large padded feet with claws retracted. Cougars, like the common housecat, will also scratch trees to keep their claws sharp. Look for scratches on trees at a height of approximately 1.5-2 meters above ground level.
It is also possible to come across a cougar 'hide', which is where a cougar has pulled debris over a larger kill. The cougar will return over a period of several days to finish the kill and usually remains in the nearby vicinity to protect its food. This is a very dangerous area to be in and it is advisable to leave immediately. Do not approach the hide.
What to do if you are hiking and encounter a Cougar?
Although generally not interested in adults, a cougar may view a child as an easy meal due to their small size, high pitched voices, and quick movements. Do not let children wander alone and keep them within arm's reach if at all possible. Dogs are viewed similarly. Keep dogs on leash, as an off-leash pet may bring a cougar back to you and your family.
The best way to avoid a surprise encounter is to make noise as you move and to travel in groups of three or more whenever possible.
If you encounter a cougar, then pick up children and small pets immediately.  Make yourself look bigger and talk loudly and firmly as this will help convince it that you are not prey. Do not run as this will trigger the prey response and the cougar will give chase. Back away slowly, keeping the cougar in view. Do not turn your back on the cougar as this presents a target. Allow the cougar a clear exit path.
If the cougar shows aggression or begins following you, then it has decided that you are a potential meal. Respond aggressively. If you are carrying a walking stick or a hiking knife, have them handy for use as a potential weapon. Wave your walking stick and continue to talk firmly and loudly. If you have a jacket, unzip it and wave your arms as this makes you look larger. Pick up rocks and sticks, throwing them at the cougar. Avoid crouching as much as possible while picking things up.
If the cougar attacks, fight back with anything and everything available. Rocks, bear spray, a hiking knife, a water bottle, sticks, or anything else may be used as weapon. Aim for the face and eyes. The point here is to convince the cougar that you are not prey.
Once the cougar leaves, remain calm. After an encounter with a cougar, vacate the area, heading back to your vehicle immediately. Remain vigilant and, if the cougar reappears or follows you, be aggressive towards it again.
What to do if you are in a vehicle and encounter a Cougar?
Stay in your vehicle!! Yes, this is emphasized each time you are in your vehicle.
If it is safe to do so without interfering with the flow of traffic, then it is possible to pull to the side of the road and watch from a safe distance. It is advisable to keep windows rolled up and the vehicle running for increased safety.
Encountering Wolves and Coyotes
Although part of the canine family, wolves and coyotes  are not the same as their domesticated relatives. It is important to stress to children that these are wild animals and that they should not be approached. This can be particularly confusing for smaller children as they might look a lot like Fluffy across the street.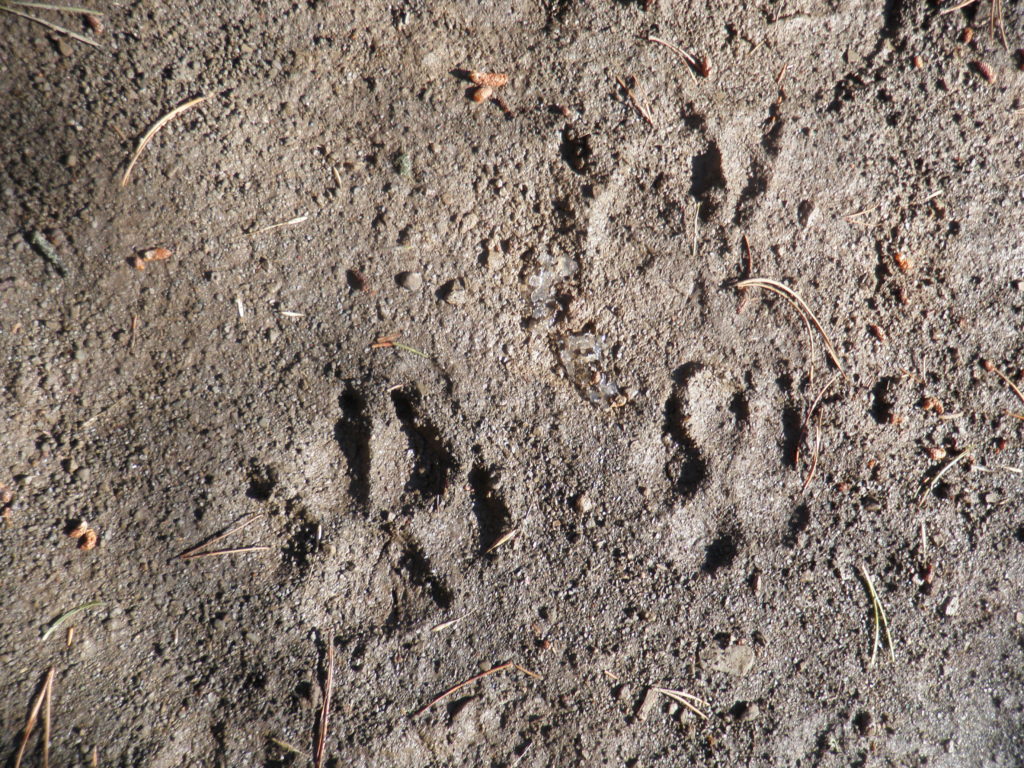 Coyotes are small and can be encountered even on urban hikes. They are omnivores who will eat anything and have thus adapted to life in cities as well as in the wilderness. Coyotes are smaller than wolves and will more often be seen running on their own.
Wolves, on the other hand, are endangered in many parts of North America, and are rarely seen. There are education centers, such as Northern Lights Wolf Centre, that allow people the chance to see and interact safely with semi-wild wolves.
At night, it is sometimes possible to hear wolves and coyotes yipping and howling in the distance.
Things to Look For
Both wolves and coyotes will leave tracks and signs that look very similar to a dog's tracks. They tend to run in packs, however, and will generally leave sets of foot pints.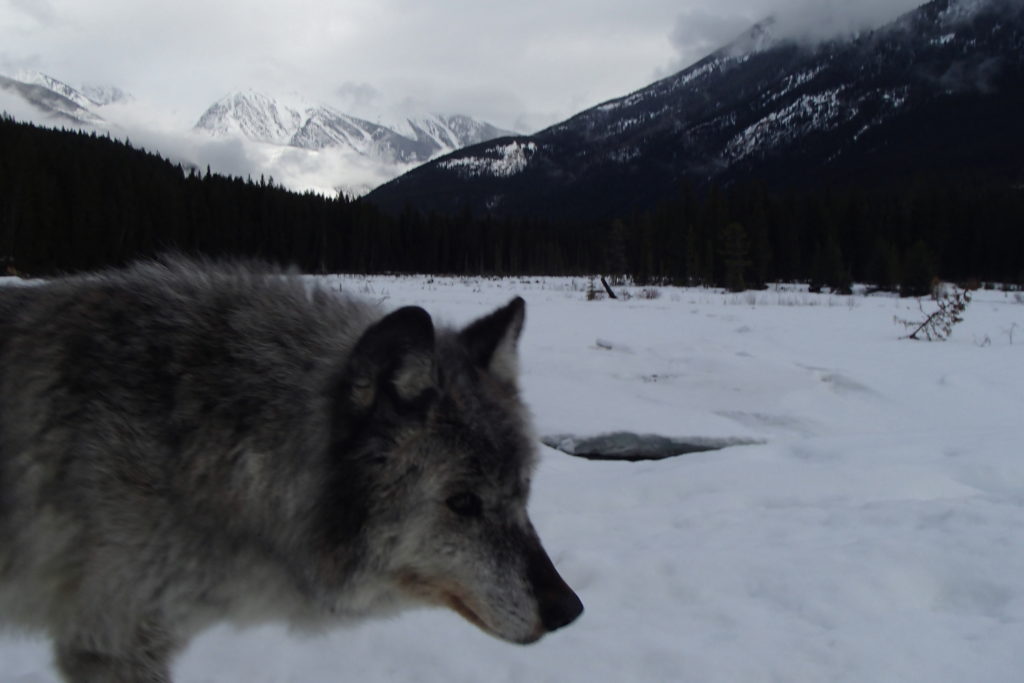 What to do if you are hiking and encounter or are attacked by a Wolf or Coyote?
Although they are both predatory animals, both wolves and coyotes will rarely show interest in humans. Some have been known to follow small children during periods of food shortage, but these tend to be coyotes who have become accustomed to human proximity.
While hiking, always keep children close and within eyesight. Keep pets on leash as this will stop them from antagonizing nearby wildlife or leading an aggressive wolf or coyote back to you and your family.
Wolves and coyotes are generally much more interested in running away from people. In the rare event that one acts aggressively towards you or your family, it is necessary to establish that you are not prey through the following actions:
Make yourself appear larger by waving your arms or walking stick

Pick up small children and keep larger children close

Yell or use noise-makers like a whistle

Throw sticks, rocks, dirt, etc to scare the wolf or coyote away

Act in unison with your family – encourage children to also yell, arm wave, etc.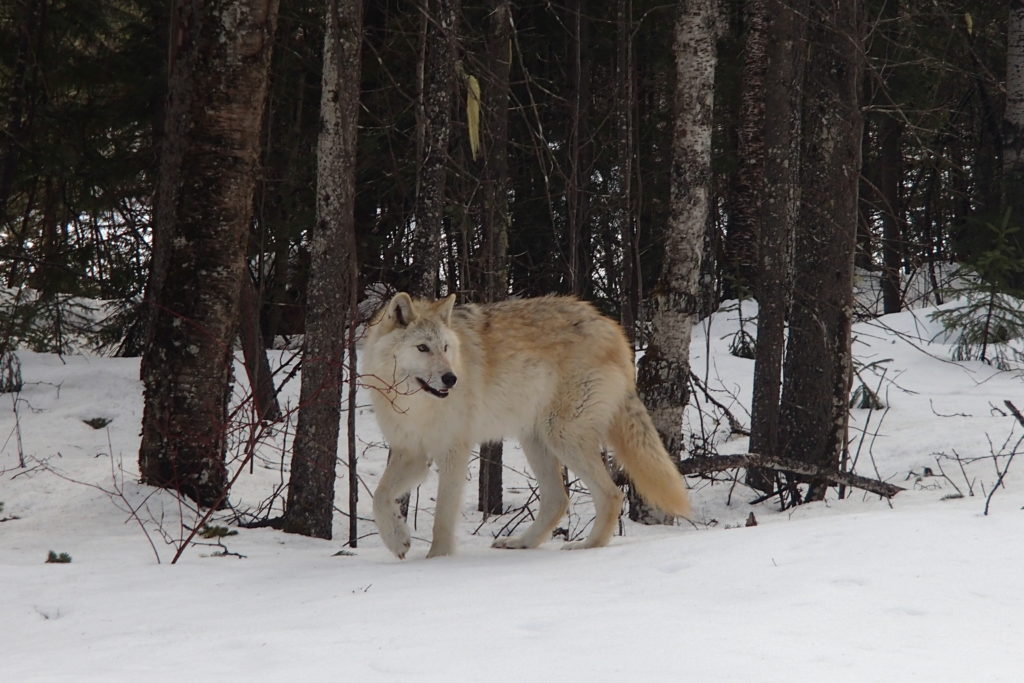 Back away slowly without turning your back on the wolf or coyote. They will eventually decide that you simply aren't worth the effort and leave. After an encounter with a wolf or coyote it is generally best to vacate the area, heading back to your vehicle immediately.
What to do if you are in a vehicle and encounter a Wolf or Coyote?
Stay in your vehicle and remain calm. If you wish to observe the wolf or coyote and it is safe to do so without impeding the flow of traffic, then feel free to pull off of the road to observe them. With their large territories and natural tendencies it is likely that the wolves are coyotes are running and will quickly vanish into the trees or long grass.
Bear Encounters:  Grizzly Bear Attacks and Black Bear Attacks 
Grizzly bears and black bears are the wildlife encounter that scare people the most and tends to prevent people from hiking and camping in bear country. There are fairly low chances of encountering bears while hiking and, with the proper preparation, extremely low chances of a negative outcome. You are much more likely to get hit by lighting while hiking than you are to be attacked by a bear.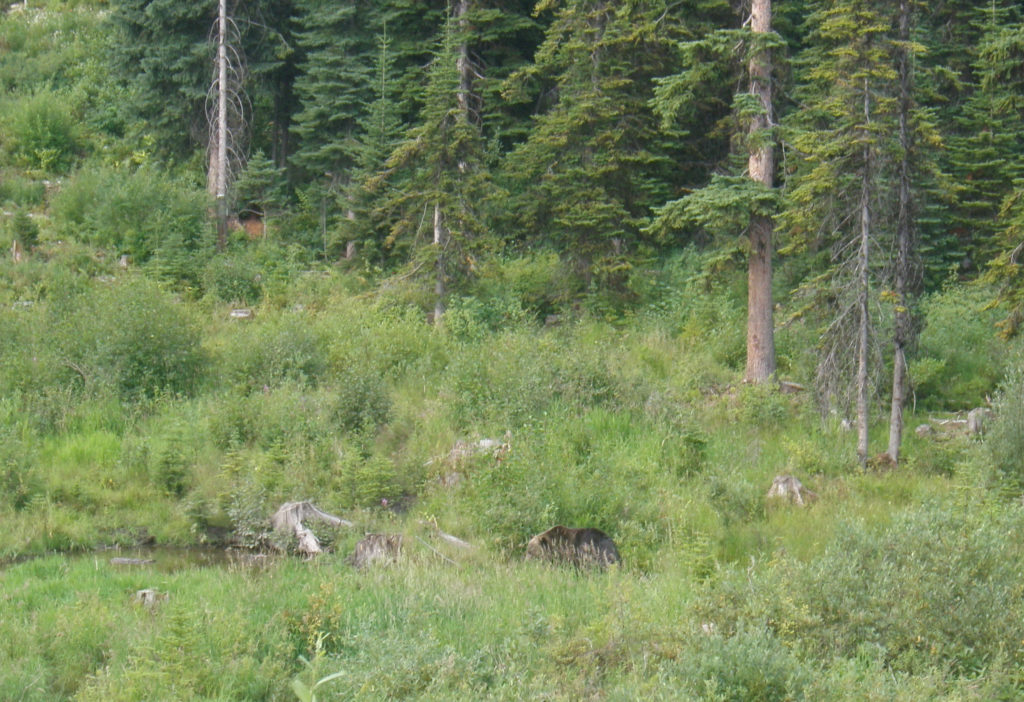 That being said, it is best to be prepared and to know what to do to protect yourself and your family. Carrying bear spray while hiking is essential. It can be purchased from most outdoor retailers, such as REI, Bass Pro, or Cabellas. Picking up bear spray and a holster to keep it handy is a good choice. Some outdoor rental agencies will also carry bear spray. Make sure to keep the spray readily accessible while hiking. It really won't do you any good if you are trying to rummage around in the backpack while a 500 lb grizzly bear is charging you.
Avoiding Bears
The best approach with bears is to avoid them. Watch for signs such as those here:
Footprints

Scat – usually laden with berries and fruit pits

Bite marks or scratches on trees

Rubs – Look for bear hair stuck in sap or on bark
Keep small children close and keep dogs on leash at all times. Check local trail information for the area to ensure that there aren't any bear closures, which are more common in the spring. Travel in large groups of three or more; meet up with another family if possible. If you come across a large dead animal, then leave the area immediately as this may attract predatory wildlife. It is also a good idea to keep any food in well-sealed containers.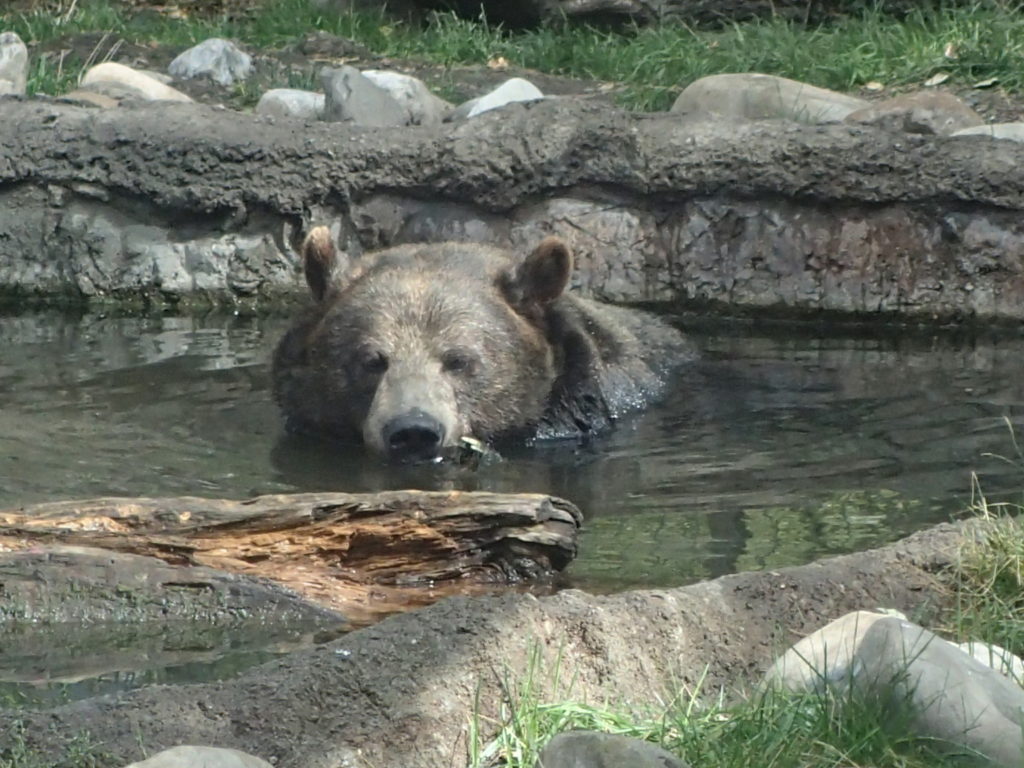 Bears are generally interested in avoiding humans. Many hikers pass near bears without even knowing they have done so since the bear wants to avoid you as much as you want to avoid it. Speaking, singing, carrying a bear bell, and generally making noise as you walk will prevent you and your family from startling a bear.
Which Bear is Which?  How to Identify Grizzly Bears versus Black Bears? 
Detailed identification can be found online at Western Wildlife or similar websites.
Grizzly Bears
Tend to be larger

Ears are short and rounded

Colour varies from blond to black

Rump is lower than the shoulder hump and the shoulder hump is very distinctive

Have very long front claws
Black Bears
Tend to be smaller

Are more likely to climb trees

Rump is higher than the front shoulders

No shoulder hump

Ears are taller

Smaller front claws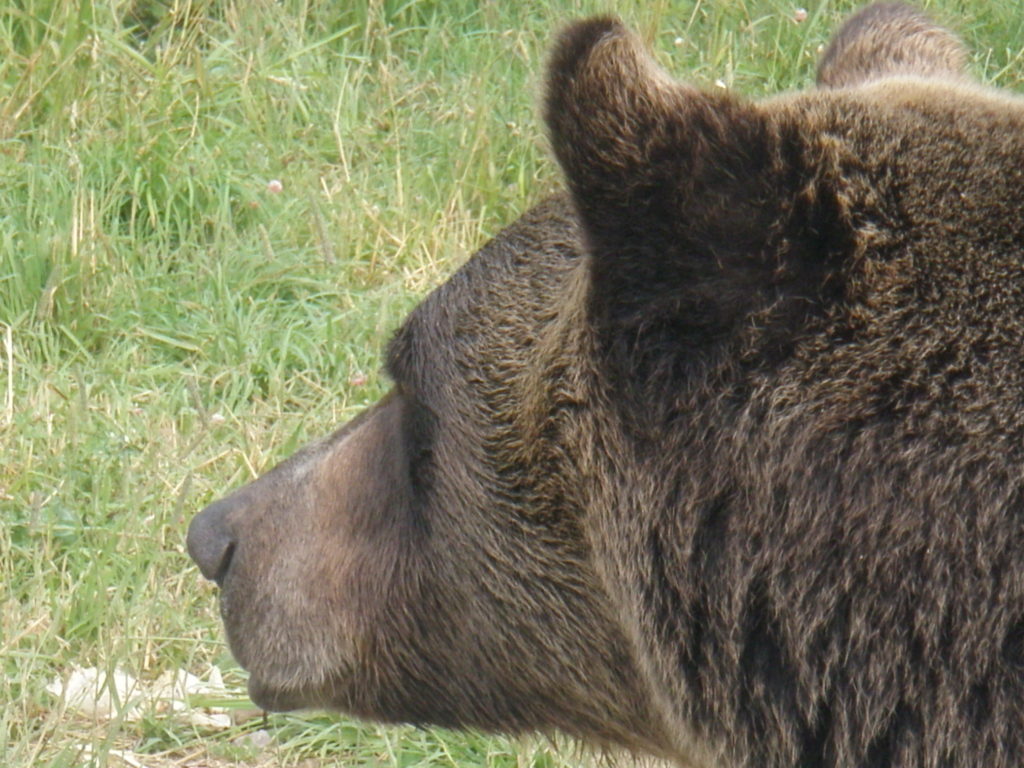 If you see a bear…
…and he hasn't noticed you yet
Stop and remain calm. Pick up or hold children's hands to keep them from running or reacting to the bear. Move away slowly and quietly in the opposite direction without getting its attention.
…and he has seen you
Stop and remain calm. Pick up small children and do not drop your pack as it may provide protection. Speak to the bear calmly and firmly to help it identify you as a human and not prey. Make yourself appear as large as possible. Back away slowly and stay in a group, keeping the bear in sight.
Do not:
Run

Make sudden movements

Scream or yell
These could confuse the bear and may make it react aggressively if it feels threatened. Once the bear has left, it is generally best to return to your vehicle and choose a different hike for the day. Report any bear encounters to the nearest Parks Canada office or Ranger station.
…and he stands on his hind legs, follows, or shows interest in you
Do not panic and remain calm. A bear on its hind legs may still be trying to identify you. Stop backing away if the bear approaches.  Try to appear non-threatening and continue talking to the bear. If the bear stops advancing then slowly back away.
Move out of the bear's path. If the bear follows you and appears intent with its head and ears up, it is likely acting in a predatory manner. At this point, shout and act aggressively. Stand your ground and try to intimidate the bear. If he comes close enough, use your bear spray. Back away and leave the area immediately after the bear leaves.
…and he charges you
Chances are, a charge from a bear is a bluff and he will veer off at the last moment. Stand your ground and do not move, not even a half step back. It is important to keep children close and still. Use your bear spray when the bear approaches closely enough.
…and he attacks you
This is an extremely rare circumstance and usually only occurs if the bear is extremely surprised or if you have accidentally gotten between a mom and her cubs.
If it is a black bear, then fight back. Use anything and everything that you have. Shout, hit, and use your bear spray; anything that lets the bear know that you are not prey.
The same applies if a grizzly bear is acting in a predatory manner or an attack at night. A predatory grizzly will have noticed you on the trail and would have followed you and charged instead of turning around.
If it is a grizzly bear and a defensive attach, then play dead. A defensive attack usually occurs when you have startled the bear by moving quietly and appearing suddenly around a corner. Lie on your stomach so that your legs are apart. Position your arms with your hands over the back of your neck. This will keep the bear from flipping you over and protects the back of your head and neck. Wearing a backpack can also help protect your back. Remain still until the grizzly has left the area. If the attack lasts for longer than two minutes, then it has likely turned predatory and you should fight back.
…and you are in your vehicle
Remain in your vehicle. If the bear is more than 100m from the road and it is safe to do so without impeding the flow of traffic, then feel free to pull over and watch the bear.
Snakes
Most snakes in North America are harmless. It is still best, however, to avoid them if possible.
Snake Preferred Environments
A majority of snakes tend to prefer long grasses, or cool, damp places such as rock piles.
Rattlesnake Warning Signs
Although the telltale warning sign of a rattlesnake is its rattle, this is usually its last resort prior to actually biting. A rattlesnake will first try to hide and remain camouflaged. Failing that, it will try to escape.  A rattle snake will generally only rattle when they feel threatened or are surprised.
How to prevent a Rattlesnake Bite
An ounce of prevention is worth a pound of cure, or so the saying goes. Being aware of rattlesnake environments and warning signs can go a long ways towards preventing a bite.
When hiking in rattlesnake territory, particularly if hiking through tall grass, it is recommended to wear long, loose fitting pants that could hinder a bite to the lower leg. High leather hiking boots that cover the ankles can also prevent a bite by keeping the teeth from penetrating.
Keep pets on leash and nearby to protect them, as dogs will not always recognize the warning signs. Also keep children within eyesight and educate them about snakebite prevention.
If you hear a rattle or spot a snake, stop immediately. Remain still and give the snake time to calm down and leave. Once the snake is at least one snake-length away, back away and let it retreat. Give it wide berth and go around.
Other things to avoid include:
Putting your hands and feet where you can't see them – avoid holes and long grasses

Stepping over large logs and rocks – step around

Use a stuck to turn an object over – can prevent a bite from a startled snake

Touching dead rattlesnakes – the bite reflex remains intact after death
How to Handle a Rattlesnake Bite
If the worst should happen and either you or your child gets a rattlesnake bite, remain calm. It is important to get to the hospital quickly and safely.
Try to remain calm and move slowly. If your child is bitten and you are able to, carry them. Keeping the heart rate lower will slow the spread of the venom.

Remove any constrictive clothing or jewelry, especially rings. Swelling is common after a snake bite and constrictive clothing or jewelry can act as a tourniquet, concentrating the venom in an area.

Call 911 and get to the nearest hospital.

If possible, use a pen or sharpie to make lines on the skin every 10 minutes or so to mark swelling. This will assist doctors in assessing the severity of the situation.
There are a number of myths about snake bites that are commonly heard and seen in movies. It is best to avoid applying a tourniquet to isolate the wound, attempting to suck out the venom, making an incision, or icing the wound.
It is unnecessary in North America for a doctor to identify the snake in order to treat the snake bite so leave the snake where it is. Do not kill, harm, or chase the snake as this may result in further injury.
Snake bites can lead to infection if not treated properly. Even for non-venomous snakes, seek medical attention to ensure that the wound is properly cleaned.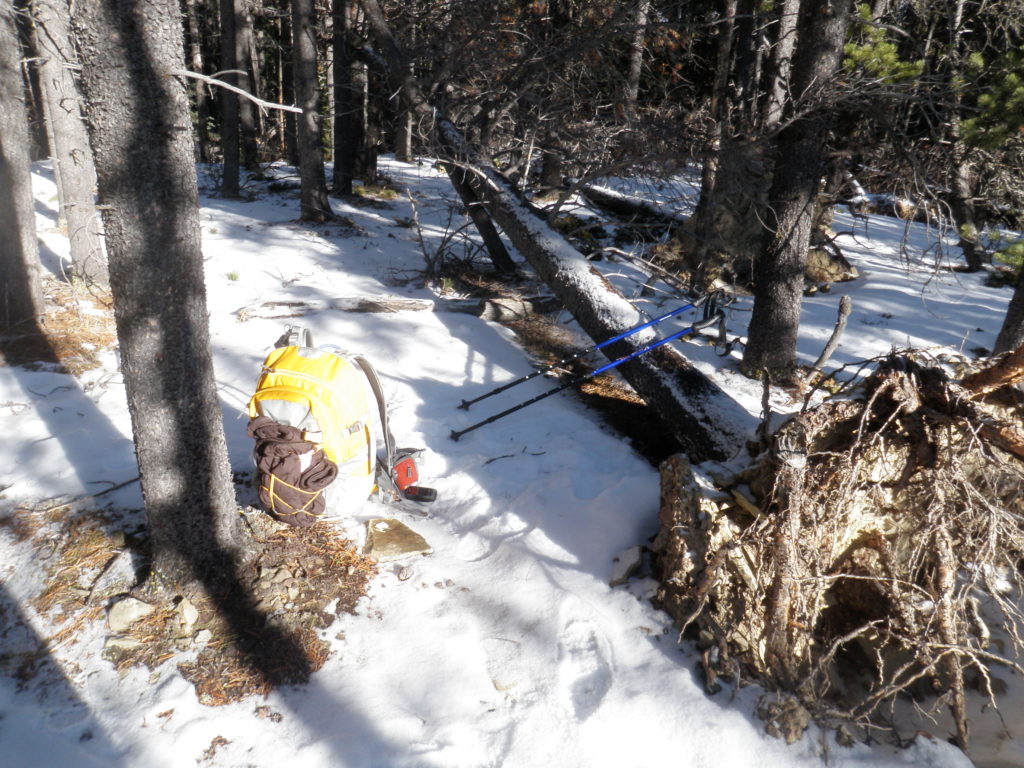 Scorpion Attacks
Generally considered to be exotic animals that live 'elsewhere', scorpions are in fact present in many areas of North America. Their preferred environment is hot and dry, making them most common in desert-like environments.
The website Venombyte has information on the different scorpion species listed by state, as well as information on how to identify the species and prevention.  Only a small percentage of scorpions sting with a dangerous amount of venom; most are about as harmful as a bee or wasp.
What are the scorpions preferred Hiding Spots?  Where do scorpions hide?
The scorpion is a predatory creature that hunts by ambushing its prey. As such, they tend to prefer to hide in dark crevasses including holes, rock crevasses, under logs, and under rocks. They use their venom to immobilize their prey, which is much smaller than a human.
Scorpion bites can generally be avoided for your family by teaching children to avoid putting their hands anywhere they can't see. While this can take some of the adventure out of exploring dark spaces or interesting holes on the trail, it is the most prudent course of action on a trail in scorpion territory.
What to do if you see a Scorpion
Remain calm and back away from the animal. Try to avoid startling, putting hands on, or stepping on the scorpion. Scorpions will generally not attack something as large as a human unless they are threatened and surprised.
What to do if you get stung by a Scorpion
Adults are generally alright, although monitoring for more severe symptoms and checking in with a doctor are advisable. Children should be taken to the nearest emergency room since their smaller size may make the venom act more quickly and harmfully.
To treat the sting, wash the area with soap and water to clean any residual venom away from the sting area. Try to keep the victim calm and still to keep their heart rate lowered; this helps keep the venom from spreading as quickly. Keep the sting site below heart level as well. If one is available, apply a cold pack to the sting area with the pattern of 15 minutes on the injury and 15 minutes off. 
Mosquitoes
Generally mosquitoes are more of a nuisance than particularly harmful, although it is possible for mosquitoes to carry diseases such as West Nile and Zika Virus, depending on the geographic area you are in. In more tropical areas (outside of North America) it is possible for mosquitoes to carry Malaria and other diseases as well.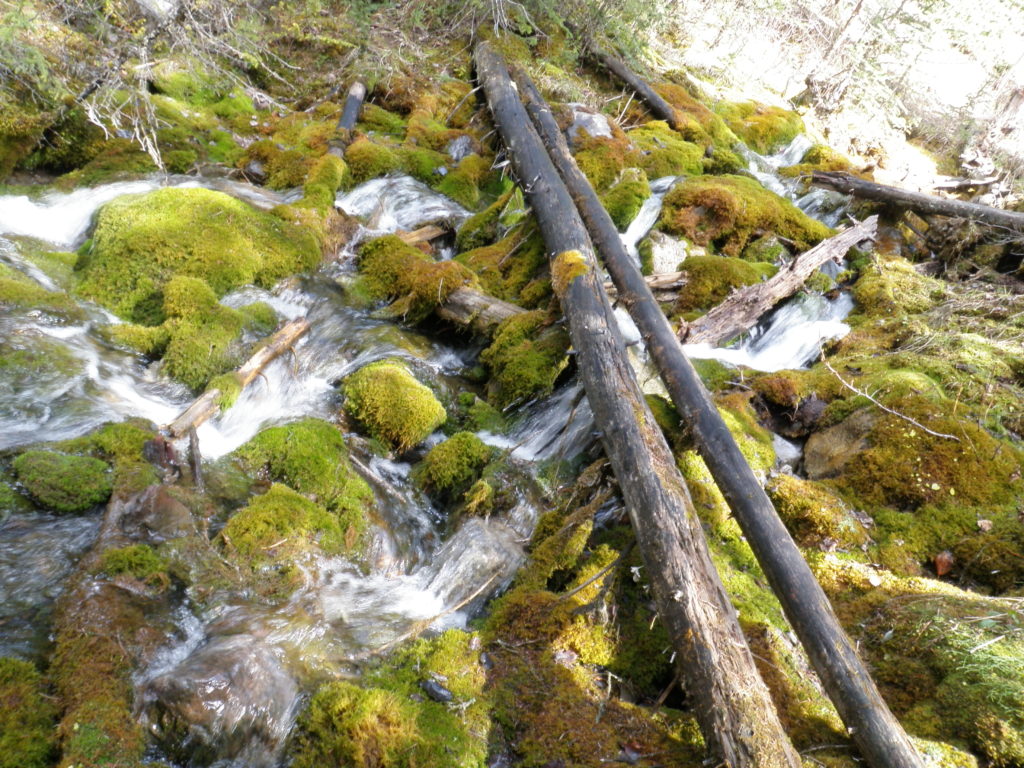 How to Prevent Mosquito bites
Mosquitoes tend to be most active in the cooler parts of the day, dawn and dusk. They also tend to be more prolific around areas of standing water such as puddles, ponds, and marshes.
Hiking tends to draw mosquitoes to you and your family as they are drawn to the increased rate of carbon dioxide produced during exercise. During the summer it can be beneficial to hike more slowly or choose windy days as these will help to keep mosquitoes at bay.
Consider investing in some high end athletic clothing for hiking. Tightly woven fabrics tend to keep mosquitoes from being able to bite. Long sleeves and long pants in a light fabric will keep mosquitoes away, as well as helping to prevent sunburns. Also choose light colours, which are less attractive to mosquitoes.
Insect repellent is also an effective way to keep mosquitoes away. Permethrin can be applied to hiking clothes (not to the skin). There are also a wide range of insect repellents available on the market. A lotion type insect repellent is  preferred over a spray for families, because spray can get in the mouth and eyes and may have negative effects if inhaled. 
How to Treat Mosquito bites
Do not scratch the bite as this will further irritate the skin, possibly causing more swelling and itching. Try to keep children from scratching; keeping nails short in the summer will lessen the effect of scratching if they do.
Effective anti-itch solutions include:
Calamine Lotion

Vinegar and baking soda mixture

Tea Tree Oil

Anti-histamine creams

Mosquito relief spray such as Afterbite
Bee and Wasp Stings
While not deadly to most people, a bee or wasp sting can be inconvenient and painful. Wasps can be aggressive and may sting a person for entering their territory, disturbing a nest, or threatening them. Bees, on the other hand, tend to only sting if threatened. 
If someone in your group is allergic to bees, then it is essential to make sure that they always carry their epi-pen (or similar) with them on the hike itself. It is also a good idea to make certain that everyone in the group knows the location of the epi-pen and that at least one person other than the allergic person know how to use it.
It is important to remain calm. Jumping up and down, doing a funny dance, and yelling because three wasps have gotten caught in your hair will tend to confuse hiking partners and make children laugh more than it will bring assistance, and may encourage bees or wasps to sting.
What to do if you get stung by a bee or wasp
Remain calm. If the person is allergic or exhibits signs of a severe allergic reaction, then administer the epi-pen (if available), call 911 emergency services, and evacuate the person to the hospital.
For less severe reactions, treatment can be administered at home or on the trail. Wasps will not leave a stinger, but bees will. For a bee sting, use a credit card or the blunt side of a knife to scrape the stinger out. If possible, avoid using fingers or tweezers as this may cause the attached venom sack to release more venom.
Wash the area with soap and water (or rinse with clean water if on the trail) to clean the area. Use an anti-sting ointment, an ice cube,  cold water bottle, or a paste made from baking soda and cold water. A small container of baking soda can make a great addition to many hiking first aid kits due to its many possible pain-relieving uses.
Once home, apply cold compresses every few hours to reduce the pain and swelling in the area. Pain medications and antihistamines may also help if necessary.
If you notice any swelling of the eyelids or lips, signs of infection, or pain that does not reduce after 24-48 hours, then seek medical attention.