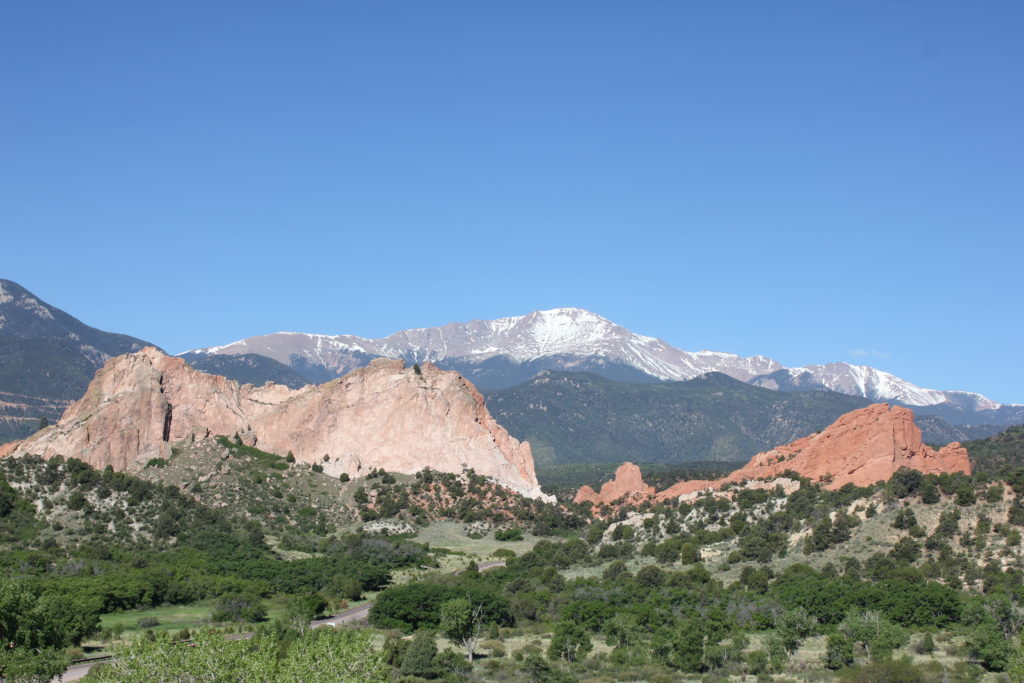 Our family traveled this summer to Colorado Springs (about 90 minutes South of Denver) and discovered the Garden of the Gods. 
Truly "a fit place for the Gods to Assemble" as so quoted in 1859 by surveyor Rufus Cable after viewing the red sandstone rocks jutting up hundreds of feet into the air. 
The name Garden of the Gods was therein born.    
Garden of the Gods is a National Natural Landmark.  This means the park is recognized by the United States as a premiere geologic feature worthy of preserving.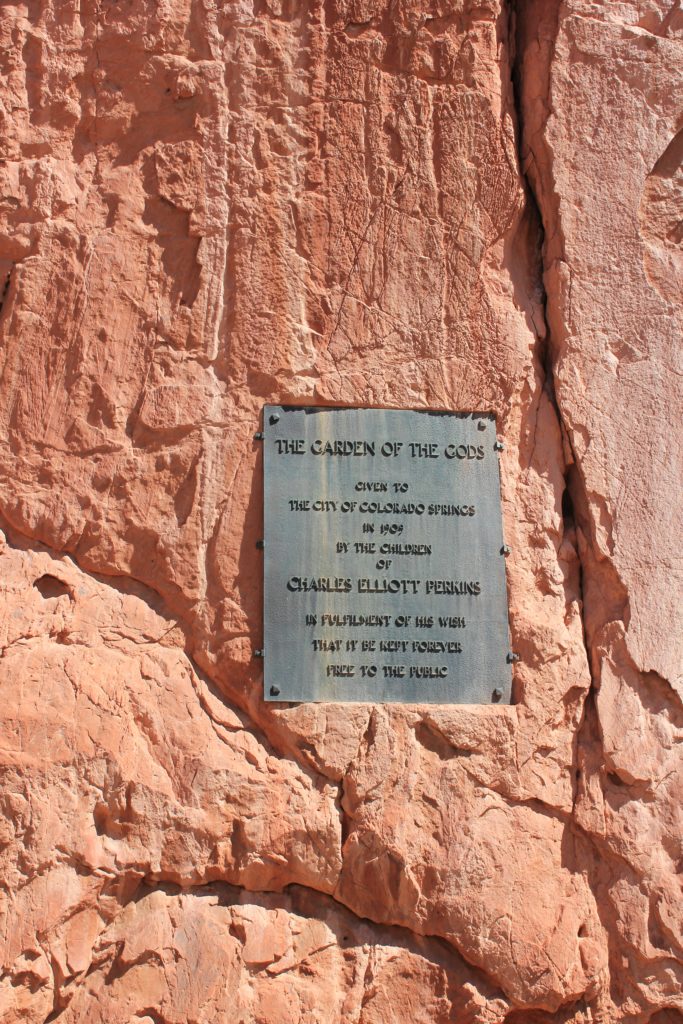 It's not actually a garden in the typical sense, but a series of beautiful red sandstone rock formations. 
How the rock formations came into being is a geological story dating back hundreds of millions of years.  This is a story worth teaching your kids if they have interest in rocks and you posses bit of patience. 
To help your education I suggest viewing"The Geo-Trekker Movie Experience" for a small price at the Garden of the Gods Nature Center.   Kids (and parents) will learn geology by "traveling back in time" to when the rock formations were born . . . a quick geological summary of hundreds of millions of years in just under 15 minutes.   
If geology is not your thing, move on and you can still enjoy the beauty of the park. 
The park is large enough for a full travel day or to just pass through and do the loop on a nice drive for a quick visit.  There are 15 miles of trails to explore and none are too advanced or require any equipment. 
The main center area nearest the rock formations is paved nicely providing accessibility for all.  In fact, much of the park is handicap accessible.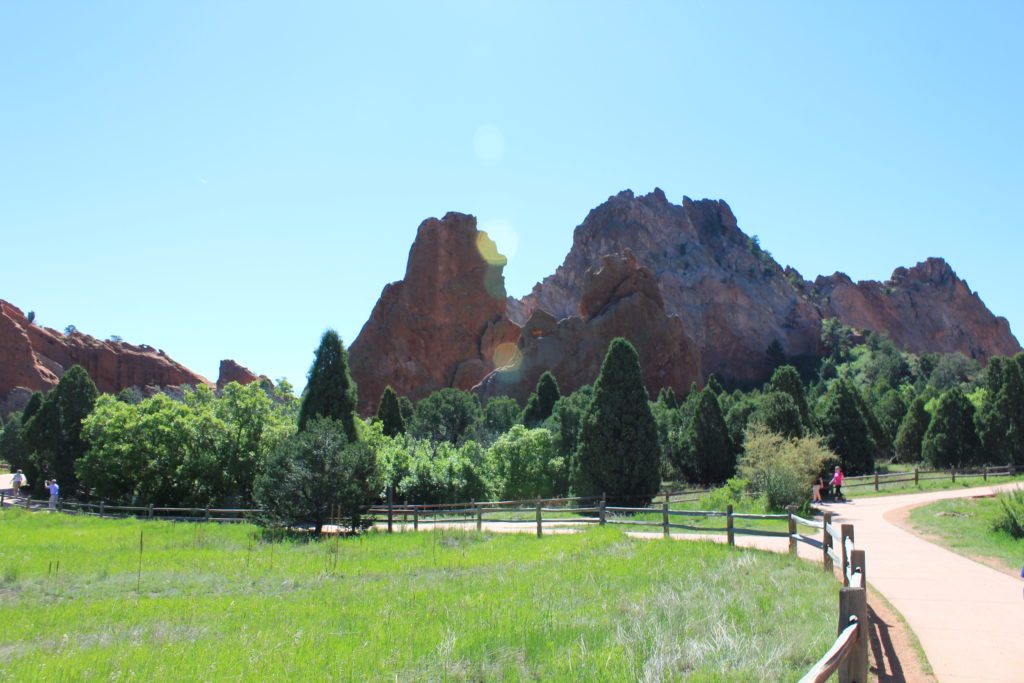 There are several areas for parking, though I would recommend coming early especially on weekends to secure a spot and beat the crowds.    
Visit the Nature Center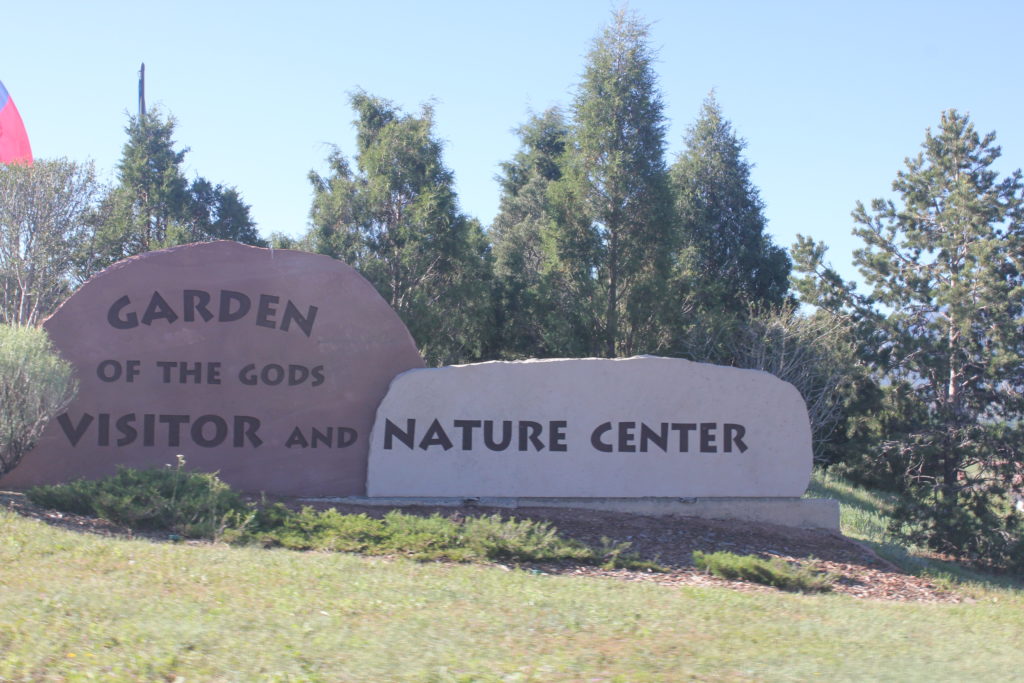 Our first stop was at the Garden of the Gods Nature Center.  Here we viewed the natural history displays reviewing the geology of the sandstone formations. 
There are several high quality museum displays describing the geology and history of the Garden.  For dinosaur enthusiasts, you can learn about Theiophytalia kerri named after Professor James H. Kerr who discovered this species of dinosaur in the Garden of the Gods. You can view a replica of the skull found in the park by professor Kerr as well as a real life replica of how the dinosaur may have once appeared and roamed The Garden. 
If you enjoy taxidermy, there is a large display of Colorado indigenous animals totally worthy of viewing.  Everyone loves seeing indigenous animals up close.    
Take your time learning about the geology of the rock formations.  Guides are available to talk to in case you have questions.   
Lastly, visit the Nature Center outlook area where you can get an excellent family picture with a vista of beautiful red sandstone formations in the background in front of Pikes Peak.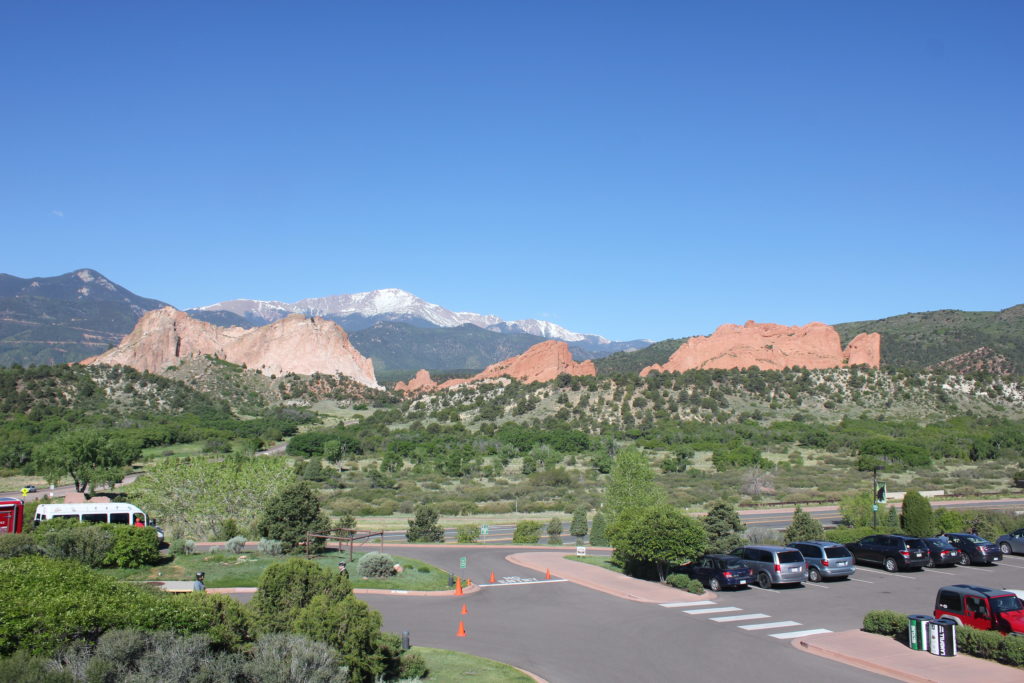 The park opens early, so take advantage of it, as the crowds are low the earlier you go.  The park itself opens at 5 AM and the Visitor Center opens at 9 AM.  You may want to go directly into the park and start hiking and take a break after a couple of hours at the visitor center to refresh.
To give you a sense of what you'll experience inside the park, here's the skinny on a couple of our favorite rock formations and hikes.
The Skinny on our Favorite Rock Formations 
Balanced Rock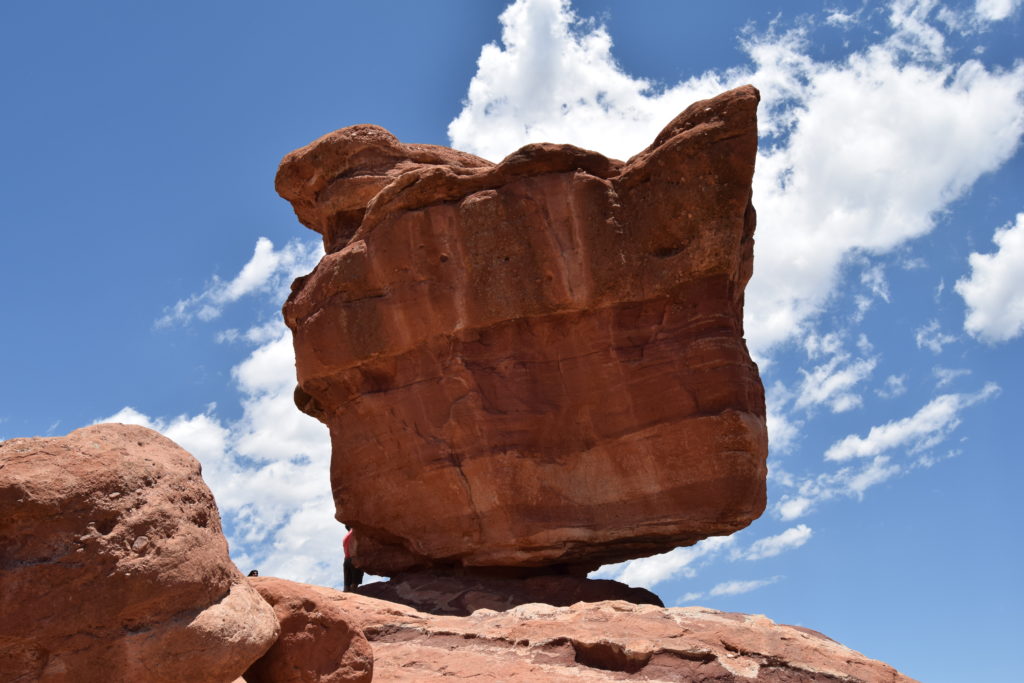 Balanced Rock is a multi-ton sandstone rock formation that by a true wonder of nature, sits balancing on a small perch.
It's located right next to the loop road for an easy drive-by picture, but I would suggest getting out at the parking area just before the rock for a close look at this this one.
Balanced rock is a great place to park, get out and ponder how this massive rock remains perched up.  I had to wonder . . .  when will it fall? and what will happen when it does?
The kids will enjoy posing to "hold up the rock" while parents snap photos.  This rock has been perched up for millions of years, so chances are good that it will not come down during your time there, maybe you'll be a bit more reassured . . . maybe. 
Despite my own logic I found myself strangely watching the rock for any signs of movement while my children were underneath. 
Siamese Twins Trail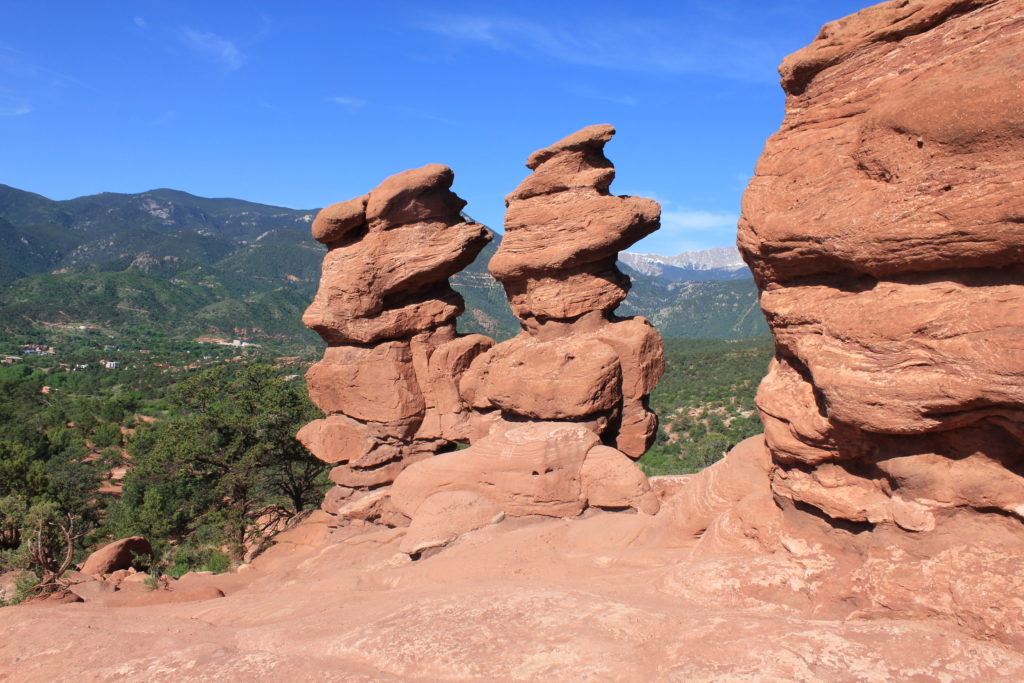 If you want a short hike with a fun red rock playground for your kids, I would check out the Siamese Twins Trail.  The trail itself is fairly easy for kids.  Toddlers would need help and likely would need to be carried much of the way.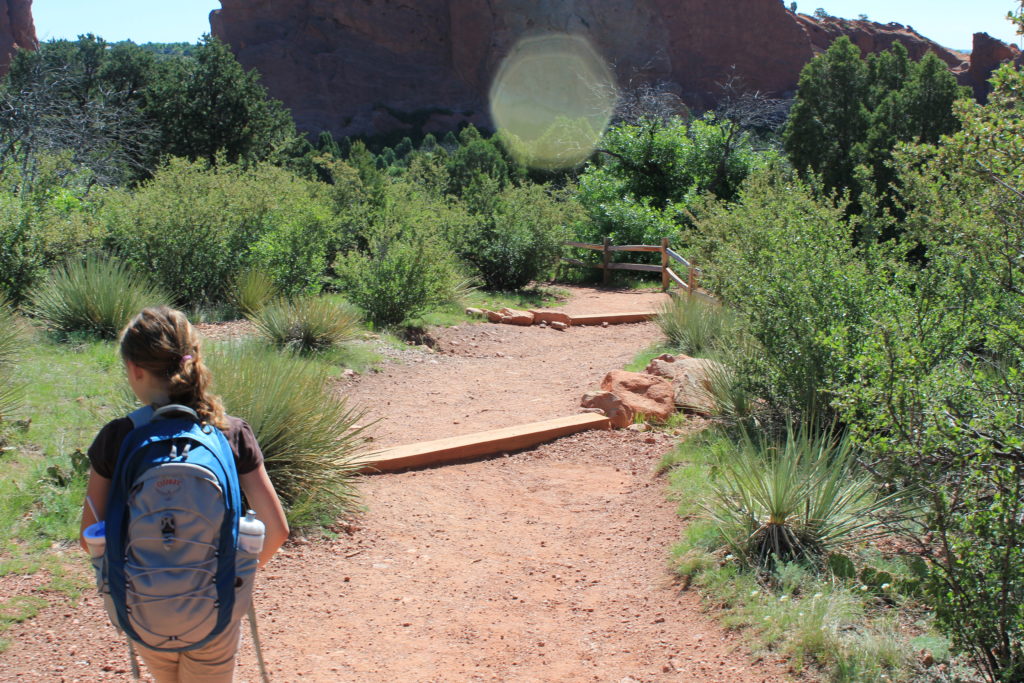 The hike is a 1 mile dirt trail that is kept up nicely.  Wooden beams and railroad ties serve to hold up parts of the trail.  This makes for some large steps to scale.  Parents would do fine, but strollers would be challenging and small toddlers would need help.  Our youngest child is 7 and he did fine.  We saw some toddlers on the trail as well.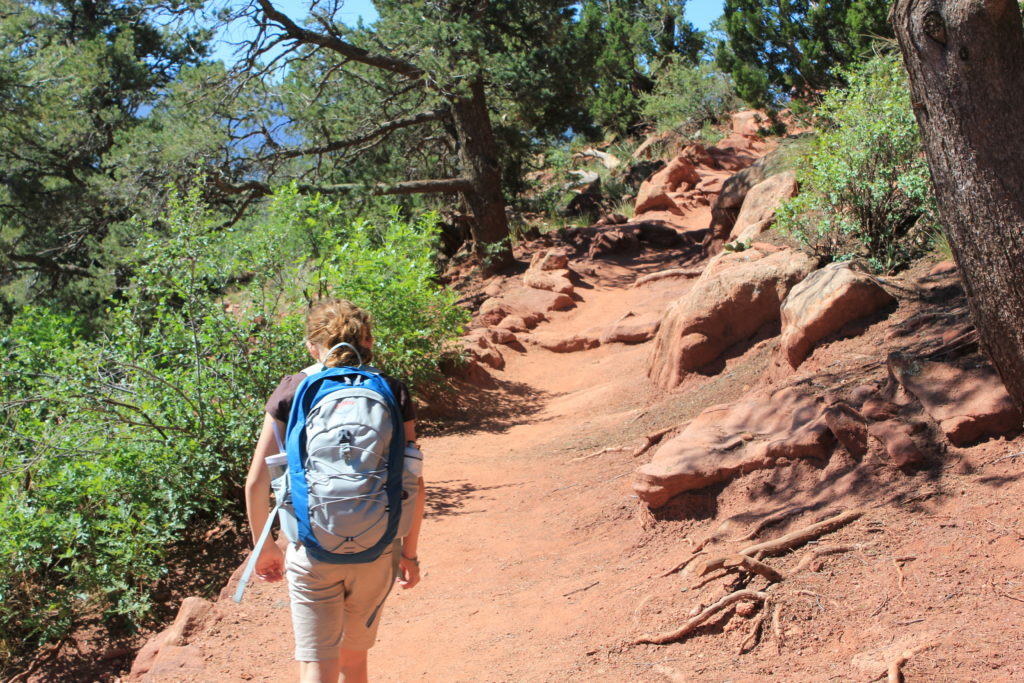 A stroller is out of the question because of the steps and railroad ties, though I am sure there is an ambitious super-mom who has summited this with a double-stroller filled with kiddos.  Anything is possible.    
At the top of the trail is the rock formation called Siamese Twins. Two large red rocks jutting into the air and joined in the middle making an ideal picturesque spot.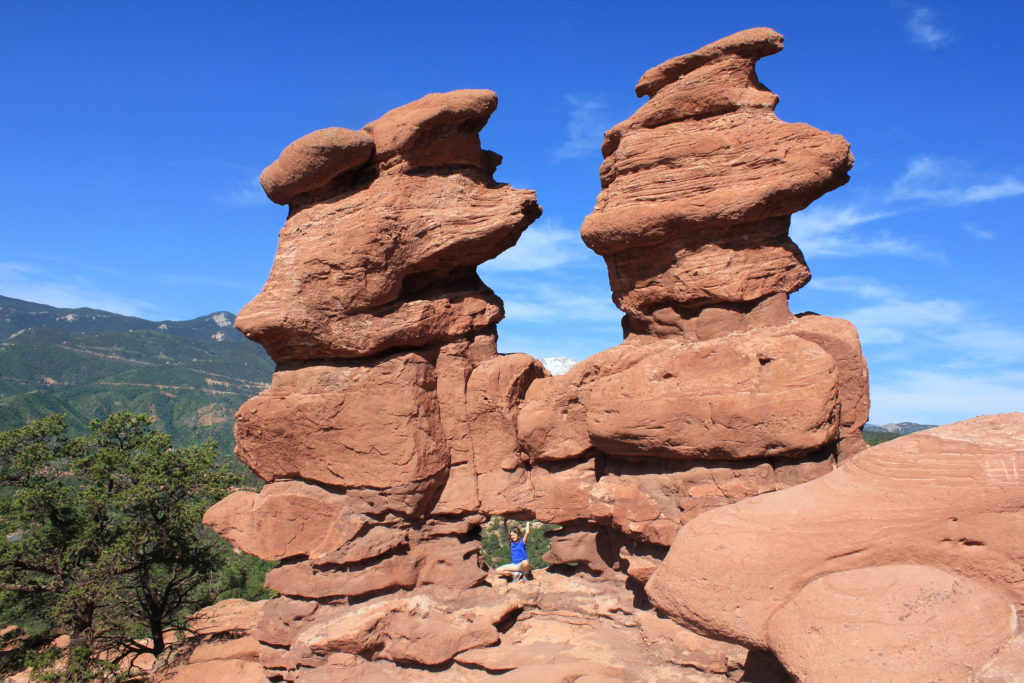 We have some nice family photos in front of the twins. Take a few pictures and then travel up the hill a few more yards for a natural playground.  At the top there are several rock formations that the kids can play around with close supervision.   This area overlooks the park, perfect for more nice pictures. 
GOG  provides both paved and more rugged, rocky trails for hiking.  Paved trails are busier, but bring you close to the main, large rock formations.  The more rugged trails are quieter and not overly difficult.  The environment is dessert-like and on sunny days, is quite hot.  We emptied three water bottles in the first short hike. 
Packing a picnic was perfect for our family.  This gave us the flexibility to eat when everyone was hungry; not having to wait and find a place to stop. 
Look Out For Climbers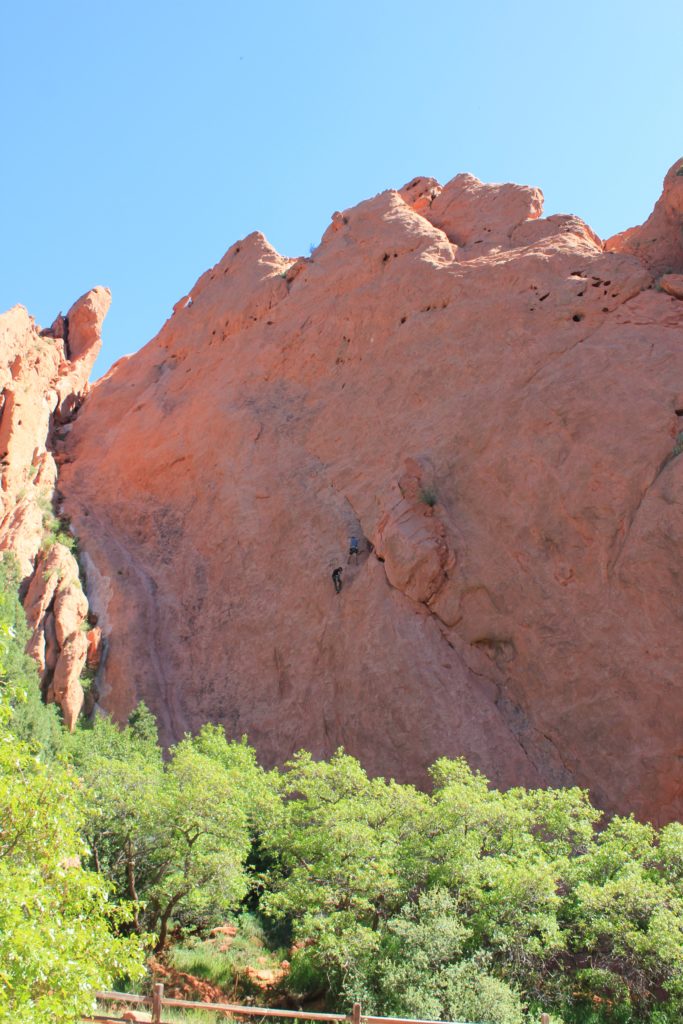 The rock formations provide a natural playground for more experienced rock climbers.  If that is something you are experienced in and want to try, just know that you will need a special pass to be able to climb the rock formations.  We witnessed a couple of climbers on our trip, which our kids thought were fascinating.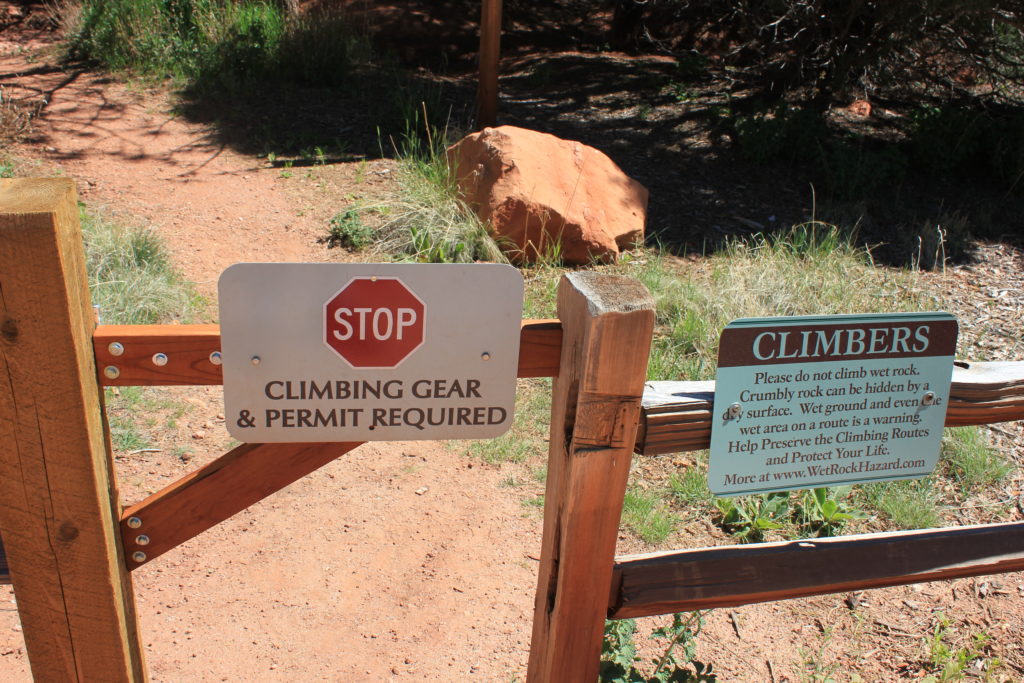 Visit the Garden of the Gods Trading Post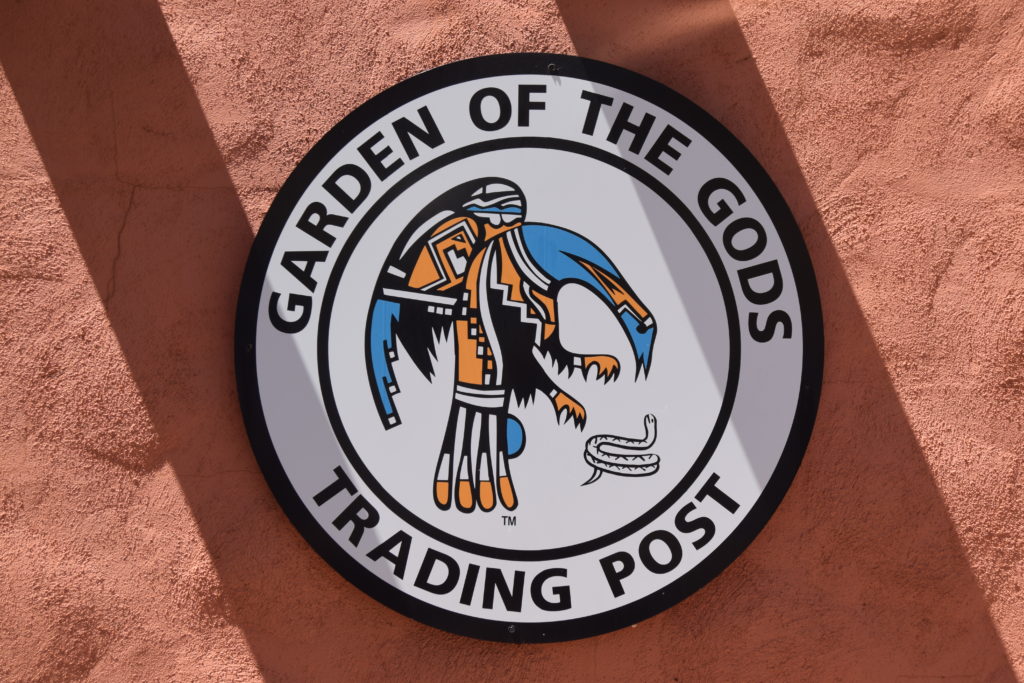 Within the park consider a visit to the Garden of the Gods Trading Post. At the Trading Post you have the option to dine at the Balanced Rock Cafe and fuel up.  Treats are a plenty as well.  kids can get ice cream and for parents . . . Starbucks coffee.  There are also numerous varieties of decadent fudge to consider and plenty of trinkets, memorabilia as well as Native American Arts and Crafts to browse and purchase.   
One tip from our family (to avoid begging for trinkets and treats) is to teach kids to earn their own money to spend.
In our family we do not have allowances.  The kids are expected to do chores such as cleaning up after themselves at dinner, cleaning dishes and picking up their room.  They even help with laundry.  Everyone in the house is expected to pitch in to keep things neat and clean.
Extra chores such as cleaning the cars, mowing the lawn, cleaning out the garage are fair game for a kid business.  The kids are encouraged to come up with a business plan to earn money doing extra chores.  For our trip to Colorado Springs the kids earned money detailing our two cars and giving them a wash (they really need a good cleaning).  A car detail can by expensive and the kids did a nice job and earned a fair amount of money to spend.
This may seem unusual to those who give out allowances, but we find that our kids value the money and make better choices on what to buy.  They never bother us for "more money" or beg. They know that they need to buy stuff using their money.   The kids are also encouraged to save (actually invest) and make donations by tithing.    
Maybe a bucket of Slough for the kiddos
My daughter loves gemstones and rocks.  She could not help herself and bought a bucket of slough to "mine" at the Trading Post.  There is a "mining area" in the back cafe sitting area with running water and a sluice box to help her sift through her bucket of slough.  She came out very happy with a bag full of semi-precious gems to take home as a souvenir.
She had to think hard about whether she wanted to buy this bucket for $7 and ultimately, she was happy with her purchase. 
 Lastly, here are 6 quick tips for a fun hike at the Garden of the Gods with kids.
6 Tips for a Fun Garden of the Gods Trip with Kids
1. Bring Plenty of Water to Keep Kids (and Parents) Hydrated
The air is dry and it can get warm during the summer.  It was in the high 70's and 80's while we hiked.  We went through several bottles of water.  There is nothing worse than thirsty and ornery kids and parents on a hike that should be fun.  A better option might be a kids backpack with a hydration pack such as the Camelback Trailblazer 15 Kid's Hydration Pack.  For more options you can check out 4 Kids Hydration Packs for Hiking.
Kids love carrying a few light items and snacks as well as being able to hydrate easily while they hike.   
2. Take Your Time
Remember you are hiking with kids with short legs and sometimes shorter attention spans.  Break up the hike with frequent breaks.  Find fun places along the hike to rest in the shade and for overlooks of the Garden.  Consider planning a picnic half-way through the hike. 
3. Get Out of the Car
You can see much of the park by simply driving the loop.  The loop provides some great views of the rock formations.  On weekends it can get pretty busy though and there's traffic to contend with.  Arrive early.  Maybe even early enough to enjoy a sunrise. The park opens at 5 AM.  We did not get to the park that early, but we did go in the morning when the air was still cool and traffic was minimal, making for a very pleasant hike of the Siamese Twins Trail.
To optimally enjoy the park, get out of the car and walk around.  If hiking the perimeter trails is not your thing, then the center park area is entirely paved, allowing you to walk and get up close and personal with the red rock formations.  Looking up at several hundred feet of red rock is a truly heavenly experience. 
3. Set Expectations in Advance
Kids need to learn how to respect nature and stay safe.  They need to stay on the trails and near their parents.  These expectations and behaviors are taught by parents.  They do this by parents teaching them and giving them expectations up front.  This has been effectively done by my wife for over a decade now.  It works.  How do you do this?  It's pretty simple.  You set ground rules.  There are some ground rules available at the nature center entrance and you can stop there and review them with your children before entering the park.  Some important ground rules are to respect the park, not climb on the rocks, not litter and avoid feeding the wildlife.  If you let your kids know what to expect before they go and what to expect if they break rules, they are far more likely to behave appropriately.  This keeps parents from having to lecture kids on the fly and helps everyone enjoy the park more. 
4. Wear Good Shoes for Hiking
I wore Patagonia Hiking boots and was glad I did.  The perimeter park trails are tame, but still rocky and sandy. You would likely get by with regular tennis shoes, but the grip provided by a nice pair of hiking shoes will keep you and your kids from slipping and scuffing yourself.  There are some opportunities, such as around Balanced Rock, to scramble on rocks and a grippy pare of hiking shoes or trail runners can come in handy. 
For kids and toddlers consider these Keen Hiking Shoes.
5. Bring a Lunch and Some Snacks
A family could spend a whole day at the Garden of the Gods.  There is much to experience.  From the short hikes and getting up close to the rock formations to hanging out at the Trading Post eating ice cream and buying trinkets.  There is something for everyone in the family.  Plan to spend at least a half day or even pack a lunch and spend a full day at the garden. 
We pack Cliff Kids Zbars from the makers of Cliff Bars.  They are a fun snack for the kids and will will raise blood sugar levels when you need it most.  We realize that these bars are not necessarily the healthiest, but a fun snack that keeps the kids going. 
I would also pack some fresh fruit to snack on.  Fruit provides carbohydrates, water and electrolytes making it a great food for the trail.  Just avoid feeding the wildlife and always clean up after yourself. 
Conclusion
Overall our family loved Garden of the Gods in Colorado Springs.  It was one of the highlights of our trip.  The red rock formations were amazing to view and the hiking was perfect for the kids and adults.  If you make it to Colorado Springs, the Garden of the Gods is a must-see.