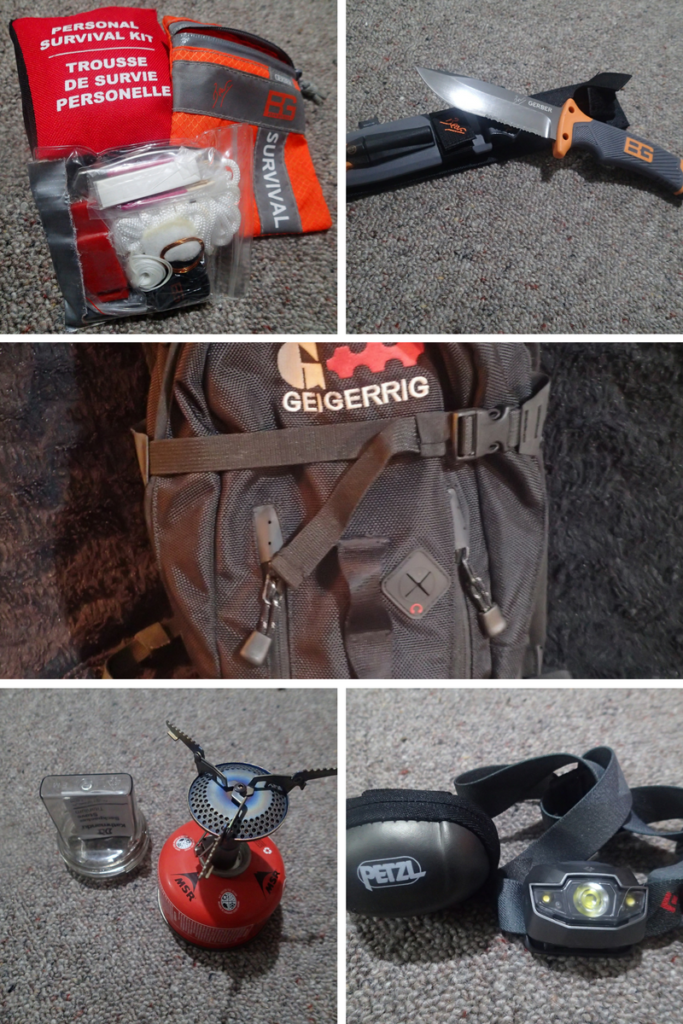 Having the right gear can be the difference between an enjoyable outing and a painful slog through the wilderness.
From 2 kilometer meanders with the nieces and nephews to 100 kilometer multi-day hikes there are a certain list of items that are simply always in my backpack.
It is important to pack light and take only what is essential as a lighter pack makes every hike easier. That said, it is also important to have the right gear.
Here's what I consider as essential hiking gear.
1. The Right Backpack
Every woman has her favorite shoes . . . every hiker has her favorite backpack.
I happen to have three.
It's always a good idea to have a backpack suited to the duration and difficulty of the trail.
Taking a 70 liter overnight bag on a five kilometer walk is overkill. Likewise, trying to pack for five days in a 20 liter bag simply doesn't work.
Short and Sweet
For short hikes, runs, races, and trails, I prefer to use the Geigerrig Rig 500 Ballistic.  At 11 liters the bag is large enough for the hydration system, a first aid kit, some snacks, and a light jacket.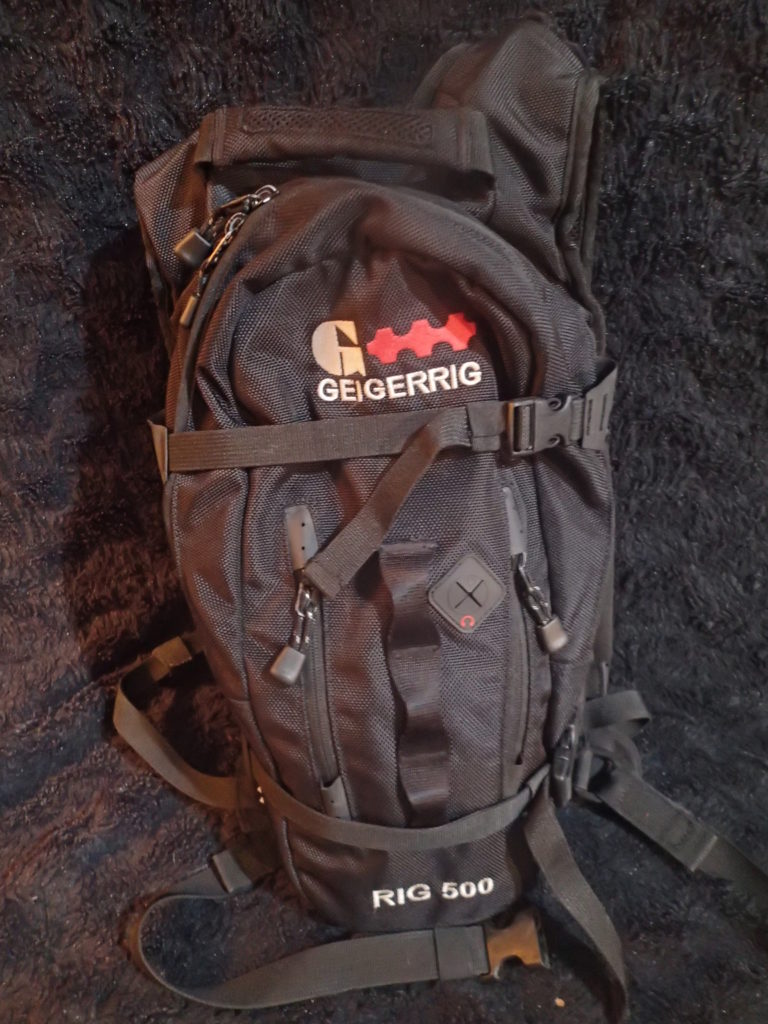 It is just large enough for shorter hikes without being so large that extra items find their way in 'just in case'. Made of extremely durable ripstop nylon the bag has held up to all of the abuse I have put it through, including multiple mud runs.
It still looks nearly new too!
The Geigerrig hydration system is unique in its pressurization system, which makes the drink hose spray when squeezed instead of having to suck on the end.
This makes it convenient for spraying off dirty hands, cooling the face on a hot day, and sharing water with other hikers in your group.
The in line virus filter is also useful for filling up the water reservoir in any nearby stream or creek without needing to carry water treatment options.
Mid-Range Hike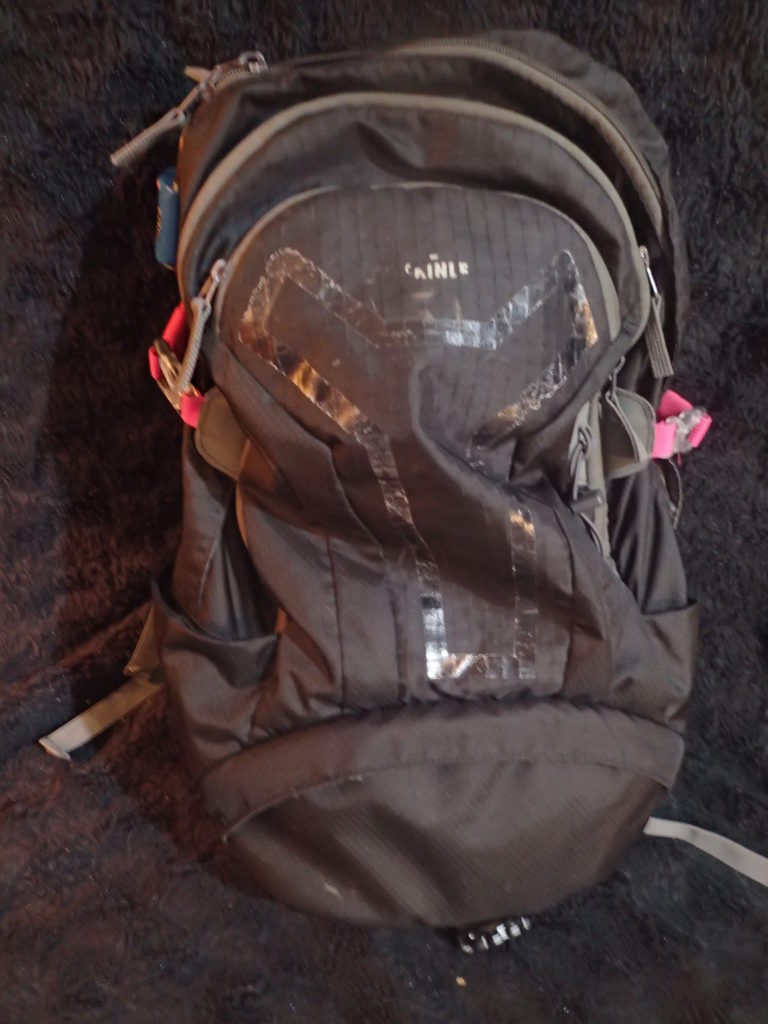 For mid-range hikes, the McKinley Lynx 25W is absolutely ideal.
It has enough capacity for a decent amount of extra gear that a trip might require while still cinching close to the body. The bag features a bungee system that makes it easy to carry hiking poles when they aren't in use as well as a variety of storage pockets to keep gear organized.
The bag has an 'ergo-vent' air space on the back that is excellent for warm weather hikes.
The air flow helps keep your back from getting sticky with sweat, prevent chafing and making it more comfortable to carry.  The compartment on the bottom is perfect for holding a wet swimsuit and towel, spare socks, or other things you might want to keep separate or easy to access.
It is also equipped for use with any hydration pack, which makes water convenient on longer hikes.
Long Distance Trekking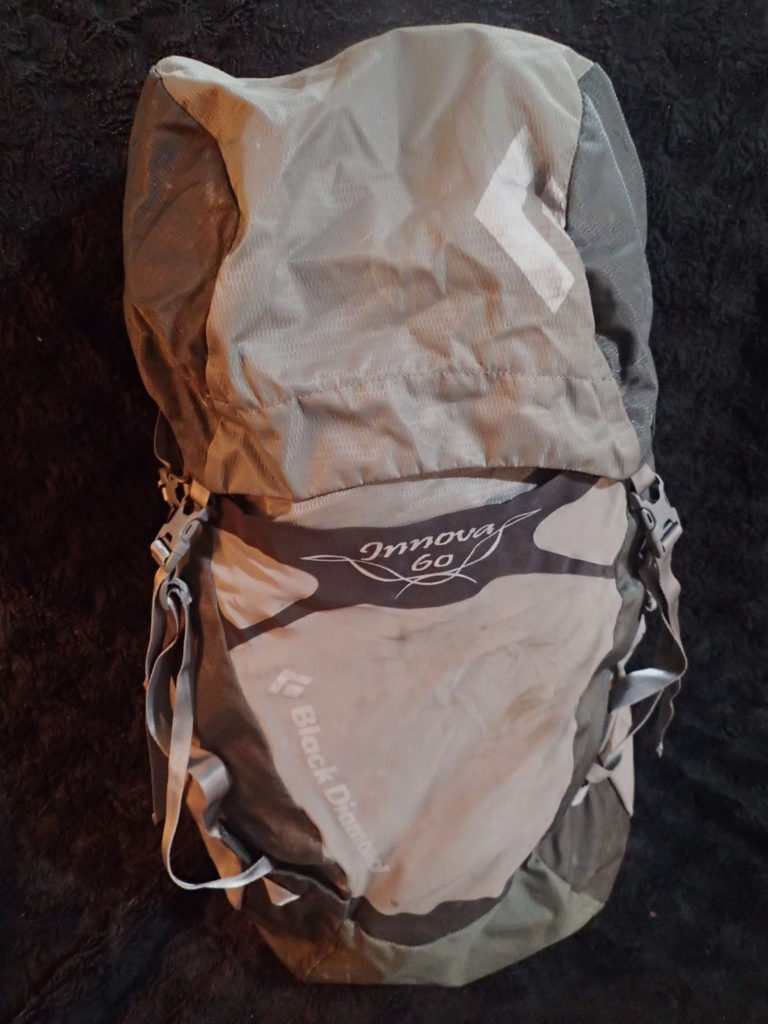 Longer treks and overnights require sleeping bags, tents, and other gear, making a large backpack essential.
Designed specifically for ladies, the Black Diamond Innova 60 is a great go-to choice.  Choosing a gender specific bag makes a huge difference. They carry the Element 60 pack for men as well.
The bag features a hip-swivel in the belt that moves with a woman's hips as she walks, making the pack more stable and comfortable over long distances.
The hip storage pouches are great for storing snacks for the day and the padded belt is extremely comfortable.
The bag is large enough to carry the essentials without being too heavy. There are a variety of cinch-straps to adjust the load, customize the fit, and make the bag comfortable for most body types.
Although it lacks internal storage compartments, packing cubes make it easy to use the bag.
It's large space also makes it ideal for use with a bear canister or dry bags depending on the area where the bag will be used. The top flap is great to store frequently used items and the front pouch makes it easy to stuff a jacket out of the way while on the go.  Bungee cords are available to secure hiking poles as well.
2. First Aid and Survival kit
Safety first! While it is best to plan for a successful and injury free hike every time, the fact of the matter is that accidents do happen.
From scrapes and sprains to more serious injuries, a first aid and survival kit can keep you safe. It could even keep you alive until help arrives in the event of more serious injuries.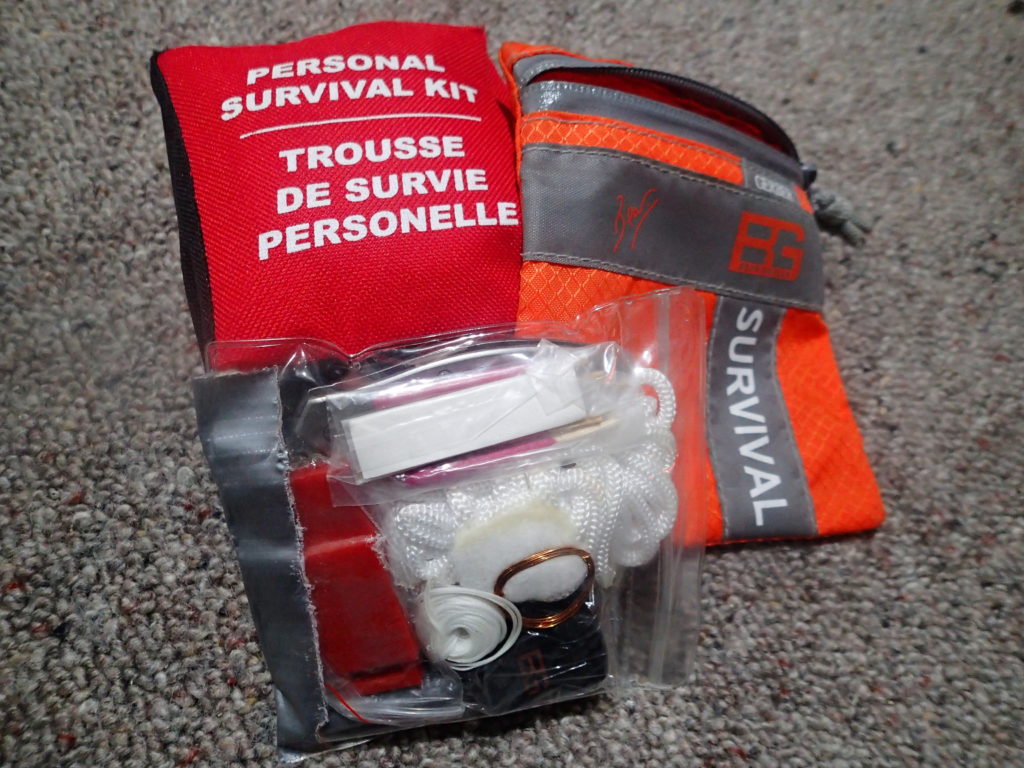 MEC and REI sell pre-stocked first aid and survival kits, although it is frequently cheaper to make your own. Every kit should have the following items:
Band-aids of various sizes

Sterile gauze dressing (5cm x 5cm and 10cm x 10cm)

3 Triangular bandages – these can be used as splints

Duct tape

Nitrile gloves

Elastic bandage (tensor wrap)

Safety pins

Sports Tape

Tweezers/Tick Remover

CPR shield

Emergency Blanket

Signal Mirror

Pea-less Whistle

Waterproof matches in waterproof case

Water purification tablets

Fish hook

Snare wire
First aid training is also a good idea for those planning on spending time in the wilderness more than 30 minutes from the nearest city.
While having the first aid kit is the first step, knowing how to use it is also a good idea. For those who are spending significant time in the back country, a wilderness survival course is also recommended.
3. Headlight
For an overnight trip, spending time in the wilderness after dark is expected. For a day trip, it is usually the plan to finish every hike well before the sun sets.
This, however, isn't always the reality.
A longer lunch stop than intended, tired children (and adults!) on the way back, hiking slower than expected, an injury, misreading the sunset time…all of these things can lead to hiking in the dark.
A good flashlight will make the unintentional after-dark adventures safer and a little less scary.
Carrying a small flashlight, such as a small Maglite or a keyring flashlight can provide a light source that is easy to leave in your backpack for emergencies without adding a significant amount of weight.
A good headlamp, which keeps the hands free, is an even better choice.
On overnight hikes, this makes it easier to do simple tasks like cook dinner and set up the tent. On unintentional night hikes, a headlamp makes it easier to consult a map or compass.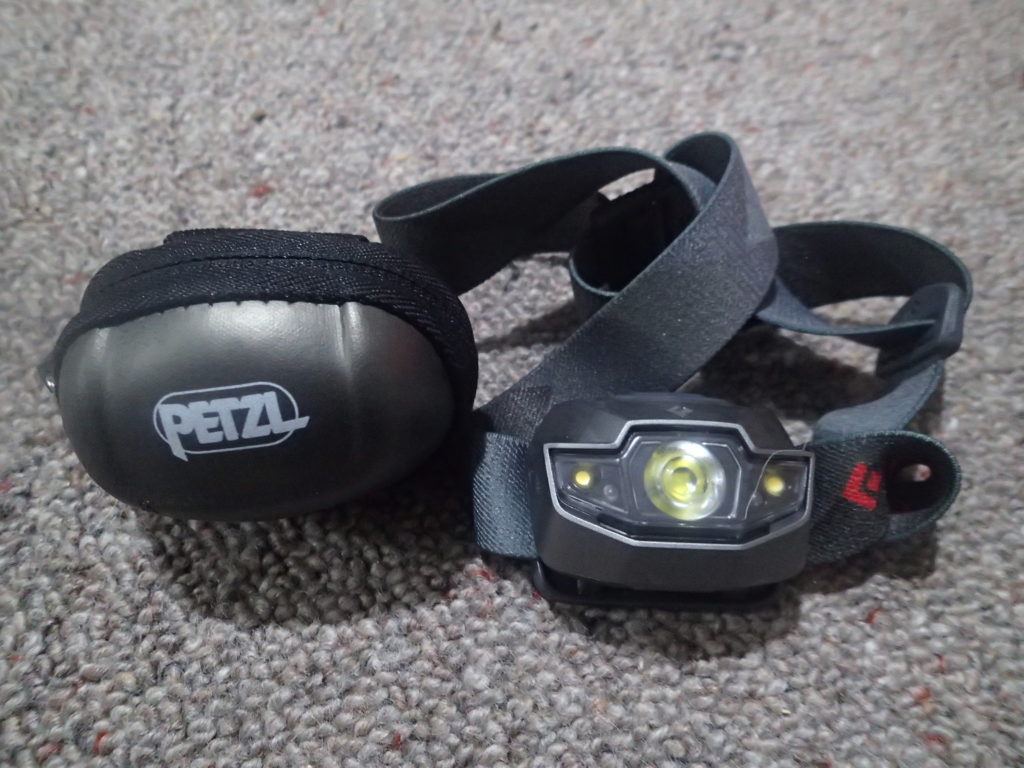 Choose a headlamp with multiple brightness settings, like the Petzl Tikka XP Headlamp.
A high beam for seeing long distances while walking, a low beam for use around camp or reading maps (and so you don't blind travel-mates when you look at them), and a red-light so that you don't lose night vision when you just need a light for a moment to see exactly where you put your sweater down.
Other nice features to have on a headlamp are:
Replaceable batteries – it's easier to carry spare batteries than to recharge them while in the middle of nowhere

Lightweight

Waterproof

Pivoting Head – aim down to see your feet or further ahead when needed
4. Hiking/Survival Knife
A hiking and survival knife can have a variety of uses. Essential in case of emergency, it can also help open pesky sandwich meat packaging.
The Bear Grylls Ultimate Survival Knife is likely overkill on most day hikes, but it is better to have it and not need it than need it and not have it.
With a fixed blade and a convenient hip strap holster to keep it convenient, it is a great tool to have on any hike. It would make a good weapon in the event of a bear or cougar encounter, though you should always try to avoid confrontations with animals if at all possible.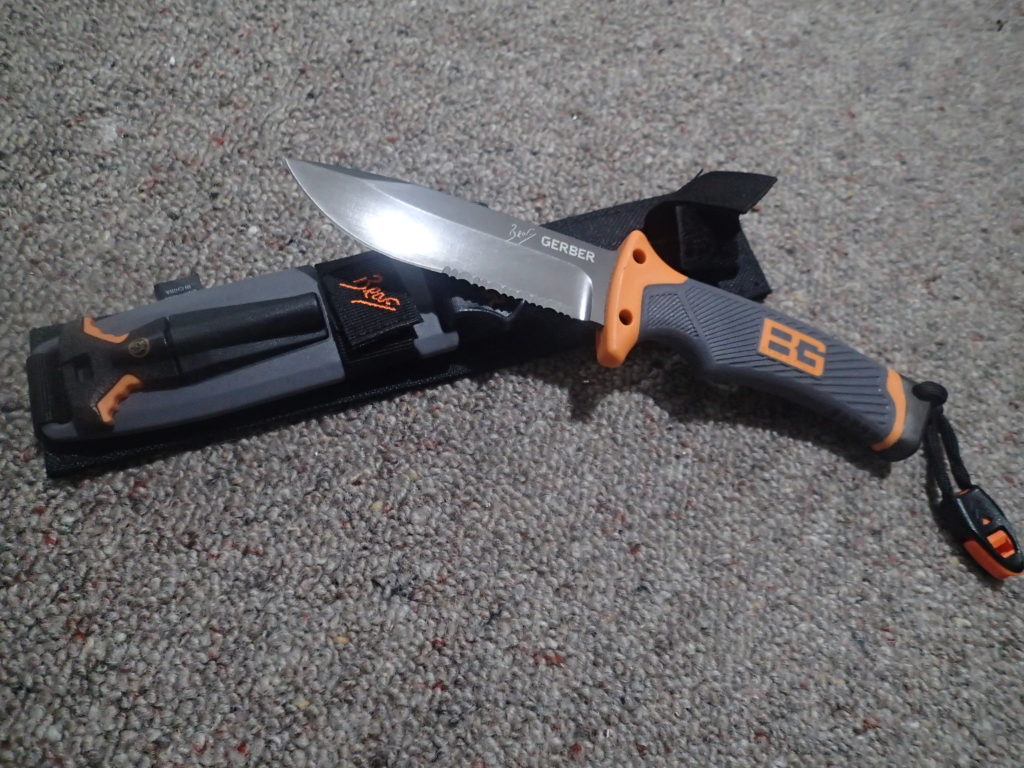 In a survival situation, the knife contains a whistle, fire starter, rescue instructions, a pommel that can double as a hammer for shelter creation, a sharpener, and a combination straight and serrated knife that is useful for cutting small branches for firewood, skinning fish, and carving sticks or sculptures.
5. Packing Cubes
Packing cubes are essential for multi-day hikes, but they have snuck their way into my daytrip bags as well. Available in a variety of sizes, packing cubes are great for keeping the cavernous depths of a backpack organized.
There is nothing more embarrassing than rummaging around for lunch on the second day of a multi-day hike and having your nice clean underwear tumble into the dirt.
On a simple day trip, they are great for keeping food separated and contained so that granola bars and peanut butter sandwiches don't end up squished underneath jackets and water bottles.
On longer trips, they help separate laundry from clean clothes, food from clothing, and pots and pans from the food. It is much easier to find everything when it is all contained with similar items.
On wet hikes, investing in a couple of dry bags will not only keep items sorted and separated in the bag, but they will also keep items dry, even if you happen to go for an unintentional swim. Having dry clothing to change into after lunch or at the end of the day is a great luxury that can lead to a more enjoyable hike.
6. Quality Food and Food System
Being hungry on a hike is a recipe for disaster. The body needs appropriate fuel to perform properly.
Food
For every hike, food that has a high energy density, doesn't spoil easily, and is easy to snack on while moving makes it easy to keep fueled on the go. Some good favorites include:
Cored Apples filled with nut butter and raisins – remove the apple core at home and fill with your favorite nut butter to make a carbohydrate and protein filled snack. Add coconut, raisins, or chocolate chips for an extra treat.

Trail mix – buy pre-made or hit up your favorite bulk store to make your own sweet mix

Granola bars

Baby food pouches – opt for fruit or dessert flavored ones for a high energy snack that is easy to eat and doesn't spoil
On overnight hikes, it becomes necessary to plan for multiple meals instead of simply snacks. Things like oatmeal or cereal with powdered milk make a great breakfast.
There are lots of trail cookbooks available that offer plenty of make-at-home options, although it is frequently easier to simply buy pre-prepared dehydrated dinners, like those created by BackCountry Cuisine.
I was pleasantly surprised at the quality of their food; it rehydrated really well and made a fantastic hot supper after a day of hiking and climbing in the rain.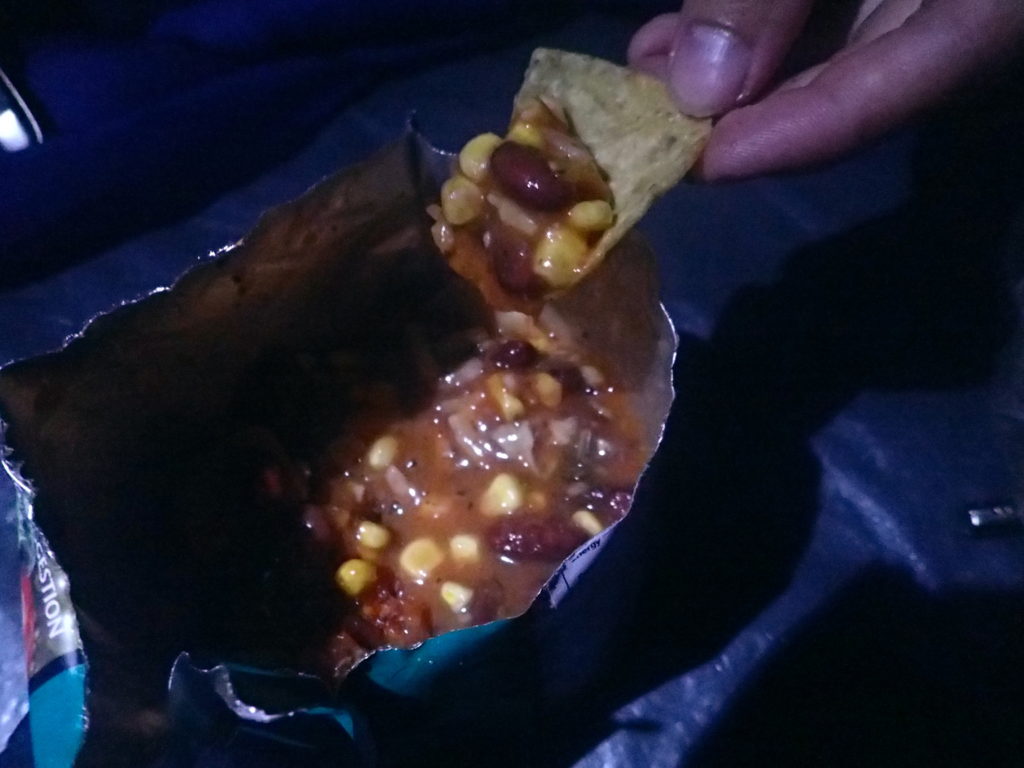 Water is also essential to consider while hiking. A simple Nalgene style bottle can be filled from a stream more easily than a water pack, although the water will need to either be boiled or treated with water purification tablets.
A water hydration system, such as the Platypus or the Geigerrig system makes water convenient to drink while on the go through a hose and valve. Some of these systems, such as Geigerrig, can be outfitted with a purification hose that kills bacteria that may be present in streams and lakes.
Stoves
On long overnight hikes it is desirable to pack a means to heat food.
While it is possible to live off of tuna cans, crackers, and sandwiches, there is something much more satisfying about a hot meal.
Packing a lightweight stove, like the Titanium Backpacker Stove, makes hot food easy.  If you want even lighter, check out the Etekcity Ultralight Portable Stove.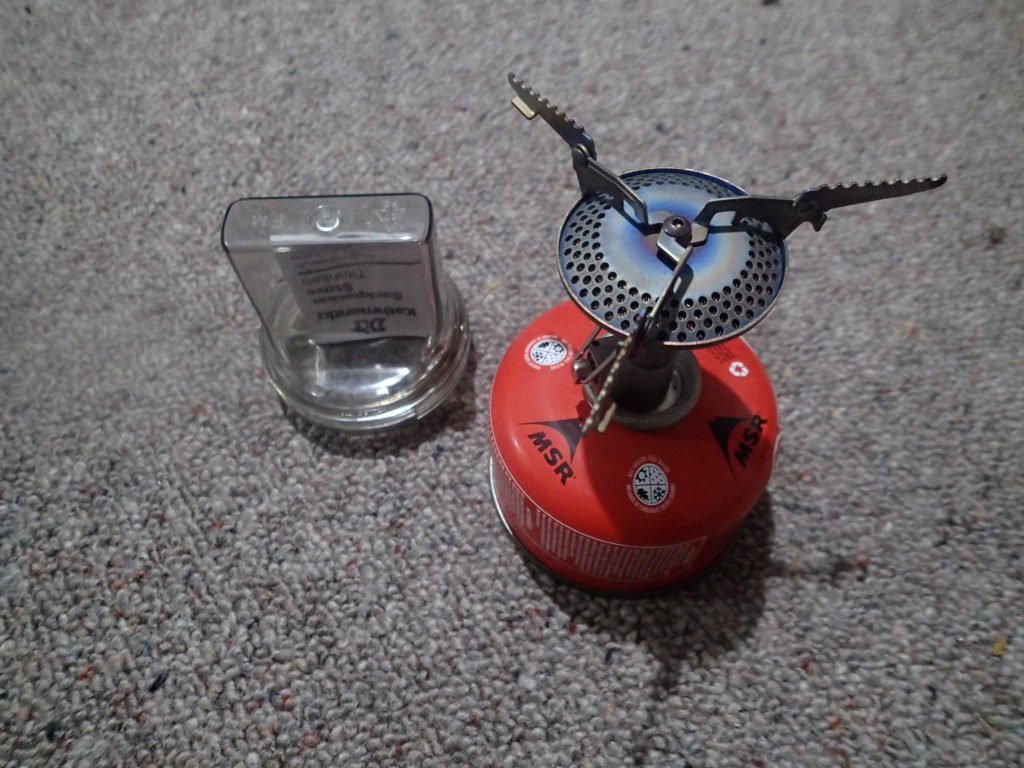 Able to boil a liter of water in about three minutes, a good stove makes it so that you aren't spending hours waiting for food to heat. Combine this with a simple lightweight pot, or invest in something like the GSI Halulite complete stove, and you are set for supper. This is also extremely helpful if you run out of water and have to refill from a questionable source since water from streams should be boiled before drinking.
7. Quality Performance Clothing and Footwear
Having quality clothing and footwear for hiking and adventure sport activities is the difference between being warm and dry or cold and wet.
Performance fabrics are designed to wick moisture away from the body as you sweat, keeping you dry, which, in turn, keeps you warmer. Wearing some fabrics, cotton in particular, will lead to wet clothes, chafing, soggy sweaty clothing, and being cold if a wind picks up or the temperature drops.
Icebreaker and Smartwool both make fantastic merino wool clothing lines.
This isn't your grandma's wool.
Soft and thin, this is the ultimate performance fabric.
Their lightest range is perfect for hot summer days, with a selection of tank tops, cami's, and shorts for men and ladies. Their heaviest range, when properly layered, will keep the most avid hikers warm on snowshoe hikes with -40 Celsius temperatures.
As an added bonus, all of the Icebreaker clothes are extremely lightweight and can be worn for days without getting smelly. This makes them ideal for backpacking since it is possible to pack far fewer clothes, reducing the weight of the backpack.
The Icebreaker socks come with a fantastic lifetime warranty that is extremely easy to use. Offered in a combination of weights and styles, the socks are great for every scenario. Their socks are anatomically fit to the right and left foot and have concealed seams to prevent blisters. The lightest weight socks are perfect for use in light shoes, whereas their heavyweight ski socks are perfect for cold weather hikes and use in boots.
As an outer fabric, Gore-Tex can't be beat for its breathability and water repellency.
It is a bit of an investment, but a good Gore-Tex rain jacket can withstand the harshest rain conditions while keeping you warm and dry. The moisture wicking fabric makes it so that you don't end up wet from condensation while you keep dry from the rain. A good pair of rain pants are a great addition if you are frequently hiking in rainy or windy conditions.
Quality footwear is also essential.
Merrell, in particular, makes a fantastic range of shoes with good durable soles. As a child I wore through a pair of shoes in about three months.
After switching to Merrell shoes, my shoes now last one to two years.
I am particularly hard on shoes and it isn't uncommon for a pair of their shoes to last five years or more.
They offer a range of options from lightweight 'barefoot' shoes to over-the-ankle Gore-Tex hikers. The rubber remains supple in cold weather and provides excellent traction on wet rock and mud.
After purchasing a new pair of shoes, it is important to remember to wear them around the house and the neighborhood for a couple of weeks to break them in and make sure that there aren't any rub points before taking them out on the trails.
It is much easier to deal with uncomfortable shoes in the middle of a grocery store trip than in the middle of a ten day hike.