The incredible draw of technology can make it harder than ever to get kids out of the house and interested in nature. Instead of trying in vain to separate kids from their beloved electronic devices, why not combine that technology with apps that can help foster an appreciation for nature and a love of outdoor activities? We've put together a list of our favorite outdoor apps for kids to help you do just that!
Hiking & Wilderness Basics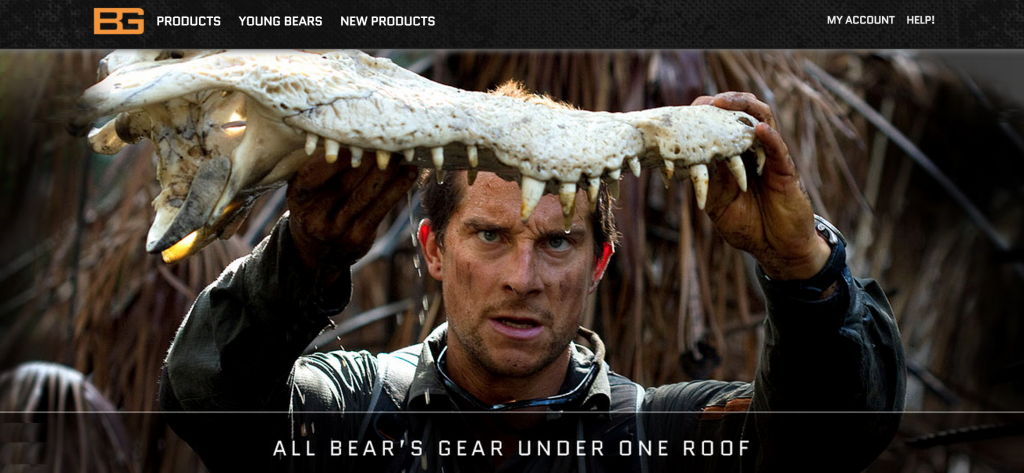 Rich with absolute hiking essentials, this app is a perfect place to get kids started! Survival tips videos; interactive survival training guide; watch, compass and map tools; mini games and preparedness quizzes—this app has it all!  Beware, some of the pics can be a bit "grizzly."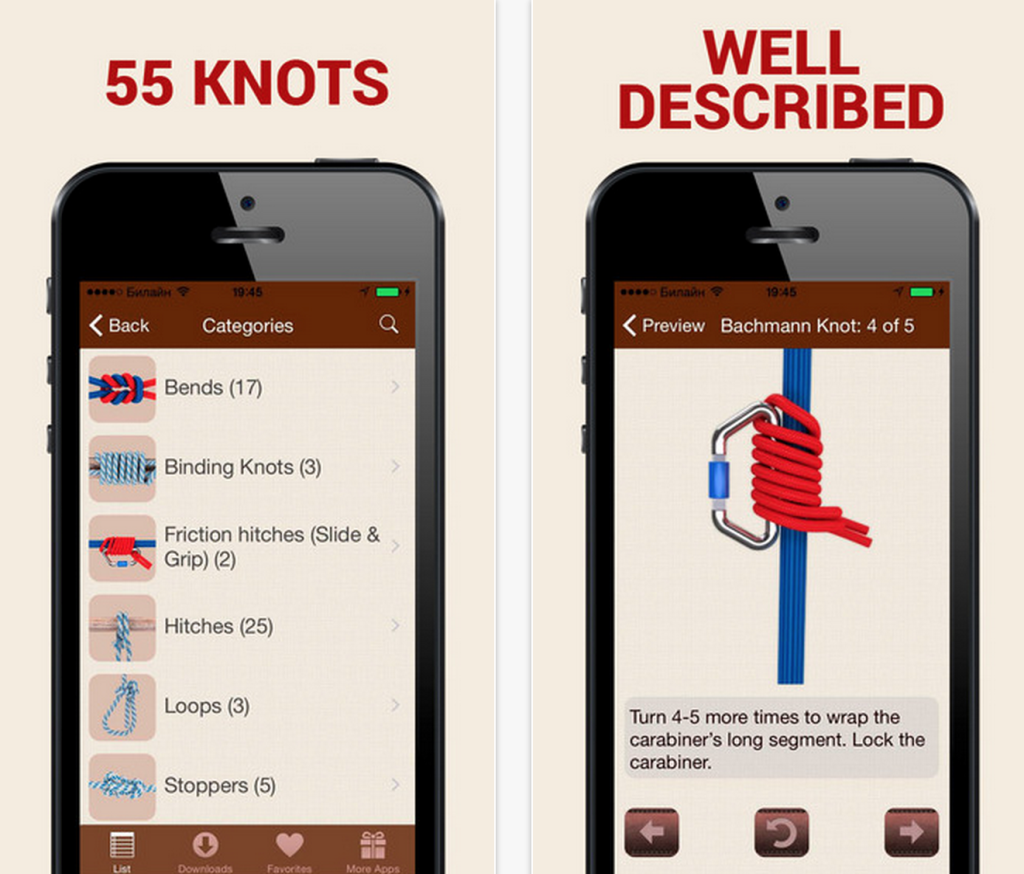 How well do you know your knots? This app includes 3D images and instructions of 55 different knots to teach kids one of the most basic and essential hiking skills!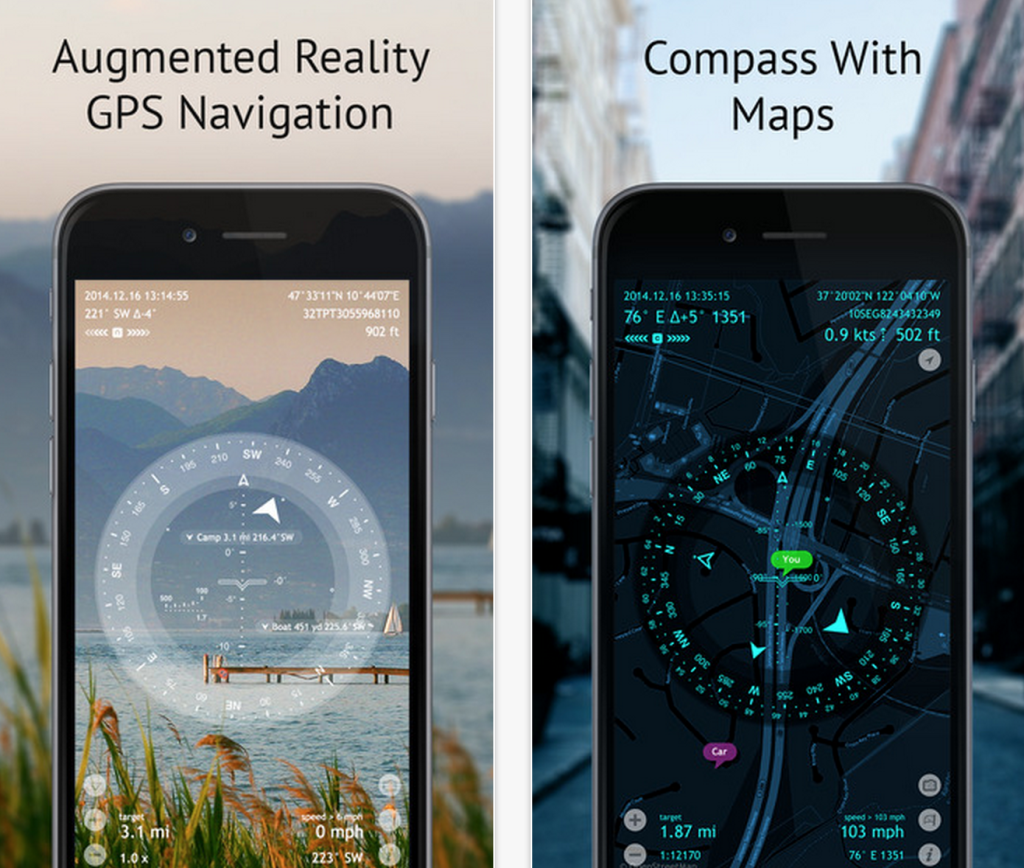 Every tool you'll need is included in this app. This is a full GPS toolkit for all your navigational needs. Compass and gyrocompass; finder, tracker and AR navigation; tactical GPS, speedometer and altimeter; maps; optical rangefinder; sextant, angular calculator and inclinometer; build-in camera and more! Kids will love the multitude of tools included in this app.
Navigation

3D interactive imaging keeps this app fun for kids and can be used to help teach navigational skills. The Google Earth app is an absolute staple for hikers and kids will especially love playing with the interactive images that include locations all around the globe.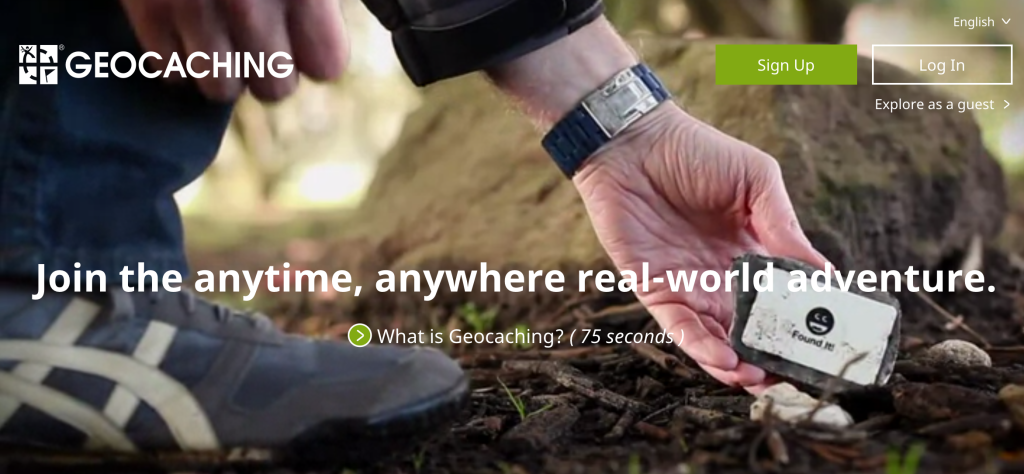 Geocaching is a great way for kids to start learning to use GPS to navigate to a specific location. Geocaching is like a scavenger hunt. First, you utilize your mobile device's GPS navigation to find a hidden item. Then you move the item to a new location and leave clues and navigation for the next geocacher! The excitement and creativity involved make this a really fun activity for kids, while the GPS component teaches basic navigation skills.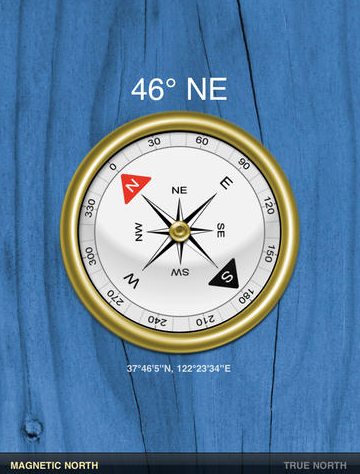 This basic app is exactly what it sounds like—a compass for your basic navigation needs.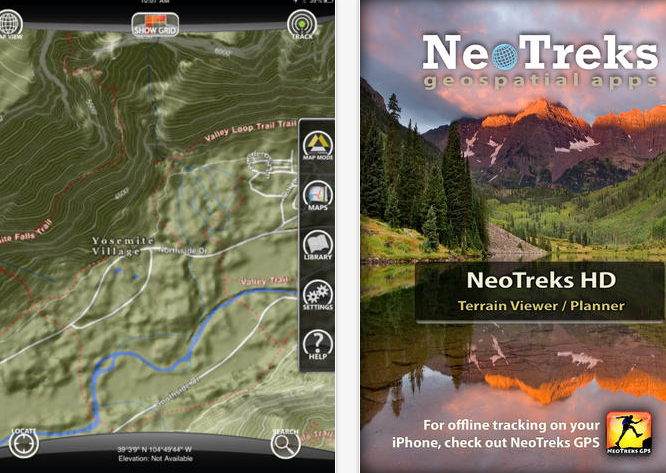 This app enables you to access a wealth of trail and terrain maps that will help you plan your next hike. The offline feature makes this app an essential tool, as you can use it to navigate on your treks even when no connection is available.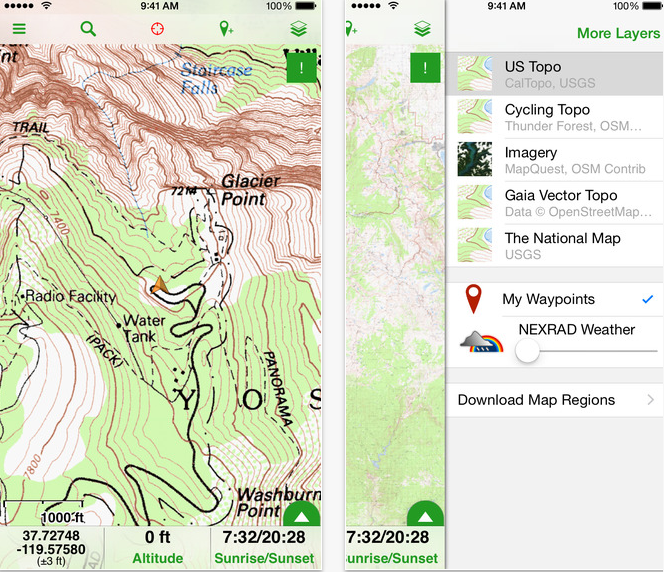 With this app, you can download topographic maps of the entire world. It's fast, functional and easy-to-use with marked waypoints and guidance to and from various mapped locations. This is a great tool for basic navigation and for teaching kids how to read a traditional topographic map. The offline feature enables you to download maps so they can be opened and viewed even when no internet connection is available.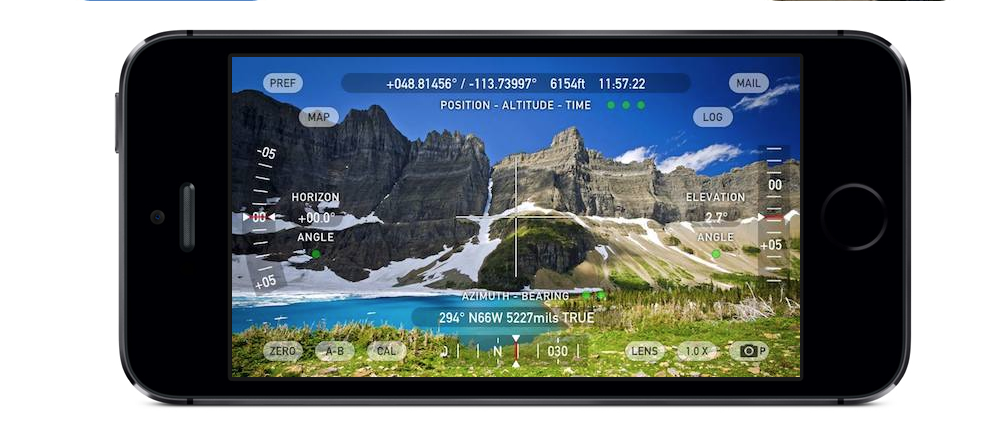 This breathtaking app truly is a must-see for both kids and adults! Theodolite is an incredible app that combines augmented reality with directional tools to create a useful feature-rich app you can use on all of your future hiking trips.
Maps and GPS tracking apps are popular and there's a whole plethora of these available to aid you on your outdoor adventures! Here are a few others we recommend checking out:
Stargazing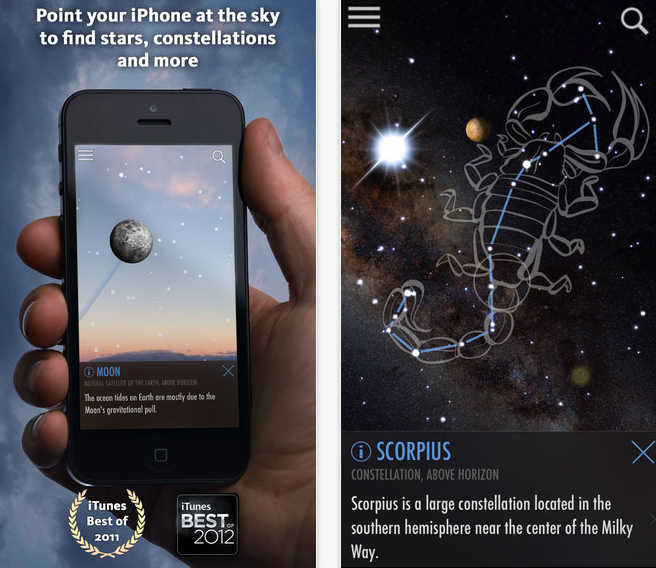 With this app, your iPhone, iPod or iPad can help the whole family hone their stargazing skills by identifying stars, constellations and even satellites. You can set reminders for upcoming stargazing events (like meteor showers) so the whole family can watch and enjoy together. While this app does offer magnification, there are also binoculars and telescopes available to give you an enhanced experience. Besides offering a way to view the stars in more detail, this app helps novice stargazers learn to identify constellations and celestial bodies as well!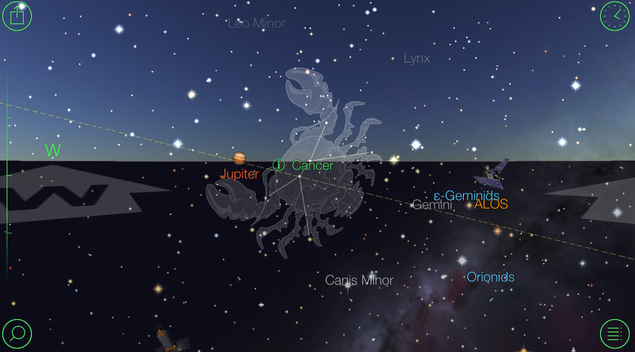 This particular app is especially useful for scheduling hikes that coincide with astrological events. It includes a full calendar of events your whole family can enjoy, along with alerts, current phases of the sun and moon and the daily time of sunrise and sunset.
Birds & Wildlife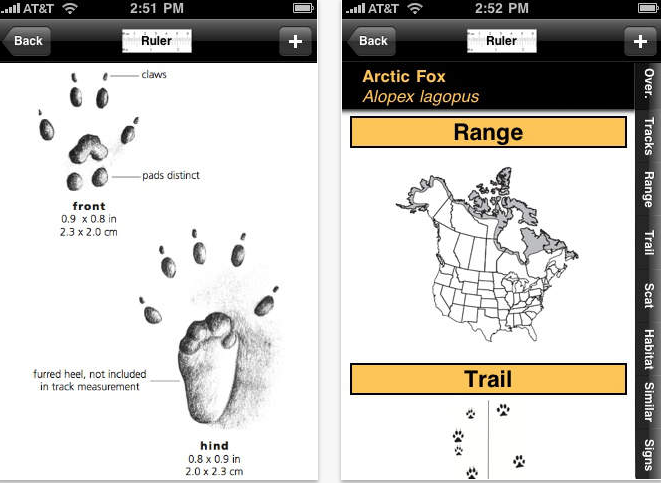 Included in this app are 15 critters commonly found in your backyard or local hiking area. This app is a wonderful tool for getting kids interested in nature. There's detailed information about each animal as well as descriptions and images of scat and tracks for use in identifying wildlife. A built-in ruler will help you make accurate identifications. Hundreds of color images of each species are instantly available in this app, as well as links to outside images on Google and Flickr. Apps like this one are great for the hiking trail and the backyard alike, as kids can learn to know and identify the wildlife in their area.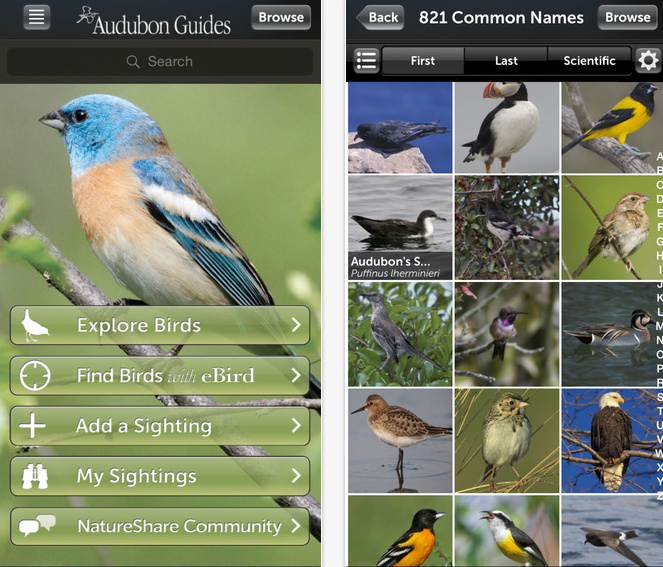 This app has thousands of beautiful images that will help you and your kids spot and identify 821 species of birds. In addition to the exceptional photographs, this app includes 8 hours of bird sounds. Seasonal and migratory range maps help you to plan for changing patterns so you'll know which birds you can spot on your hikes. Kids can even set up a Nature Account which enables them to photograph and track all the birds they see on your outings.

If you want to get your kids excited about nature and interacting with the environment around them, the Project Noah app is a must-have tool for your arsenal! A database of current citizen scientist missions is included in this app, and participating in these missions makes kids feel as though they are a part of something bigger, in turn encouraging them to interact with the natural world. When you're not tracking critters as part of a mission, you can keep track of your own sightings as well as learning about different species in the area through use of the app's field guide. Kids can even earn badges for spotting wildlife!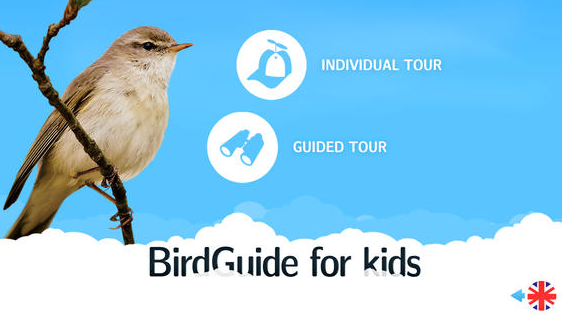 This digital bird atlas introduces kids to a variety of bird species, teaching them to identify birds by their appearance and sounds. The colorful images and videos keep little ones tuned in while bird information is read aloud by a professional lector. This app even includes fun quizzes that allow kids to test their new-found bird knowledge!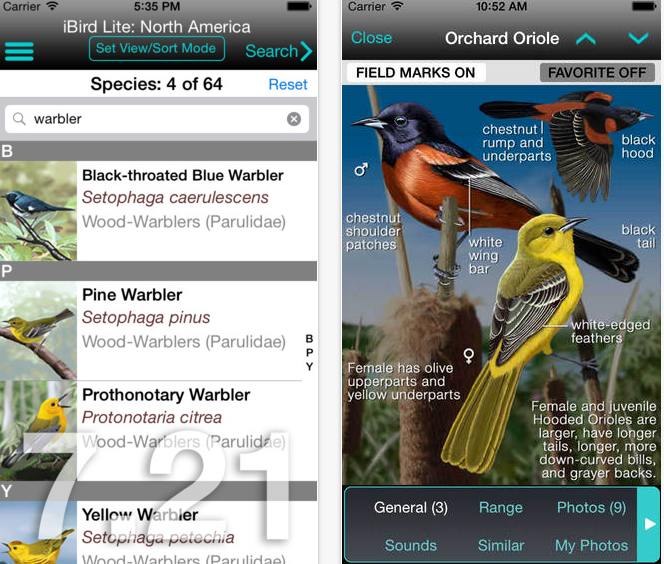 The iBird apps are the most exceptional birding tools out there. The Lite version lets you get started for free while the ultimate version is suitable for even the most avid birding enthusiasts. High definition sound recordings, migratory pattern and range maps and thousands of stunning images give you the ability to learn and identify hundreds of species of native birds. You can even save favorites and create photo albums of birds you spot on hikes or in your backyard!
Plants & Trees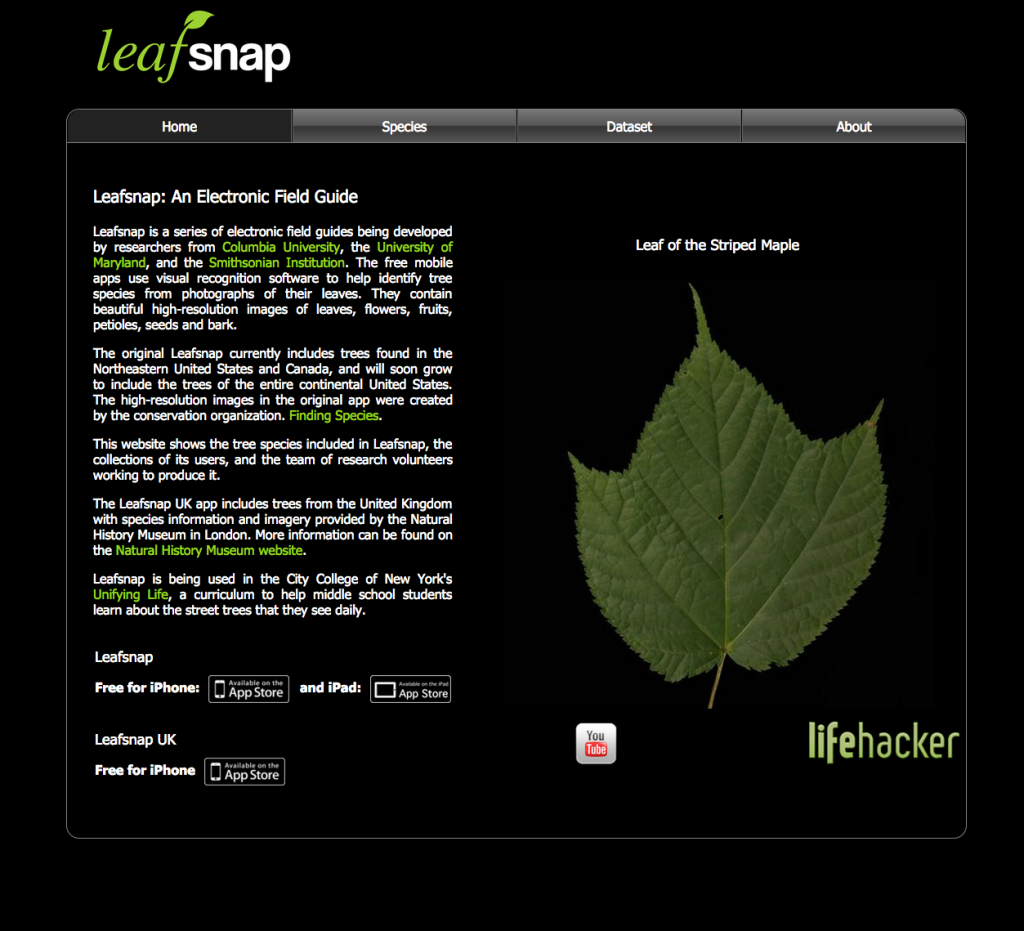 One in a series of electronic field guides created by researchers from Columbia University, the Leafsnap app helps you identify tree species. Within the app are hundreds of high-resolution images of leaves, fruits, seeds, flowers and bark to aid in plant identification. The most incredible thing about this app is that it actually uses visual recognition software to enable you to identify tree species using photographs of leaves. The use of your phone's camera feature adds a level of interaction that really engages kids and makes it fun to use.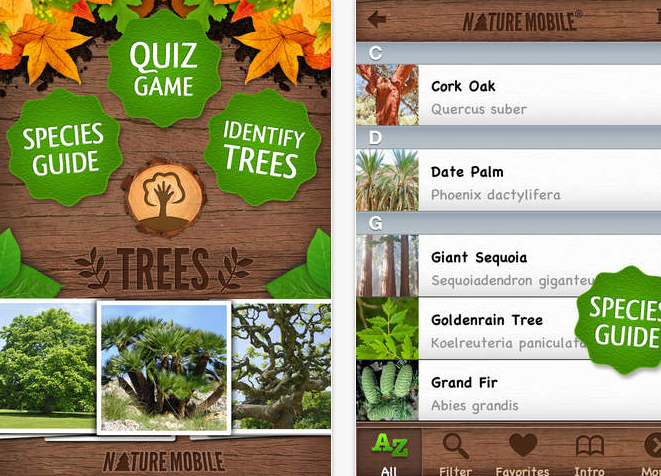 Learn to identify trees by their leaves, flowers and fruits with this beautiful app. Included is comprehensive information on a variety of tree species as well as quizzes that allow your kids to test their knowledge. Kids can even share their scores on Facebook to show their friends how much they've learned.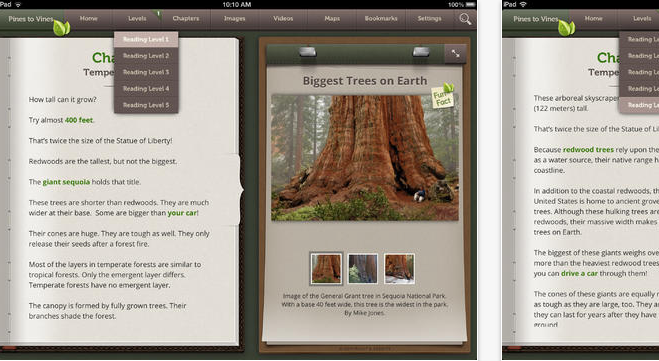 Older kids will love this app's wealth of information on a variety of tree species. The book format allows kids to highlight and mark text, as well as dragging and dropping questions to create their own personalized tests.
Nature Games & Learning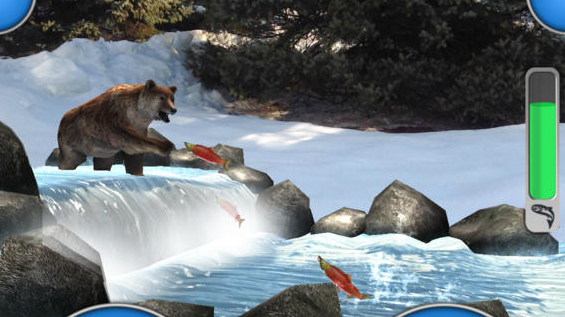 Designed for kids ages 4-8, this app encourages children and their caregivers to discover and explore the outdoor world through an augmented reality experience and animal behavior game play. With this app, kids can see the world through a butterfly's eyes or help a bear track its lost cub. Five different animal adventures with four activities each means hours of fun for kids and parents. This app makes great use of the camera feature, encouraging kids to take advantage of this aspect of technology to interact with wildlife in a non-intrusive way.
This particular app is more game than actual outdoor interaction, so it's a very nice choice for something to help keep up kids' interest in the outdoors during indoor times. For parents who need a bit of extra help with outdoor play ideas, there's a parents' page within the app with suggestions for fun outdoor activities.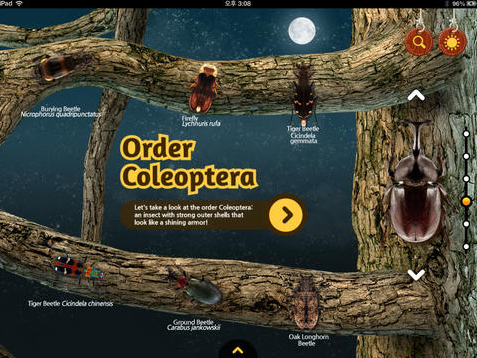 Insects come to life in the Meet the Insects apps! These insect encyclopedias are both educational and fun. The tap of a finger brings each insect to life and a wealth of information about each bug teaches kids the basics. Beautiful illustrations and high resolution videos allow kids to interact while learning.
Parks & Planning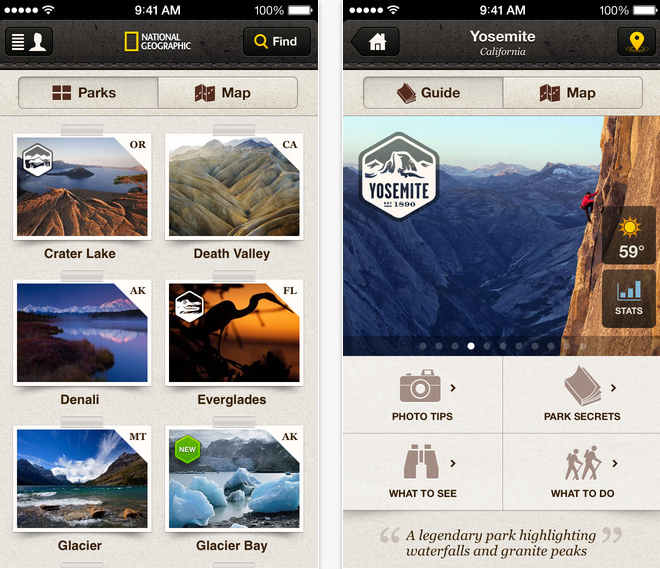 If national parks are one of your hiking destinations, this app will help you plan so that you can be sure to catch all the must-see attractions each park has to offer. GPS coordinates with tagging help ensure that you don't miss a thing and this app even includes photo tips from renowned National Geographic photographers to help you and your kids take stunning photos on all your future hiking trips!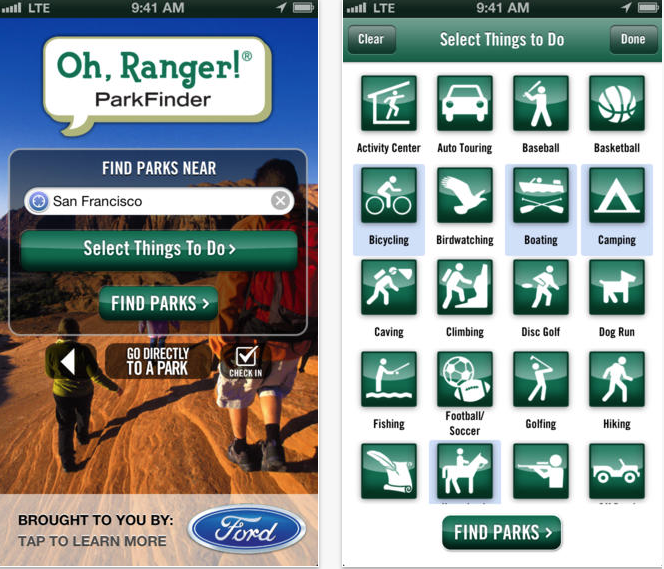 With the Oh, Ranger! app, you can find the parks nearest you with all the activities that you and your family want to do. Wondering where you can hike, boat and go bird watching? Just use this app to select your favorite activities and it will tell you the nearest park where you can do it all! This is an amazing app for planning activities that will delight every single member of your family.
Track & Report – Citizen Scientist Projects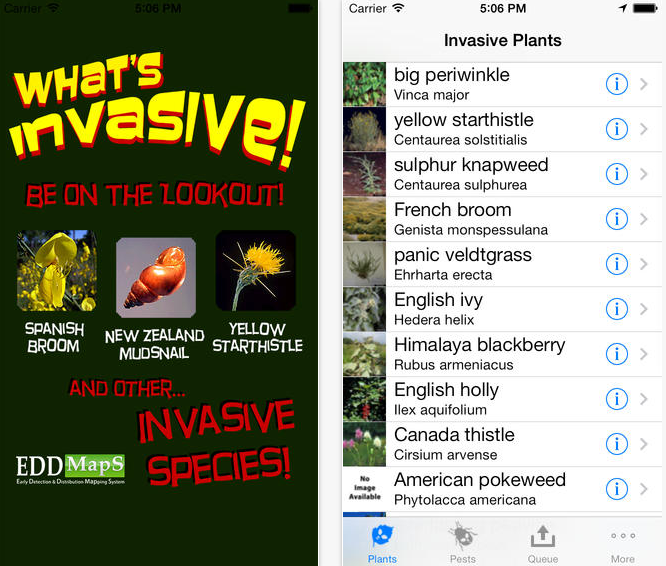 Conservation is an essential part of showing your love of and respect for nature. With this app, kids can become aware of the invasive species in the area and then help scientists keep these species at bay by reporting sightings! By allowing kids to take an active role in nature conservation, this app keeps them alert and tuned in to the wonders of the natural world.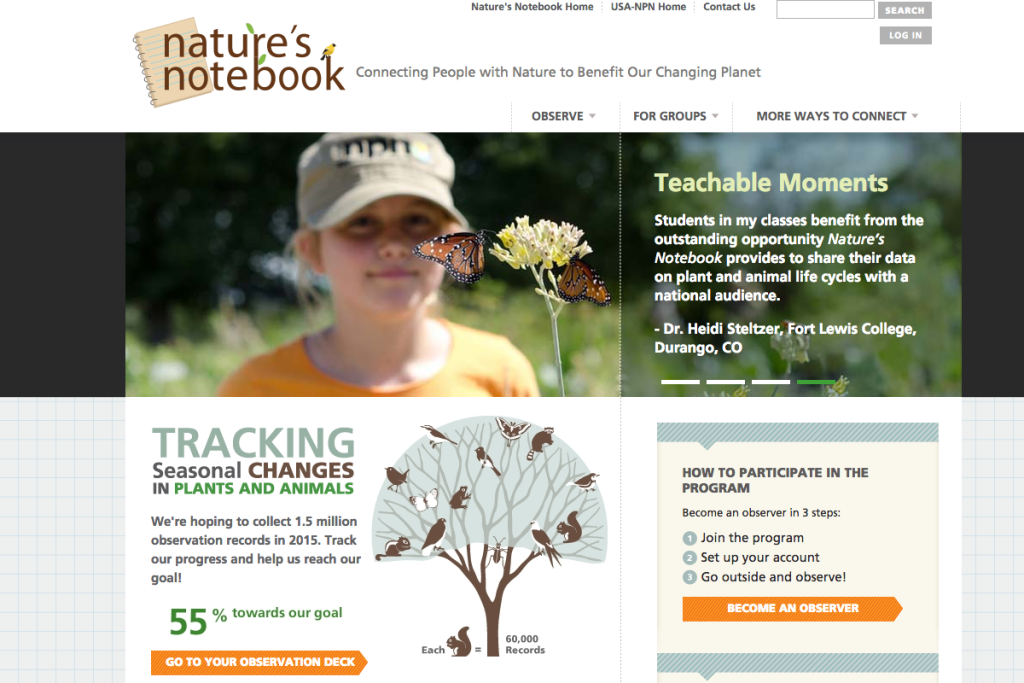 Nature's Notebook turns your family into citizen scientists! Create an account and log in with your location to help scientists track plants, animals and birds by observing and recording life cycles and migratory patterns.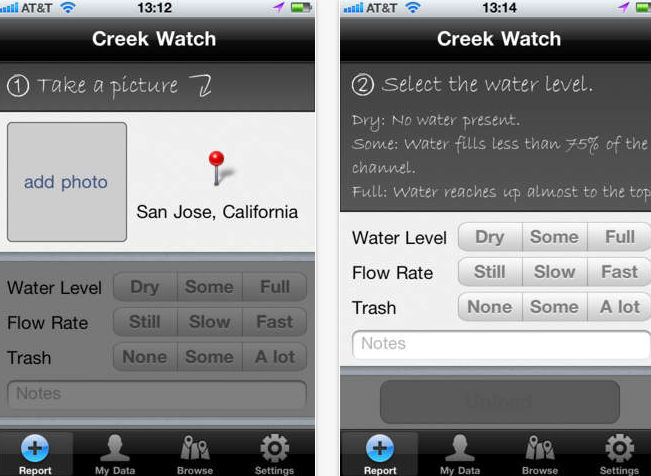 Help monitor the watershed in your area by observing and reporting your findings via CreekWatch. Creaks and streams are vital to plant and animal life. It's important to accurately monitor pollution and water levels. You and your family can take part in doing so by using CreekWatch to report observations to scientists. By becoming citizen scientists, your kids will foster a keen interest in conservation efforts through observing and reporting changing water patterns!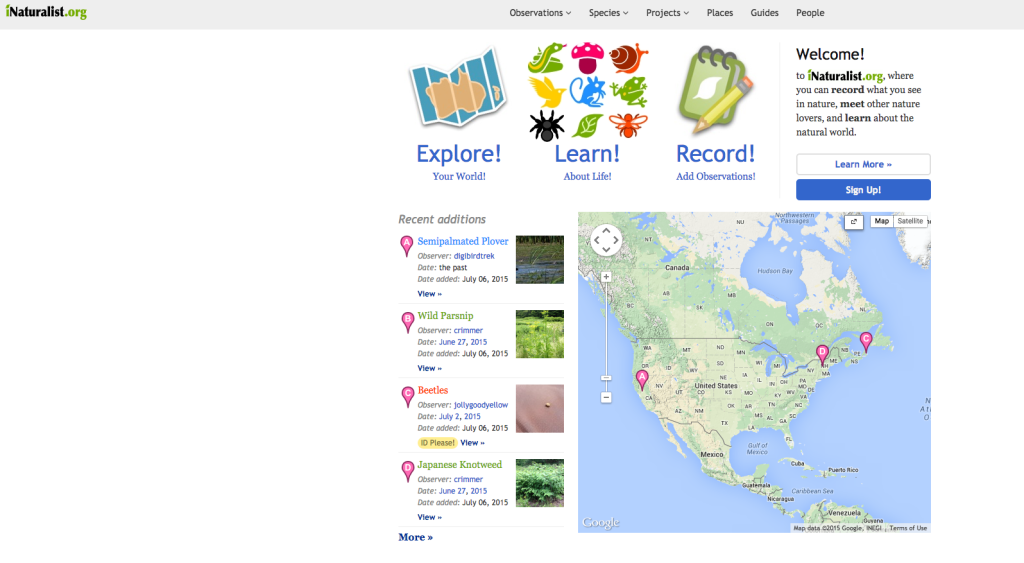 iNaturalist.org is a social network for naturalists. With this app, you can log the plants and animals you encounter on your hikes. As you build your Life List, you can submit your observations to the network. Kids can even photograph plants, insects or animal life and then submit images to the online community for help identifying unknown species! This is an outstanding app for getting kids to take a truly active interest in the natural world that surrounds them.
In a world that's more technology-driven than ever before, it's important to encourage your kids to find an appreciation for nature and a love of the outdoors. Getting started with the use of apps can help ease the transition and bring your kids outside!