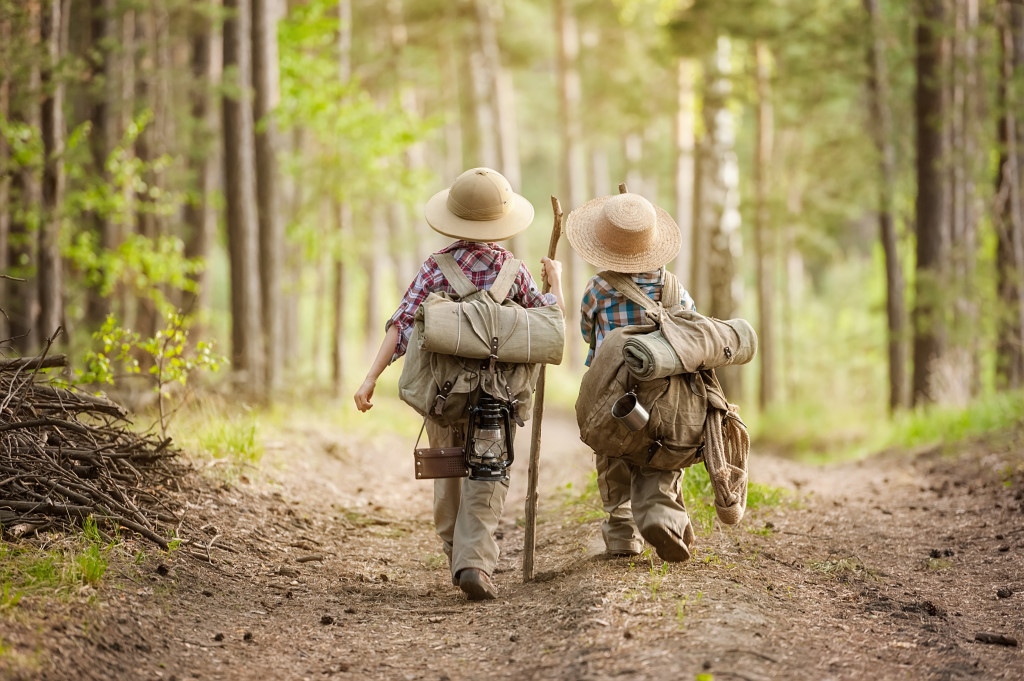 Hiking has a multitude of benefits for children. Kids who hike tend to be happier and healthier than those who don't enjoy outdoor activities. In fact, studies have shown that hiking even improves performance in school. It's never too early to get your kids interested in hiking and enjoying the outdoors. With a little bit of careful planning, you can help the little ones in your life develop a love and respect for the natural world.  Here are 18 tips for hiking with kids that will make your next hike a success:
1. Make Your Expectations Clear
Before you head out into the wilderness, take some time first to have a discussion with any kids that will be going along. Talk to them about what they can expect to experience during the hike, and let them know of any expectations that you have for them. Let them know the importance of having (and showing) a respect for nature and wildlife, and be sure that they understand what unacceptable behavior looks like. Not sure what points to include in this discussion? Just think about what's important to you personally, and aim for your junior hikers to follow those same values. This could be anything from not littering to being quiet so you don't disturb the wildlife. It's up to you!
2. Plan Your Route
Map out the route that you plan to take in advance of your hike. Find a few options and then let the kids choose which route to take. By making young hikers a part of the planning process, you're showing them that their input is important. When that successful hike is behind them, they'll also have a feeling of accomplishment. Knowing that they had an important part in making the hike happen will make them eager to get out there and do it again.
3. Let the Little Ones Lead
Don't be a micro-manager when you get those junior hikers outside! Your first concern should always be safety above all else. You should absolutely keep your eyes on your junior hikers at all times to ensure that they're safe and happy, but you should also allow them to take the lead when possible. Point out landmarks up ahead that mark the way and let them move ahead. By doing this, you will give them a feeling of empowerment. They will feel that they're in control of the situation and they will ultimately have more fun and take a keener interest in their surroundings. Happy hikers will be hikers for life!
4. Carry Your Cell Phone
Be sure to bring your mobile phone along with you in the event that you lose your way. Familiarize yourself with the GPS utility on your phone so you'll know how to use it if the need should arise.
5. Keep it Short & Sweet
It doesn't matter whether you're 6 years old or 86 years old—an exhausted hiker is a grumpy hiker. Be conscious of both the length and the difficulty of your hiking route before you set out. It's especially important to keep hikes fairly short and not too physically demanding. Bringing kids along on a difficult hike is actually counterproductive. If the little ones get too tired or if the hike simply goes on for too long, kids will remember that exhaustion and forget how much fun they had! By keeping your hikes short and sweet, you can create happy memories that junior hikers will want to recreate in the future.
6. Talk About Trail Safety
Take the time to go over trail safety with the little ones before the day of your hike. Show them how to spot poison ivy or poison oak if you're hiking in an area where they might expect to encounter these plants. You can also teach kids to keep an eye out for snakes, scorpions, and any other creepy crawlers they might cross paths with. Make a point of letting them know that they have a very important role as a "scout"… all they need to do is pay attention to their surroundings. Then, they can let you know and you'll take care of the rest! Safety is a group responsibility and everyone can play a vital role.
7. Dress for Success
First and foremost, encourage your little hikers to get down and dirty! Be sure to let kids know that it's okay to get hiking gear (including clothing and shoes) dirty. Your goal is for them to have fun, and if they're worried about dirtying up those new hiking shoes, they won't be able to focus on enjoying the hike. Wearing long sleeves and hats can help to protect that sensitive young skin from the sun, and choosing the right clothing for wetter climates can ensure that everyone is as comfortable as possible.
Researching online is a great way to start, but it's often best to choose clothing and shoes in-store and in person. This will allow kids to try on their gear before they get out there.
8. Pack with a Plan
It always pays to be prepared, and this is especially true when little tikes tag along! Pack a daypack for your hike and be sure to include all of the essentials. Including a safety kit can help you to ensure that you have what you need for a safe and healthy hike.
Always take care to pack a proper first aid kit and bring it along on every hike you take. Even if you don't anticipate a hike longer than half an hour, you should always be prepared. Even minor scrapes can become infected if not cared for properly. By bringing along your basic first aid kit, you can ensure that all of your hikers are healthy and happy.
9. Prescription Medications & EpiPen
Take note of any prescription medications your little hikers might need and bring those along with you. Emergency medical supplies should also include at least one Epi pen as well as the usual basic first aid items. Even if you think none of the kids that will be joining you have allergies you need to be conscious of, it's best to carry supplies you might need just in case. When you're out there in the wilderness, there's always the possibility that kids can encounter something they haven't before and an allergic reaction can take everyone by surprise.
10. Little Packs for Little Hikers
Kids love to tote their own goodies. In addition to a larger daypack that you'll carry, let your little hikers bring along their own lightweight backpacks. They can carry their own snacks as well as light, easy-to-carry activities like a small coloring book and box of crayons. Having their own backpack will even encourage them to collect items they find along the way, like leaves they can identify later on when the hike is over. Carrying their own pack makes kids feel more independent, and they can ultimately enjoy the hike even more because of this!
11. Consider Carriers for Babies & Toddlers
Even babies can enjoy the opportunity to join you on a hike. When you choose to bring a baby along, you will absolutely benefit from a good, high-quality carrier. This will allow both you and the baby to be as comfortable as possible. Toddler carriers are also available, and they can give you and your youngest hiking companions the chance to enjoy more time outdoors.
12. Make Hydrating Fun
Talk to your little hikers about the importance of staying hydrated before you get out on the trail and bring along plenty of water. On hot days, everyone will need to be sure to drink enough water. Kids can get distracted when they're out in nature, caught up in the wonder of the hike. By adding stickers to your water bottles, you can mark the amount of water the kids should be drinking. Consider using stickers to mark off the amount of water in quarters or thirds. Your little hikers will be eager to please you by drinking that water down to the sticker markings! This will make hydration into a game instead of a "chore". It's also a fun way for each child to make water bottles uniquely theirs.
13. Focus on Healthy Snacks
Pack healthy, energy-rich snacks for the kids to enjoy on your hike. Instead of choosing ready-made trail mix that contains lots of sugar, create your own mix using nuts and dried raisins. This will give the kids lots of protein with a bit of added sweetness. For shorter hikes, you might choose sugar-free granola bars. It can be tempting to bring along sugary cereals, cookies, or crackers. But remember that the little ones will get more benefit from healthy snacks that don't contain sugar! That immediate energy boost isn't worth it in the long run. Your hikers are learning healthy habits, so be sure to extend that into the snacks that you chose. Making healthy, homemade snacks in preparation for your hike is another great option. It's a fun activity that everyone can take part in while gearing up for your outdoor adventure!
14. Use Insect Repellant
Insects can be a real annoyance on a hike, and in some parts of the country insect bikes can make hikers downright miserable. While insect repellants have gotten a bad rap in the past, you should seriously consider using some form of bug spray on your little hikers. DEET works wonders, and it has been tested and found to be safe for children. If you choose a product that does contain DEET, it's best to select one with a concentration of 10-30% for an option that is both safe and effective. Other popular ingredients found in insect repellants include picaridin and oil of lemon eucalyptus. These can protect against mosquitos and are thought to be safe options for kids. Of course, there are natural options available that are 100% safe and always more effective than using nothing at all.
15. Advance Activities Inspire Excitement
One of the best ways to get kids excited about hiking is to engage them in activities that will inspire and motivate them before you ever head out on your hiking adventure! If you think creatively, there are countless ways that you can help young hikers get really excited about getting out there and tackling the trail!
16. Explore Nature Through Books
At bedtime, focus on books related to nature and outdoor activities. In addition to giving kids sweet dreams, this will get them more and more interested in hiking with every word you read! There are lots of amazing kids' books out there with beautiful illustrations to help bring the natural world to life in their imaginations. These are some of our favorites:
17. Craft a Hiking Stick
Hiking is easier with a nice, solid hiking stick. Spend a sunny afternoon walking outside with your junior hikers and have everyone choose a stick that will be a nice height and weight for each hiker in your group. The next time a rainy day comes around, you can break out these hiking sticks and spend some time having fun and personalizing them! Older hikers might enjoy sanding down the wood and adding a stain. Younger hikers will enjoy getting creative with paints. No matter how you choose to make your hiking sticks your own, everyone will have a great time and it will really help get the kids invested in that upcoming hike you've got planned!
18. Learn & Explore with Fun Apps
It's no secret that kids love technology. Use this to your advantage and help them explore nature with the use of great, outdoor-friendly apps. This can give them something to do on rainy days, and it can also be a great tool for encouraging them to develop a love of nature. Kids will enjoy learning and playing on the days they're stuck inside, and in turn, they'll be even more excited to get out there and get hiking!
33 Outdoor Apps to Get Kids Into Nature
Get started early and plan ahead. Even short hiking trips as often as once each year can make kids happier and healthier while helping them to develop skills and a positive attitude that will enrich their lives.