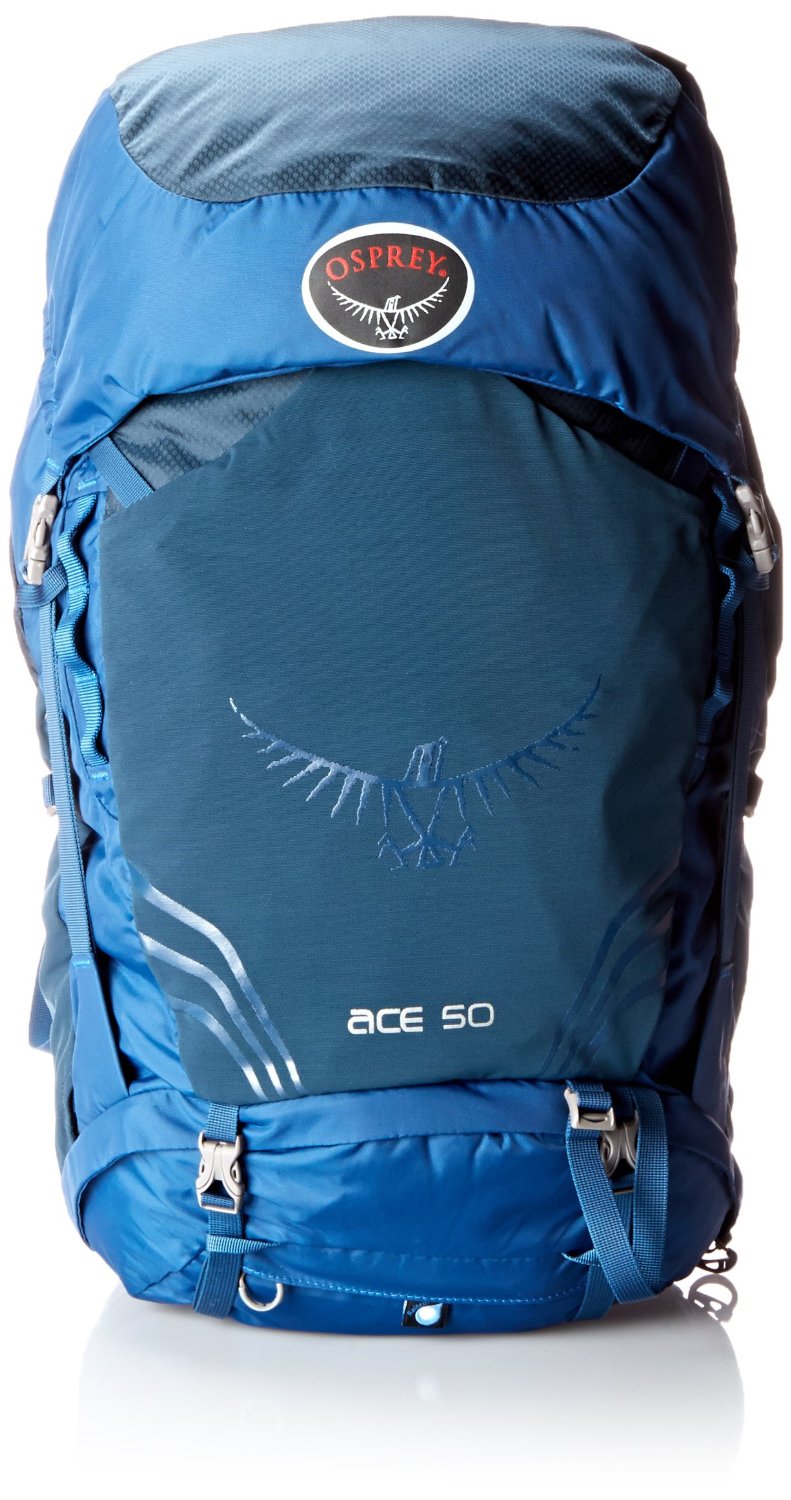 In this Osprey Ace 50 Review, I discuss a well-engineered pack designed to last and grow with your child.
It typically retails from $120 (Amazon) to $160 (Osprey's website), and is designed specifically for male and female youths aged 10 – 17. 
This ACE 50 is a quality investment that can last 10 years as it is designed to adjust to your child's growth.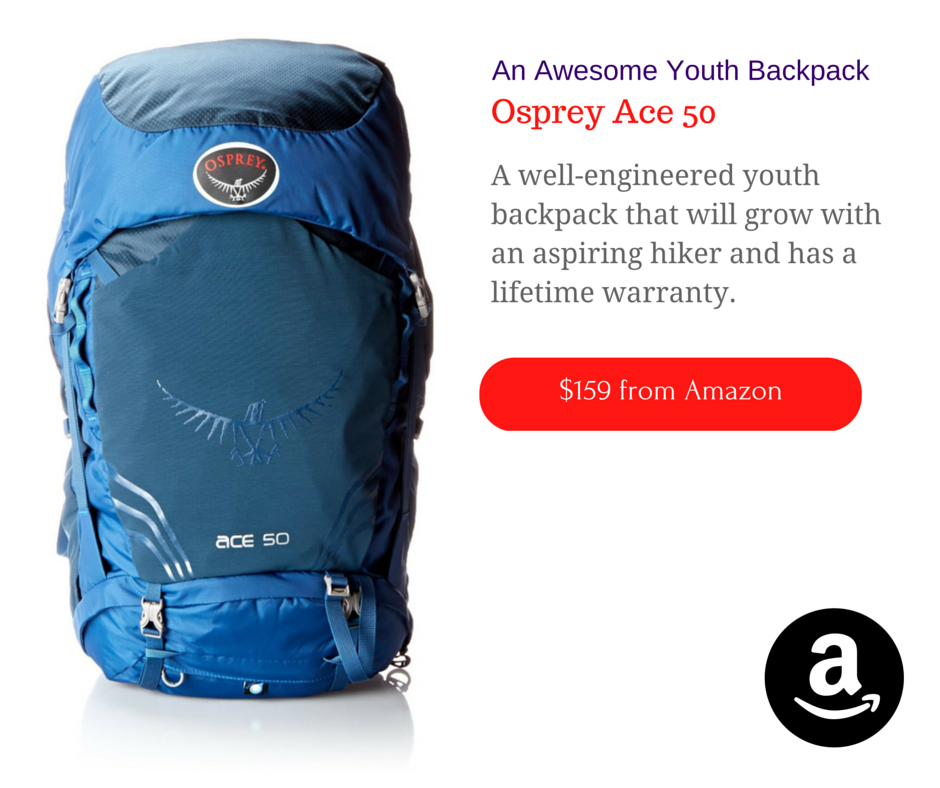 Though your child may outgrow the pack (it maxes out at the lower end of a "medium" adult male Osprey pack), don't expect it to fall apart and remember . . .  
Osprey provides a lifetime warranty.
Here's a few details you may be interested in.
OSPREY ACE 50 PRODUCT DETAILS:
Volume: 50 liters

Dimensions: 26 inch (h) x 13 inch (w) x 12 inch (d)

Weight: 2.95 pounds

Fabric:

Main compartment – 201D Nylon double diamond ripstop

Accent – 420HD Nylon packcloth

Bottom – 420HD Nylon packcloth

Frame: LightWire™

Suspension: HDPE Framesheet

Torso Length Range: 13 – 18 inch
Osprey effectively took signature innovations from their adult product lines and designed a backpack made for youth, but capable of much more.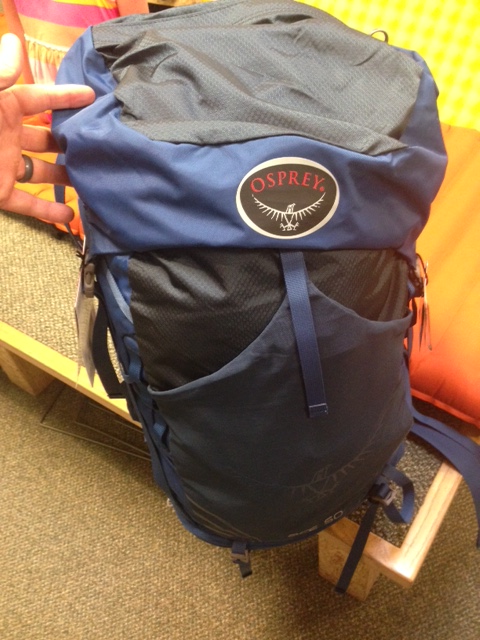 Lightweight and Adjustable
General guidance is to allow the youth to carry up to 20% of his/her body weight. 
Some adult women use the Ace 50 for backpacking as it fits smaller torsos nicely.  
The strength of the pack comes from the LightWire™ suspension system also used in Osprey's adult backpacks. 
This pack is light . . . less than three pounds in fact.
The mesh back panel and shoulder harness makes for a comfortable hike.  Osprey's attention to detail with the adjustable torso segment knocked it out of the park. 
This will allow the 10 year old to comfortably wear the pack, and refit it with ease many years after hitting adolescence. 
This pack is entirely designed to grow with your child.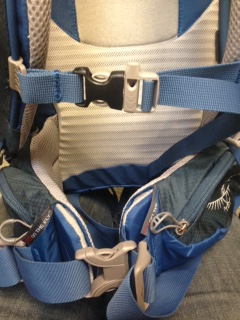 This adjustable torso feature is a great selling point for smaller adults that have a challenge of finding just the right fit the industry's standard "small" sizes. 
Osprey also acknowledged that waist sizes change over time so spacermesh Fit-on-the-fly™ adjustable hipbelt was incorporated into the Ace 50. 
Like everything else about this product, the shoulder straps are adjustable as well to compensate for growth and load position during the hikes. 
Storage 'a Plenty with the Ace 50
The Ace 50's major storage portions are comprised of one main compartment, one large mesh front pocket, two side stretch pockets, and one lid. 
The backpack applies upper compression through dual side, adjustable compression straps, and stabilizes the load while giving the youth a selection of external gear carrying options.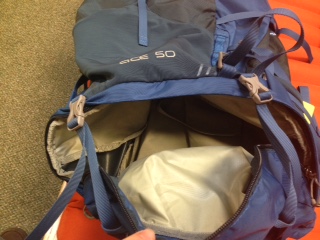 The main storage compartment has a top pocket under the lid.  It is a zippered mesh pocket, and grants easy access to items needed often. 
Osprey used durable material in the backpack's construction to facilitate top load access. 
The backpack's main compartment has drawstring closure, an internal load compression strap, sewn-in hydration sleeve, and a hanger handle to provide easy unloading / loading of supplies. 
The backpack's hydration sleeve and port are designed to work with the Osprey 3 Liter Hydraulics Reservoir and smaller bladders.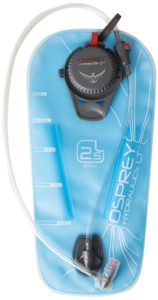 Osprey elected to use a durable stretch mesh material on a number of the backpack's components.  If you place your hand behind the mesh, you can faintly make out the individual fingers.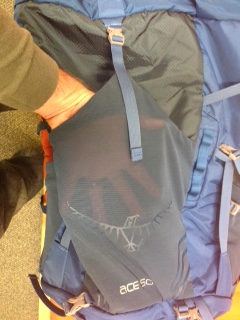 The backpack's front panel pocket is made from this material and gives external storage / organization for easy access. 
The side pockets use InsideOut™ compression to provide external carry options.  These let the hiker secure extra gear even when the pocket itself is full. 
Osprey used an unassuming way to add extra durable carrying options to the backpack by taking a note from tactical equipment: the daisy chain.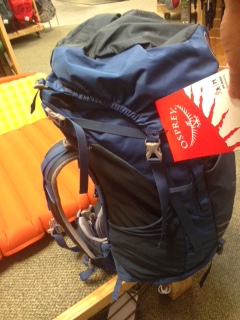 The backpack subtly includes dual side daisy chains sewn into the backpack's exterior for easy carabiner attachment. 
Hiking Checklist Included
The designers helped to remind the youth (and parent) of some of the most commonly forgot items on initial overnight hikes. 
Osprey includes a checklist at the very top of the central component's material that lists 10 essentials for your trip:
Map

Compass/GPS

Sunglasses and sunscreen

Extra food and water

Extra warm clothes / rain gear

Whistle

Headlamp

First aid kit

Parents and/or a good friend

A great book

 
Integrated Raincover
They took it one step further and helped the hiker to avoid forgetting rain gear not only for the hiker, but for the backpack itself. 
Osprey cleverly included an integrated raincover at the bottom of the backpack.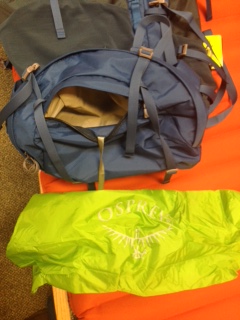 It even has a tag with a small symbol and word "raincover" sticking out of the backpack's bottom. 
The raincover is attached by a small lanyard to the bottom pocket's inside.  Even if the hiker doesn't catch the hint and removes the raincover from the backpack, it is colored a neon green to avoid blending into the surroundings too well. 
As a parent hiking in the rain with his/her kids, this bright color assists with keeping track of each other. 
Designed to Accomodate a Sleeping Pad
Osprey also designed their pack to accommodate one of the most commonly forgot items on initial hikes: the sleeping pad. 
The Ace 50 has dual adjustable/removable sleeping pad straps to attach additional carrying options. 
These straps can also be removed if not used and generally trying to limit the youth's load to less than 20% of their bodyweight. 
Remember how I mentioned that this pack can easily outperform what it was designed to do?
The Ace 50 is Intelligently Designed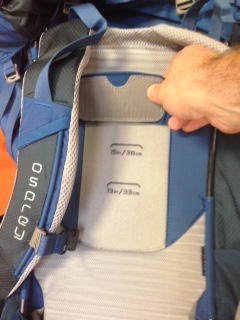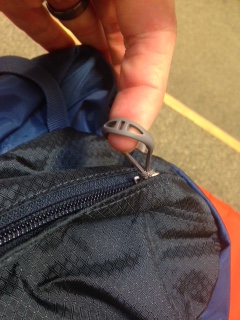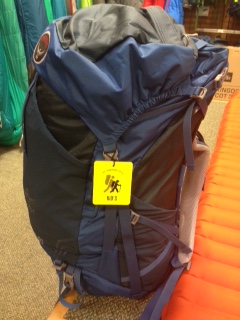 The backpack is intelligently designed to not only pack the hiker's gear, but to provide conveniences to the hiker. 
It is apparent that Osprey's design team use their own products because many of these ideas could only come from someone familiar enough with backpacking to have "ah ha!" moments born of frustration when dealing with how something is packed. 
The two mesh side pockets and front mesh pocket add "quick storage" options. 
The hip belt has two more quick storage pouches perfect for cameras or snacks. 
The lid of this top-loading backpack is removable for quick trips away from the hiker's tent, such as a walk to use a camp shower with toiletries in hand.  The detachable lid has two zippered compartments to help with organization of smaller items. 
Another creature comfort is the zippered access to the backpack's bottom.  There is a flap inside the main compartment that serves to separate the majority of the gear from a bulky item, typically a sleeping bag. 
The bottom access directly to the sleeping bag saves the hiker from having to dump the entire pack in order to make camp. 
The last thing a child (or anyone really) is going to want to do after a long hike is repack everything. 
Additional features of the Osprey Ace 50 still abound
The backpack is fully equipped with compression and gear storage options. 
The upper side has release buckle compression straps to not only tighten the load, but allow for quick load adjustments. 
The backpack's daisy chains can easily support a fishing rod, an adjustable ice tool, a set of stow-on-the-go trekking poles, and so on. 
The materials used to make the compression straps are designed to maximize structural integrity over many years, yet work smooth enough to operate in the middle of the night. 
This general comment can apply to all of the material used to make the backpack. 
The hydration reservoir is protected with an internal location right along the hiker's back, and protected by a separating sheath. 
Even if there is a water leak, Osprey put the simple yet ever effective metal ring at the pack's bottom for drainage. 
The zippers are embedded to avoid exposure, the stretch mesh is light but doesn't present any openings big enough to get snagged on something that would tear it, and the straps are categorically sewn into points of double layered cloth. 
The often cumbersome chest buckle that joins the two shoulder straps is done in a whistle buckle fashion to allow for easy grabbing, and a durable connection between the two sides. 
Osprey even thought to avoid the difficulties with finding a zipper's handle.  They attached a fixed sling the size of an adult's finger tip to the zippers to make for the awkward over-the-shoulder grabs actually find the intended zipper and gain access to supplies packed in the smaller pockets. 
So, with these features listed you should have a pretty solid idea as to how the backpack is designed. 
Any negatives of the Osprey Ace 50?
You may have noticed that there really weren't any negatives in this review. 
In truth, I don't think that there really are any significant design flaws with the Osprey Ace 50. 
I could see a complaint that Osprey only chose to release this model in "Night Sky Blue."  I can understand why it only comes in the one color for both the inventory control purpose and unisex design. 
The pack could possibly have a front access pocket, instead of just the top and bottom access points.  However, I believe that adding an additional port like that would require additional zippers and a sacrifice of the front external pocket. 
I could also see someone getting overly picky about the suspension system because it is an internal frame, the width of the backpack causing too much of a weight transfer to the hips, and lack of active load transfer. 
This is going to be a challenge with any pack built small enough for youths.  The youth shouldn't routinely carry more than 20 pounds, so I fail to see this as a major concern. 
Osprey Ace 50 Review in Summary
Yes, I recommend that you as a parent or adventurous youth select the Osprey Ace 50 as your primary piece of equipment. 
It's a great investment because it will grow with the aspiring hiker, can easily outperform what you're going to demand of it, has a lifetime warranty, and simply feels of well-engineered equipment.