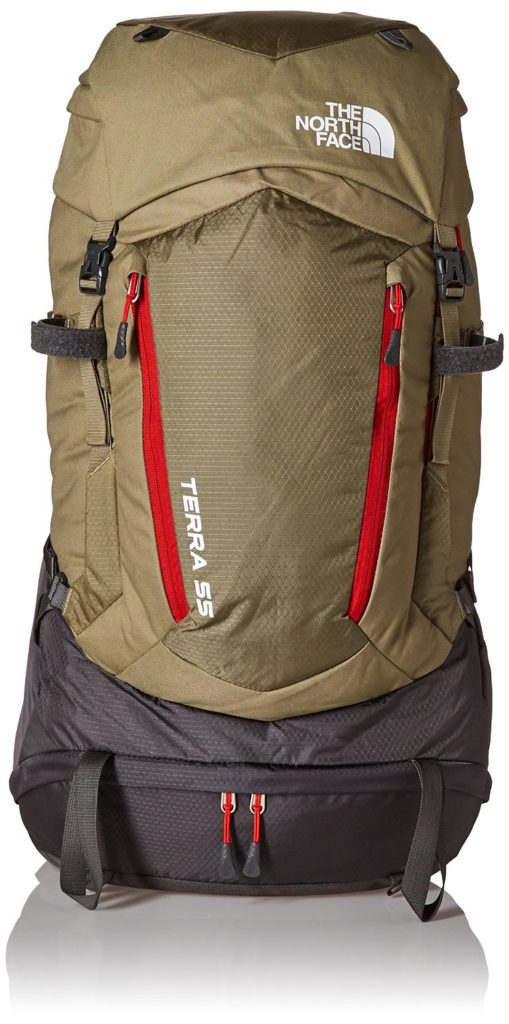 Kids are tough on their things, backpacks especially.
As a parent, you want something that will hold all of their hiking and travel essentials, is durable enough to last them awhile, and is versatile enough to handle all of the family adventures.
The North Face Youth Terra 55 backpack will easily live up to these expectations.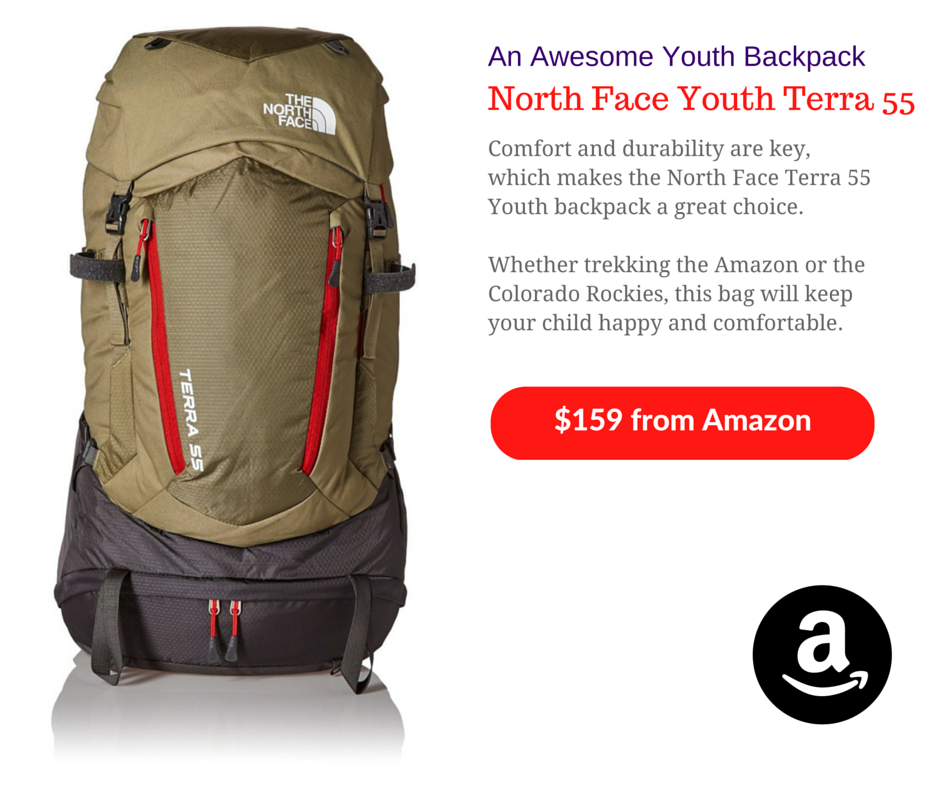 The North Face Youth Terra 55 Backpack Review
Made by North Face, this bag is tough, durable, and kid-sized.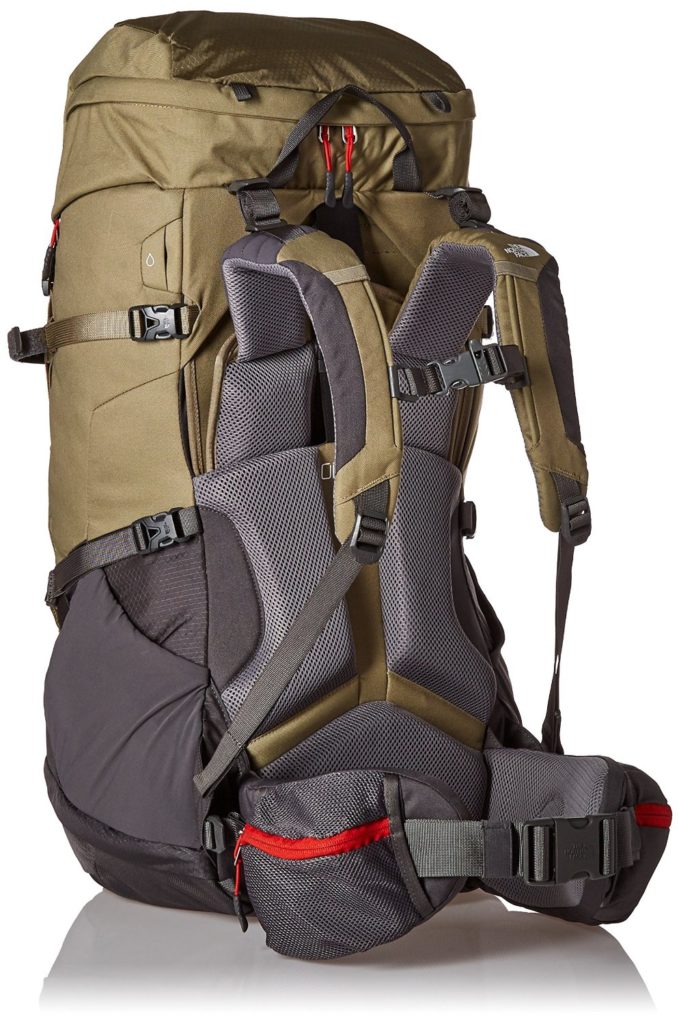 It is backed by the North Face warranty.  An outdoor company with a solid history, North Face knows the outdoors and what it takes to make good products that last.
Some customers report being able to still use backpacks that they purchased twenty years ago, which is a testament to North Face backpack construction. Similar North Face bags have stood up to over two years of continuous travel without showing any signs of wear.
The Youth Terra 55 has enough features to keep both kids and parents happy, is large enough to accommodate three to five day hiking trips or two week vacations, and comfortable enough that the kids won't want to take it off.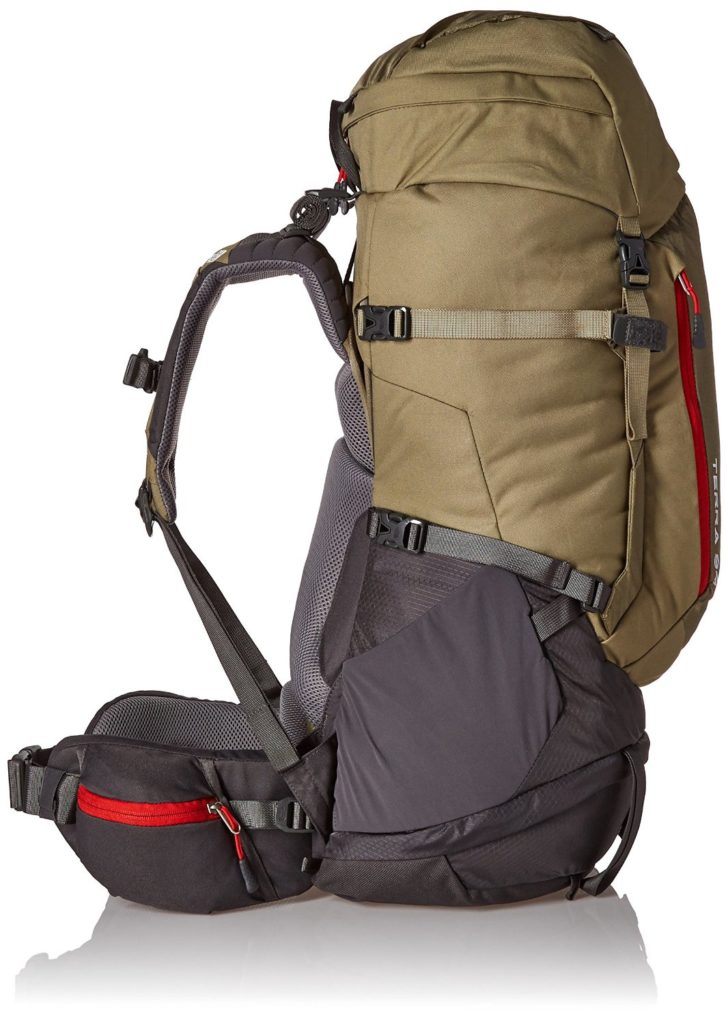 If they do, then the bag is also light and small enough that an adult could carry it on their front with another trekking bag on their back.
Although in the ideal circumstance a child's boundless energy should make it possible for them to carry their own bag on any adventure, it is nice to have extra options just in case.
Some of the Youth Terra 55 features include:
55L Capacity

Optifit harness technology

Slim design and compression straps for improved load management

Large side zipper for easy access to main compartment

Seven external pockets for organization

Durable fabrics used for construction

Straps for carrying trekking poles

Exterior lashing points to carry extra gear

Hydration sleeve
North Face Youth Terra 55 Backpack Review:  Designed to be comfortable
One of the most important things when considering a travel or trekking backpack is getting one that is comfortable to wear over a long period of time.
If the straps start biting or the kid's back starts aching due to an improperly fitting bag, it is almost certain that nobody is going to be having a good time before long. A properly fitted waist strap, a sternum strap to pull the shoulder straps in, and padded shoulder straps go a long way to increasing the comfort of any bag.
OPTIFIT harness technology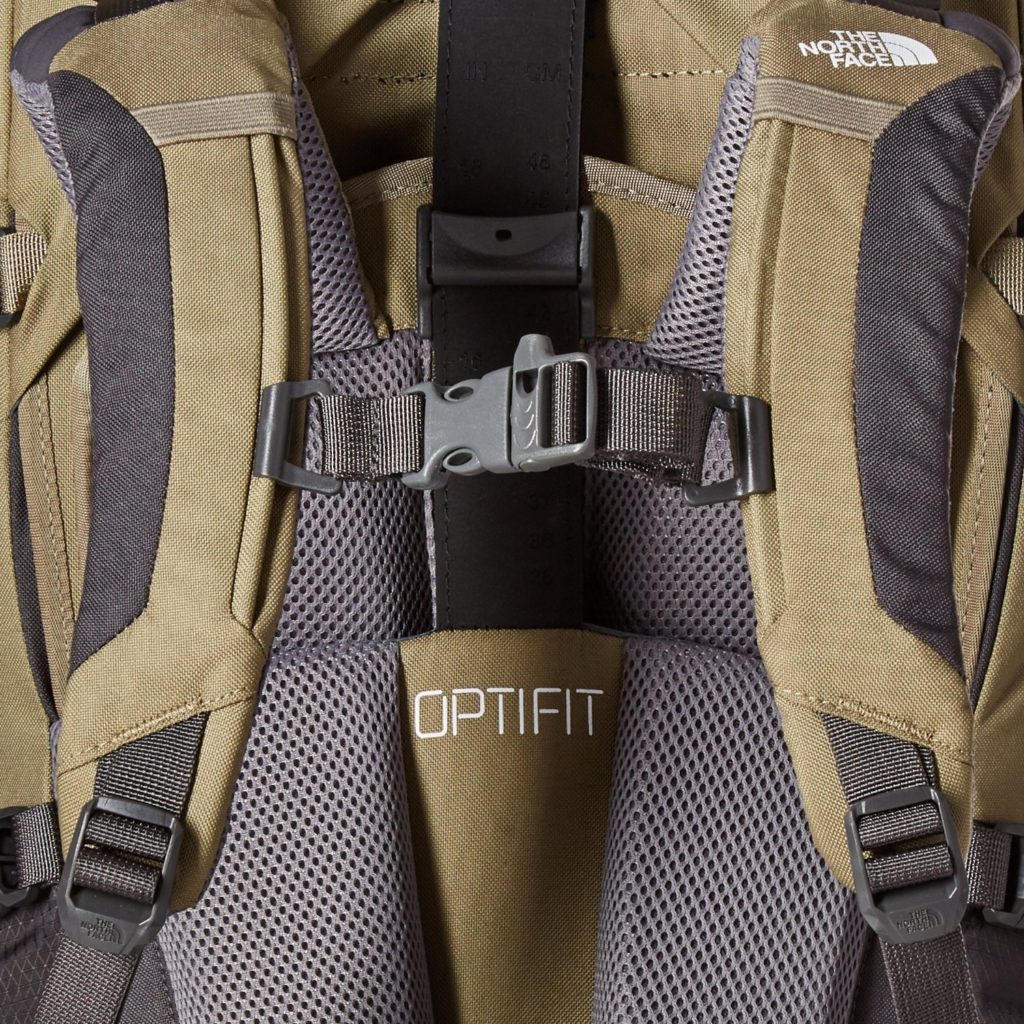 North Face has innovated the OPTIFIT harness technology for their backpacks, which is versatile and adjusts to a wide range of torso sizes.
This also means that the backpack will grow with the child, lasting and remaining comfortable through those inevitable summer growth spurts.
With a durable frame to transfer the weight to the hips and a padded hip-belt, this bag handles all comfort needs.
The bag also features a cool mesh where it contacts the body and a vertical venting channel on the back, making it cooler and more comfortable to wear even in hot conditions, whether it is trekking through the Grand Canyon or the jungles of Thailand.
Hiking is hot enough work without a backpack trapping all of the sweat and chafing on the back.
Lightweight and Large Capacity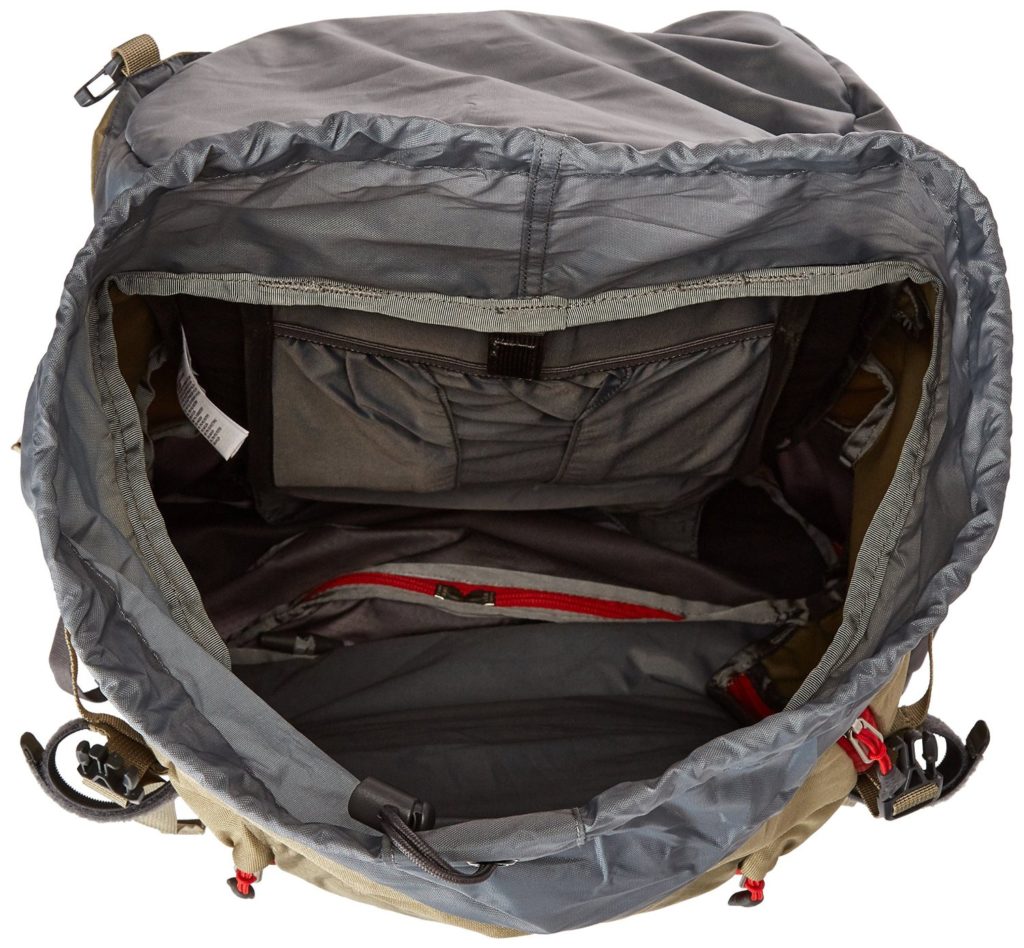 The bag has a 55L capacity and weighs in at 4lbs, 4.2 ounces (or about 1.9kg).
While more petite adults using this bag might find the space slightly limited, the 55 litre capacity is sufficient to carry everything a child would need for a five day hiking trip or a two week family vacation.
The capacity is large enough for all the essentials while limiting the usual overloading that can occur with larger bags.
Years of travel experience has shown that a bag that is too large for the trip will simply get filled with extraneous items that 'could be useful' but by the end of the trip are stuffed at the bottom of the bag without ever having seen the light of day.
Compression straps make it possible to pull the load closer to the body, which make it more comfortable to carry.
These are also useful to keep the bag from flopping around uncomfortably if it isn't completely full; this makes it possible to use the backpack for simple day-trips when not as much gear is required.
Many Compartments with Easy Access
Another essential for any good travel and hiking backpack is easy access to all of the day's essentials without having to dig around in the bag for fifteen minutes to unearth a simple snack.
Nothing can turn a trip sour faster than a hungry and cranky person. The Youth Terra 55 provides for these needs as well.
Equipped with a Hydration Sleeve
Equipped with a hydration sleeve and all of the essential straps to keep it in place, this bag can keep a hydration pack easily accessible.
The hydration pouch, unfortunately, needs to be purchased separately, but there are several good brands to choose from like Platypus, Geiggerig, and Nalgene.
Small zippered pouches on the hips are great for keeping passports and cash handy on international trips, as well as keeping small snacks readily available. T
he side pouches are also a great place to store a small first aid kit with some Band-Aids, Polysporin, and such.
A large zippered top compartment is useful for stuffing the day's essentials: lunch, an extra jacket, toiletries, a book, power cords, or a camera.
Lacks a Rain Cover
One thing that the bag lacks is an included rain cover, however with the fabrics used it should stand up to light rainfalls.
When traveling or hiking in areas with substantial rainfall a separate rain fly can be purchased, which makes sure that your clean, dry clothes do indeed stay dry.
There are few things more certain to cause a poor night's sleep and a grumpy morning than slipping into a pair of soggy pajamas.
A separate rain cover can be useful when the intended trip involves walking near large waterfalls, into monsoon season, or anywhere else that an above average amount of water is expected.
To make packing easier and more organized, separate storage cubes can also be useful.
It can be a bit of a pain to be digging through the backpack and repacking every night simply to find pajamas and a toothbrush.
Storage cubes are great for backpacks as they allow clothing items to be separated (i.e. undergarments and socks in one bag, snacks in a second bag, shirts and pants in another, etc.).
This makes it simpler to repack in the morning and cuts down on lost socks.
For the ladies and girls, one question is always "Where do I put my extra shoes?"
Whether it is a handy pair of light shoes for sitting around the campfire after a day of tromping around in heavy hiking boots or a pair of flip flops for hitting the beach on a trip, having the space to handle an extra pair of footwear is a great bonus in any bag.
Even better is the ability to keep the shoes contained in a separate area without getting the clothes dirty.
The Youth Terra 55 has a bottom area that is perfect for storing shoes and keeping the dirt separate from clean clothes.
Although technically designed for a sleeping bag, this compartment is also great for bulky sweaters, keeping dirty laundry separate, or spare shoes.
Sleeping bags are usually better off strapped to the outside of the bag, especially if traveling somewhere that a warm heavy sleeping bag is required.
Convenient Exterior Lashing Straps
Invariably there are some items that simply don't fit into the backpack.
On some adventures it is handy to have trekking pole loops that allow for trekking poles to be easily stashed when they aren't needed.
This makes it possible to keep the hands free to climb trees, eat snacks, and take pictures on easier parts of the trail.
It can also be useful while traveling if trekking poles aren't required for every part of the trip.
For example, on the Inca Trail there are usually a few acclimation days prior to the actual trekking due to the altitude.
Trekking poles are definitely a must for the trail itself, but they are bulky and cumbersome, not to mention unnecessary when wandering around Cusco prior to starting the trek itself.
A spare water bottle. Wet socks.  A jacket.  A camera. Their favorite stuffed toy.
With several lashing points and efficient use of carabineers and rope, the Terra 55 makes it possible to keep all of the day's essentials easily accessible on the outside of the bag.
While to be most efficient these items would go in the backpack, every traveller encounters days where the weather is variable enough that a jacket is put on and removed every fifteen minutes.
It is much easier to just lay the jacket over the bag and strap it down on the outside than having to dig through the bag five times in an hour.
Easy to use and convenient exterior lashing straps make it more difficult to lose items that are accessed frequently.
North Face Youth Terra 55 Backpack Review in Summary
A good backpack is an essential part of any adventure, big or small.
Comfort and durability are key, which makes the North Face Terra 55 Youth backpack a great choice.
Whether it is trekking the Amazon or the Colorado Rockies, this bag will keep your child happy and comfortable on any trip.
The North Face Terra 55 Youth backpack can be found at Amazon ($137)