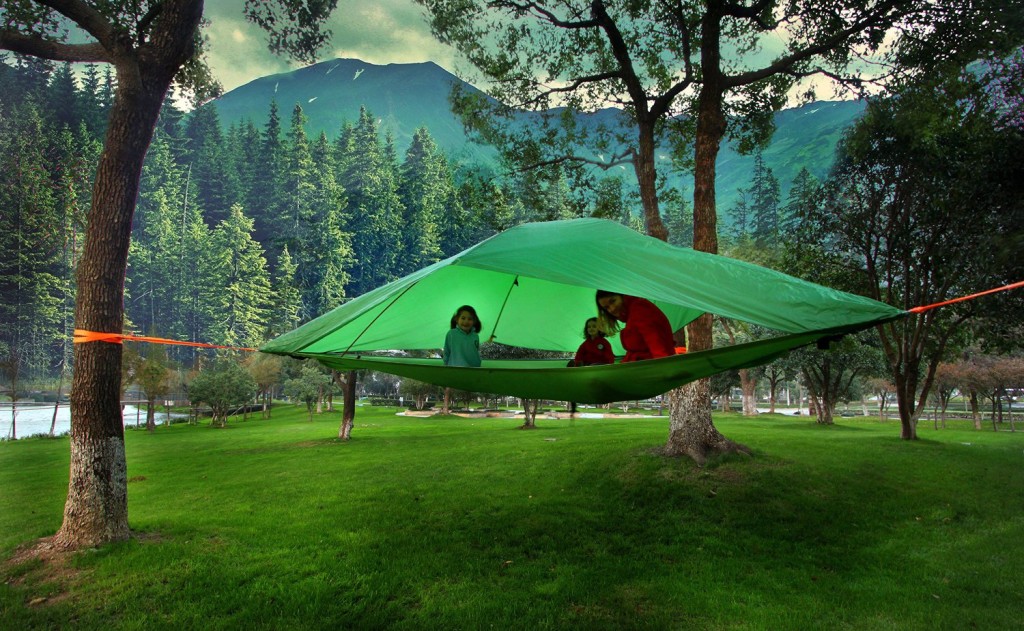 All of us have been there: you look for a place to set up camp for the family, a place that has a relatively soft patch of ground.
You don't want to sleep on acorns, branches and stones that feel like boulders under your sleeping bag.
You've probably even woke up in the middle of the night to an animal sniffing around your tent.
Things Are Looking Up!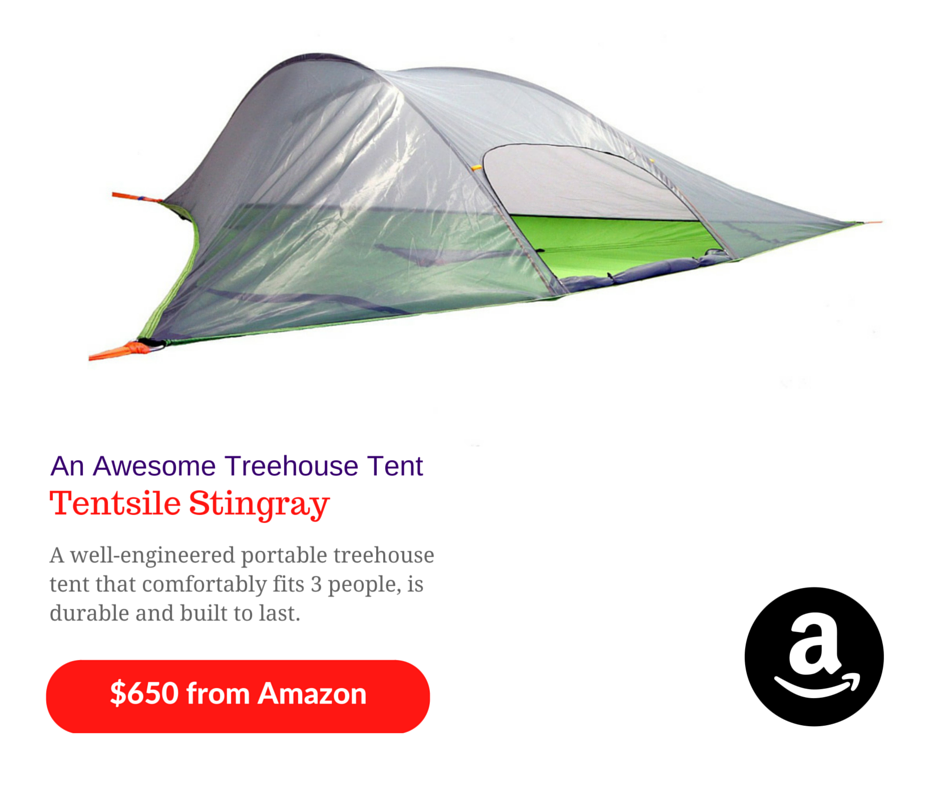 Thanks to the clever crew at Tentsile.com, there is a novel option that allows you to avoid all of the nightmarish scenarios previously mentioned.
For campers who like a restful, soft, comfortable place to sleep, things are looking up — up in the trees!
Tentsile has taken an age-old concept, one used by indigenous cultures for centuries, and updated, improved and embellished it to the point of perfection.
Wizened hunters have also used the concept, but only using natural products: vines, leaves, tree branches, and other porous items that don't really keep out the wet weather or the biting insects.
The refined models by Tentsile are built for comfort, designed for repeated use, and are weather as well as insect repellant.
Neither will you be sleeping on anything that gouges into your skin, nor near anything looking for a free meal.
The line of innovative products includes:
Trillium Hammock

Connect Tree Tent

Stingray Tree Tent

Vista Tree Tent
Inspired Form, Function and Visual Appeal
Each one is a treat in itself, born of a valid, reliable concept but reintroduced with the benefits of high-tech engineering and imaginative design, not to mention a flair for alluring visual appeal. Crafted with durable, rugged materials, they are fashioned to last long and stay strong. Their unique construction ensures exquisite comfort, free from weather, bugs and other intrusive, uninvited critters. They are a picture of inspired form, function and aesthetics. Basically, as noted by the Australian press, these four items could revolutionize the entire tent-camping experience.
Here's the details on these inventive products:
Trillium Hammock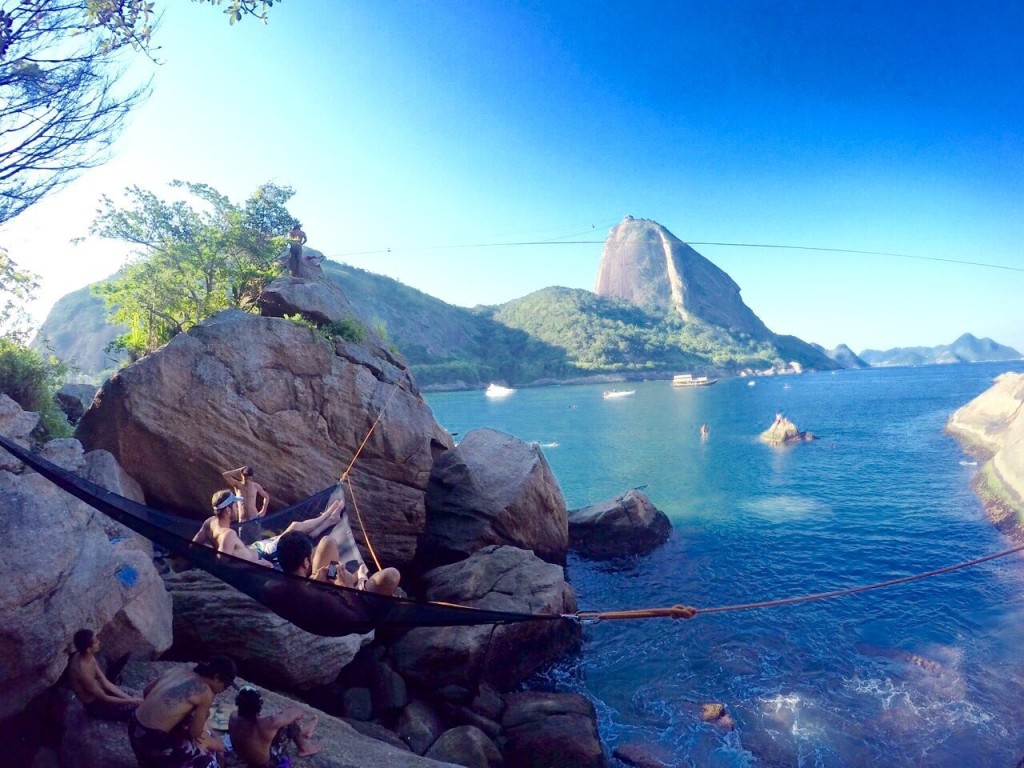 The Trillium Hammock is a triangular-shaped, multipurpose item. It can be used simply as a fantastic place to snooze in the midday sun or in the shade under trees, or as a comfy platform to watch a sunset. It can also be used as an accessory to the Connect, Stingray, and Vista tree tents, being hung over or below the tree tents for extra storage space. It is available in two styles: black mesh or green fabric.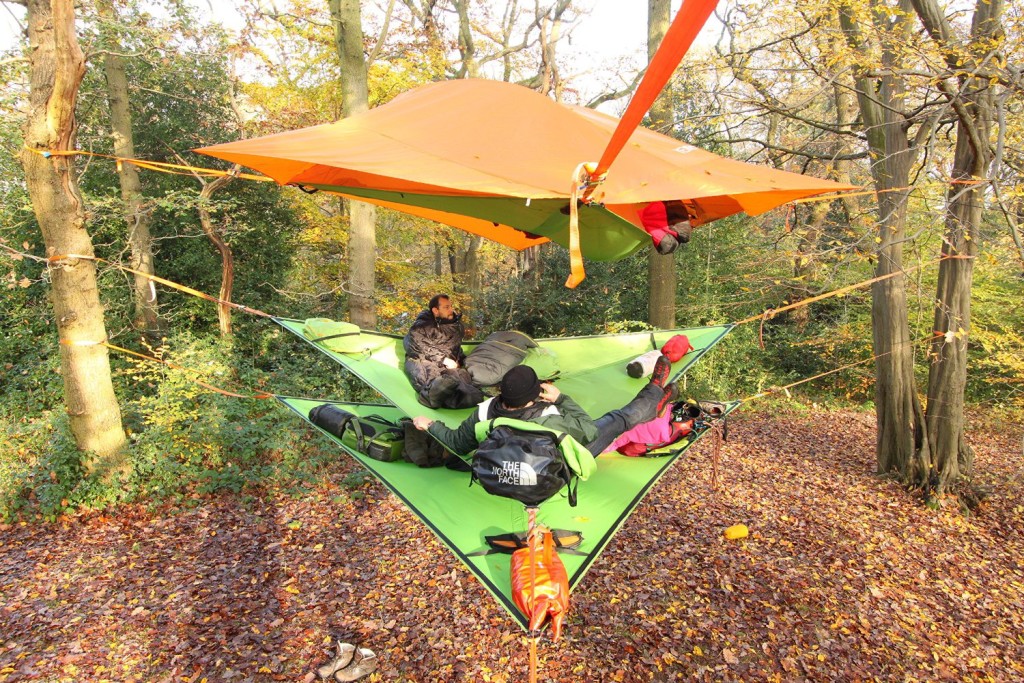 As an accessory, the black mesh Trillium Hammock is an awesome way to air out wet clothing or even wet bodies and dogs. In addition, both styles can be used either above or below the other tents for extra sleeping spaces for additional campers, storage for extra gear, or to store some food items. Designed for ultimate support, the Trillium Hammock comes with professional grade ratchets and rugged polyester webbing straps for affixing the hammock to three trees or anything else that is sturdy and stable. The Trillium Hammock can also be positioned directly under any of the tree tents. With blankets or clothing added, pressed up against your back, they provide insulation and warmth for colder nights.
Its features include:
15 ft. x 15 ft. x 15 ft. – 80 sq. ft.

13 lbs

Safety rating for fire – U.S. standards CPAI84

18 in. x 9 in. x 9 in. bag for easy carrying

880 lb weight capacity

Easy instructions
Connect Tree Tent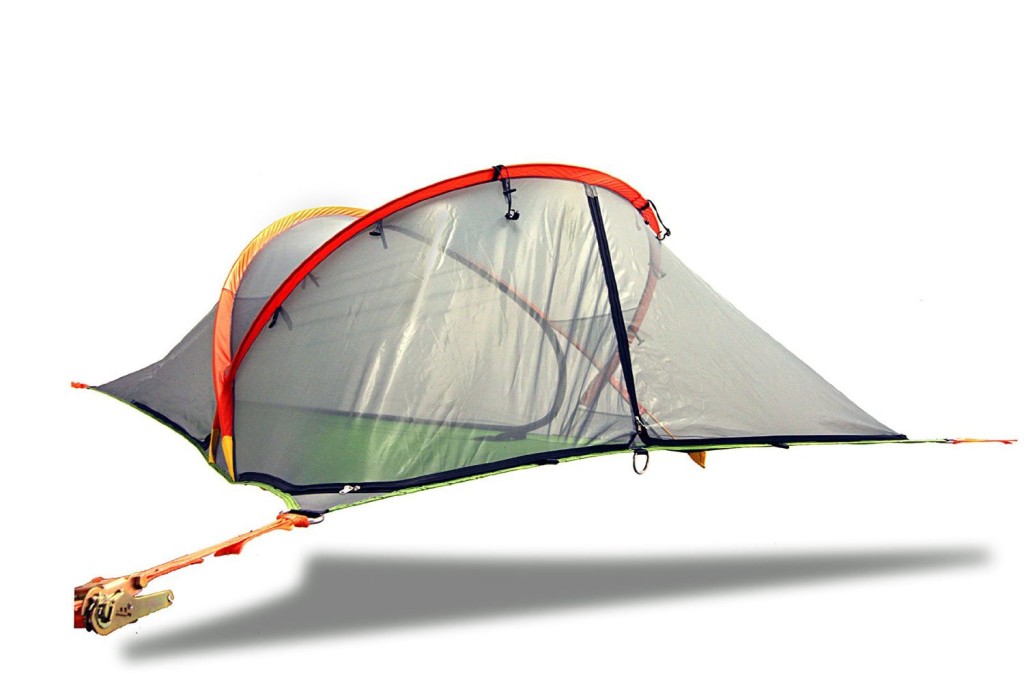 The Connect Tree Tent is available in a number of cool camping colors, including Forest Green, Fresh Green, Orange, Camouflage and Dark Grey. There is also an array of designs that provide either privacy or accommodate an open view to the world around you. Also referred to a portable treehouse, it has a two adult or one adult and two kids capacity. Additional sleep space can be added with a Trillium Hammock placed below or above. For a very cool, fun camping experience for families or groups, several Connect Tree Tents can be joined together for an awesome communal camping experience.
Connect Tree Tent features include:
9 ft. x 14 ft. x 14 ft.

15 lbs

Anodized aluminum alloy poles

Tear-resistant mesh roof

Waterproof polyester flysheet

Ratchets and straps

Durable, lightweight carrying bag

880 lbs weight load

Instruction manual
The flysheet can also be configured in a number of ways to accommodate more space or other considerations.
Stingray Tree Tent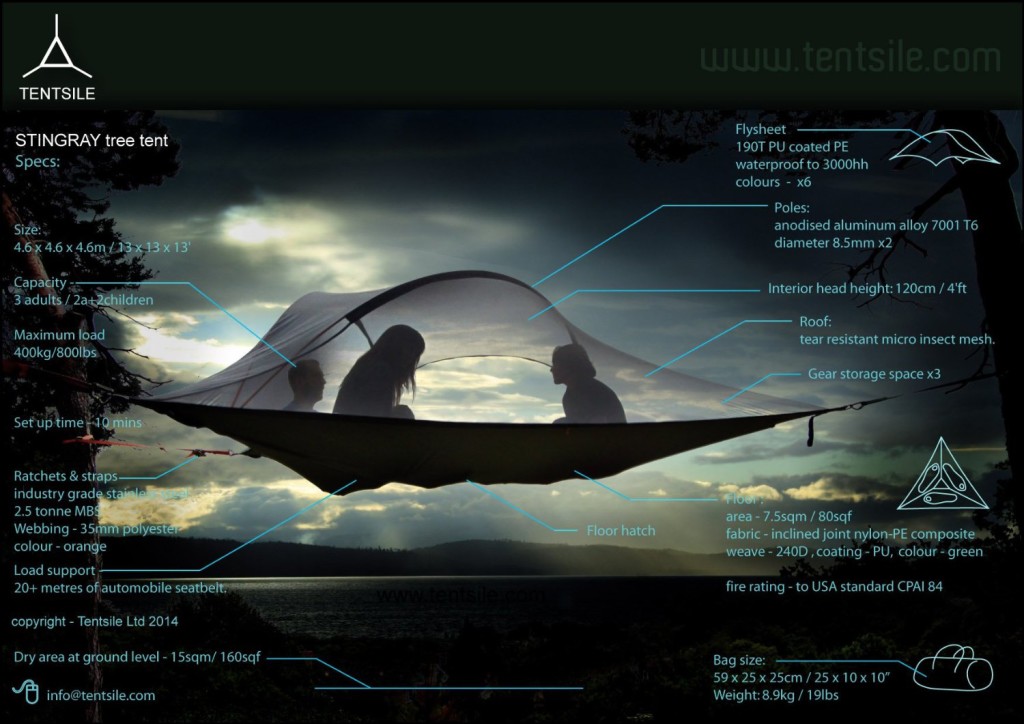 While designed as a three-man tree tent, or portable treehouse, it will accommodate up to six sleepers. The interior is a roomy triple hammock design with a tear-proof, durable, insect-repelling mesh. It features a hatch type door in the center and a large front door for entry. The removable flysheet can be arranged in a variety of different configurations to be attached to other trees, the ground, or to any sturdy, stationary object.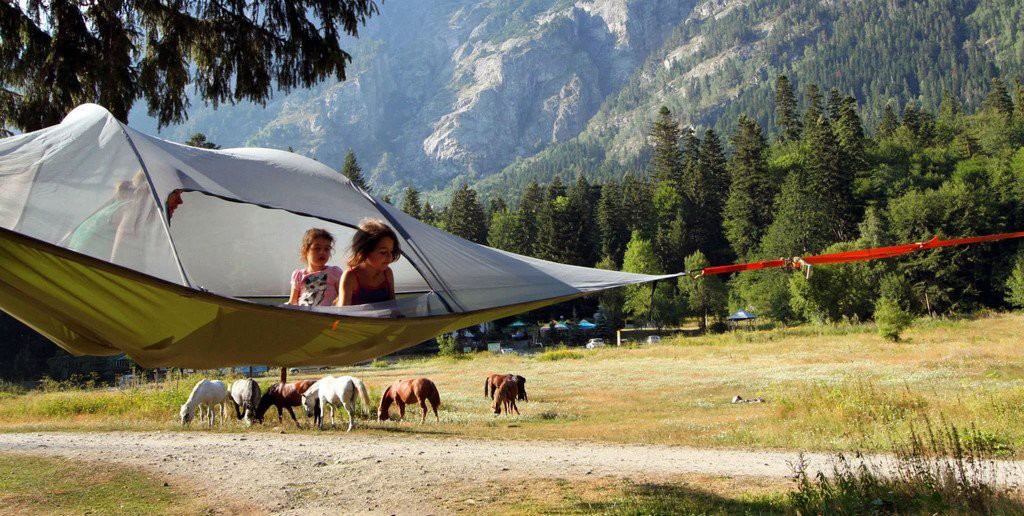 Stingray Tree Tent features include:
15 ft. x 15 ft. x 15 ft.

Floor – 80 sq. ft.

Interior Height – 4 ft.

Weight – 19 lbs

Anodized aluminum alloy poles

Bug proof, tear resistant mesh roof

Waterproof polyester flysheet

25 in. x 10 in. x 10 in. carrying bag

Plated, commercial quality ratchets and straps

Capacity – three adults with gear, or two adults and two kids

Weight load capacity – 880 lbs
Like the Connect Tree Tent, Trillium Hammocks can be added above and below for more sleep spaces, or to store additional gear or food items. Hammocks can also be used to enhance warmth when placed directly below the tent with blankets up against the occupants' backs.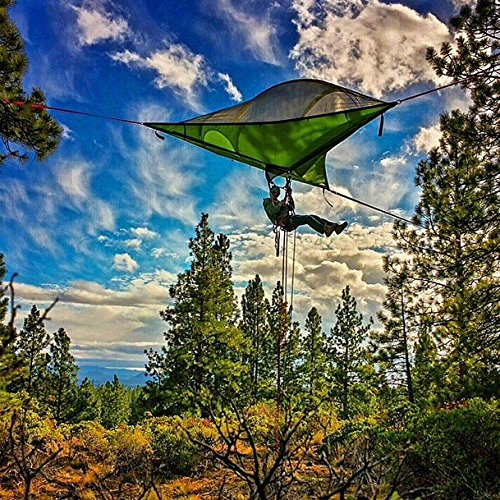 Vista Tree Tent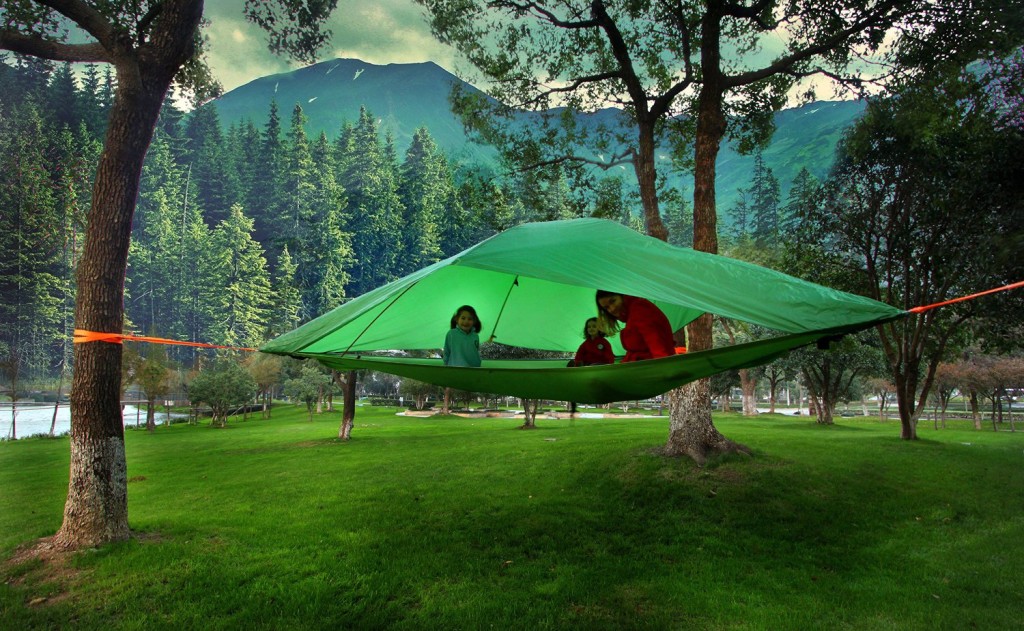 The three-man Vista Tree Tent has a removable roof and a bug proof, mesh flysheet. With those elements removed, you have a clear view of the panoramic vista outside your tent. Spacious and superbly accommodating, the Vista Tree Tent, or portable treehouse, is your home in the air away from home. Whether it is attached to trees, boulders, or other sturdy, stable objects, the Vista Tree Tent will afford you the comfort that only sitting and sleeping on a cushion of air can provide. Like the Connect and Stingray tents, the rainfly roof can extend outward, creating a porch area to set and watch the sun rise or set.
Like the Stingray model, the Vista features a hatch opening in the center of the floor. In addition, there are access entries on the sides. For large family or group camping, you can add Trillium Hammocks below and above to provide several levels for sleeping or for gear storage.
Additional features include:
15 ft. x 15 ft. x 15 ft.

Floor – 80 sq. ft.

Four points of entry

Carrying bag – 25 in. x 10 in. x 10 in.

Four to five feet interior height

Anodized aluminum alloy poles

Heavy duty commercial grade ratchets and straps

880 maximum load weight
The set up time for all the above items is 10 to 15 minutes. Instructions for set up, how to use the ratchets and straps, and how to arrange different configurations are in the manuals.
If you and your family are tired of waking up with rocks and stumps poking into your back, it's time to step up off the ground. The comfort and luxury of sleeping on air is finally available for campers. Each item features the latest technology in tenting materials. For added comfort, the mesh items are tight enough to resist even the smallest sand flies.
To save money and get bonus items like Trillium Hammocks with your tree tents, check out the combo deals. Each variety of tree tent has a combo deal with additional items to add to your tree tent camping experiences.
Why Tree Tents?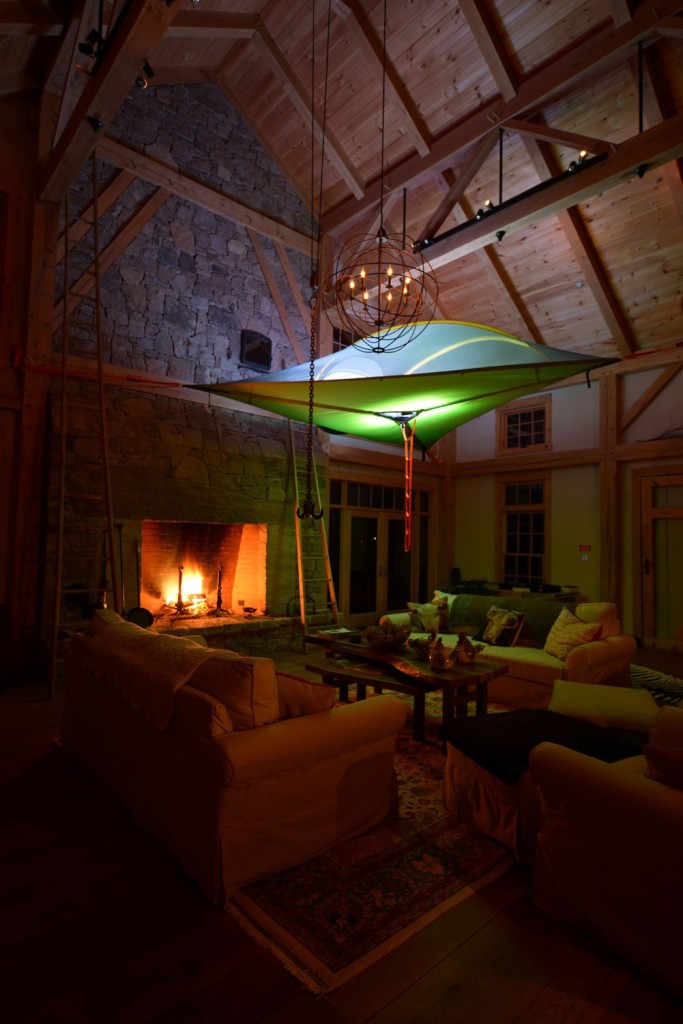 The tree tents were originally designed with ecology in mind, a way to help preserve the rainforests. They are made of superior quality materials.
They are ideal for any outdoors adventure, including:
Camping

Slacklining

Festivals

Eco Retreats

Expeditions

Humanitarian Disaster Relief

Wildlife Filming

Safaris

Scientific Research

Most Any Outdoor Activity
The Company
The basic concept for the Tentsile tree tents was imagined in 1983 by a six year old boy named Alex. Alex was watching the latest Star Wars movie, Return of the Jedi, and was intrigued by the Ewoks' tree village. Weeks earlier, Alex had seen a TV documentary about the destruction of the Amazon rainforest. Between the two images, Alex knew what he wanted to do when he grew up; he wanted to build treehouses.
Enter the Stingray
Nearly thirty years later, Alex the architect started to envision his plan in a concrete fashion. Working to create his prototype of a portable treehouse, Alex finally realized his vision. Introduced to the public on British television, Alex's portable treehouse concept became an overnight Internet sensation. The germ of interest had hit the public and an impressive number of website visits astonished the inspired inventor. Later, Alex Shirley-Smith gets together with Kirk Kirchev; Kirk convinces Alex to redesign the item and to consider the commercial potential for their new product: the Stingray.
A Battle For Ownership
They sell the original unit then invest the profits into producing more units until the end of 2013. Things progressed until mid 2014 when the Chinese government closed down Alex and Kirk's factory when a Chinese competitor claimed the tree tent had been his original idea. Weeks later, after Alex and Kirk produce proof that they had created the the idea years ago in the U.K., the Chinese government concedes that the idea was indeed Alex and Kirk's and allows the factory to be reopened.
The Product Line is Expanded
By 2015, the ball is rolling well and the Vista and Trillium models are subsequently added to the product line. Alex and Kirk ship a number of tents to a Borneo orangutan sanctuary and Vanuatu where the Red Cross is assisting flood relief victims. High profile outdoor sporting companies like LL Bean and Cabela's express interest in the new conceptualized tree tents.
Working to Help Preserve the Rainforests
Alex and Kirk and their associates, Rob, Matte, Syd and Lucy, have dedicated their efforts to helping preserve the integrity of the rainforests. To quote them: "We have invented these tree tents because we love this planet and hope that we will inspire others to also appreciate the Earth. We plant 3 trees for every tent that you buy – in association with WeForest."
Tenstile Tree Tents and supplies can be found at Amazon.