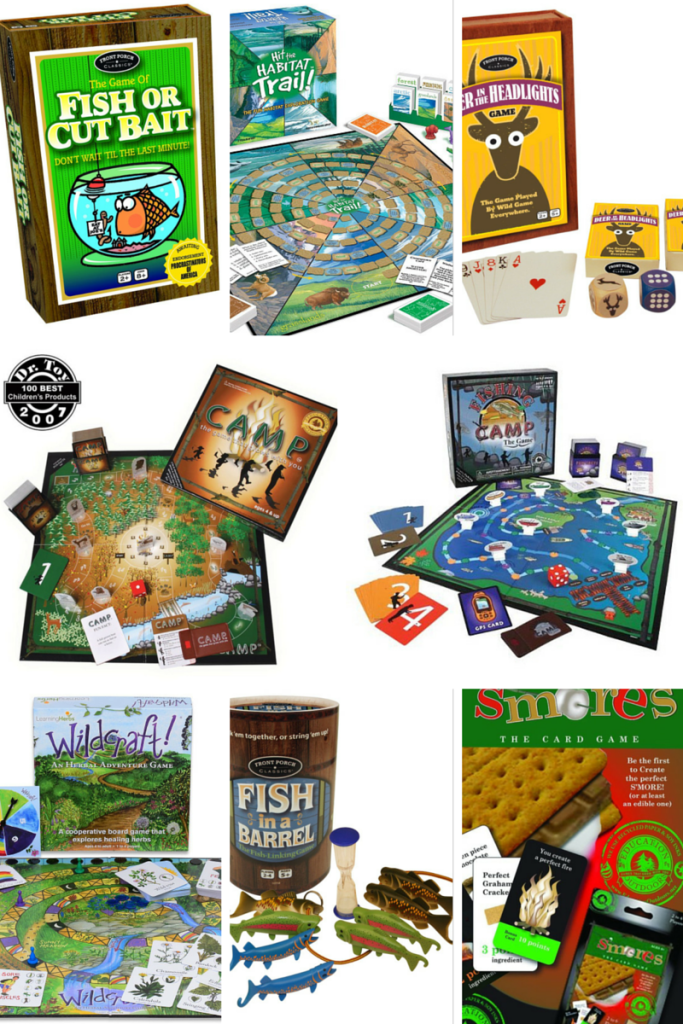 Our family loves a good board game or card game.  There is nothing better on a rainy day.
These games are a simple and sometimes crazy-fun, educational way to spend time together . . .a perfect way to 'un-plug' and bond with family and friends.
Through playing games, our kids have not only learned many fun facts, but also life lessons such as how to lose (and win) with grace.
We hope you enjoy these fun, family-friendly, nature inspired games!
Here are 11 of the best family board games with an outdoor theme:
1. Camp Board Game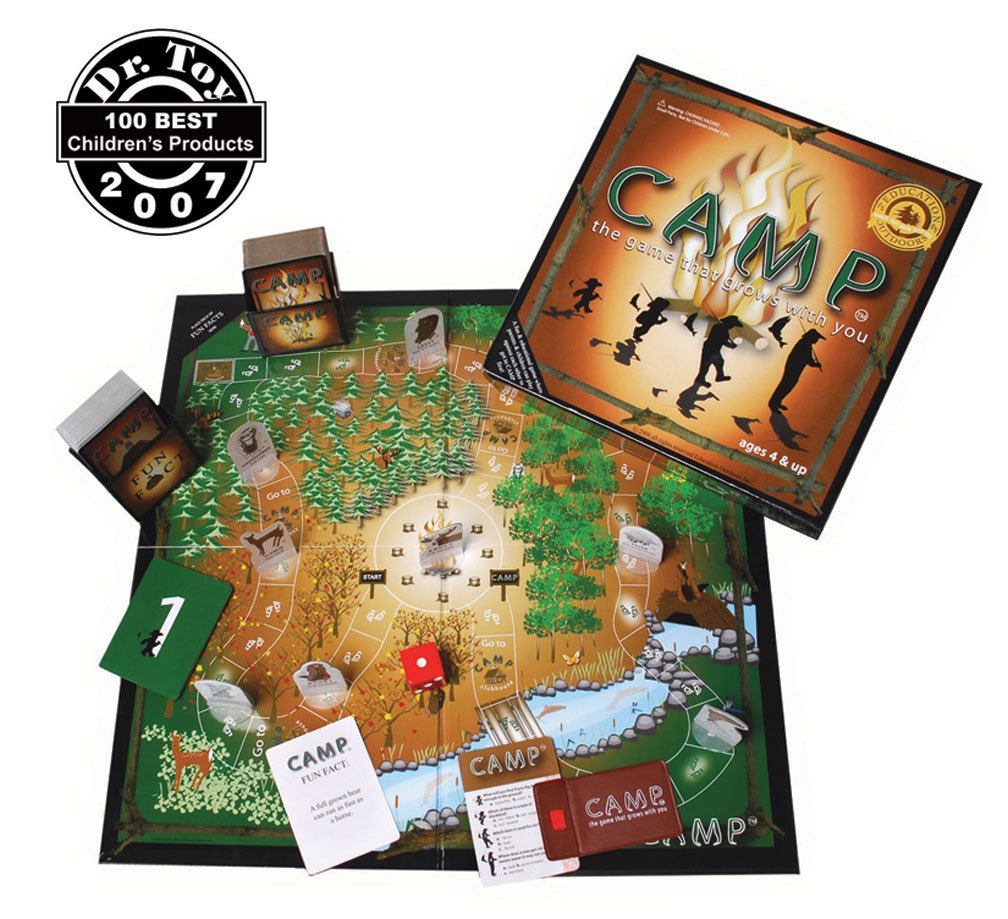 This is truly an educational game the whole family can enjoy!  For up to 8 players, ages 4 and up, this game is a family favorite.   Choose to be the Owl or Beaver as you toss the dice and move through the nature-themed game board.  Answer the nature trivia correctly and you can keep moving! Don't worry, the trivia cards have levels so the playing field is fair.  For instance when we play Dad is level 4 and our five year old son is a level 1.  The first animal to the campfire is declared the winner.
As an added bonus, the Camp Board Game comes with a booster pack for even more fun!
2. Fishing Camp Board Game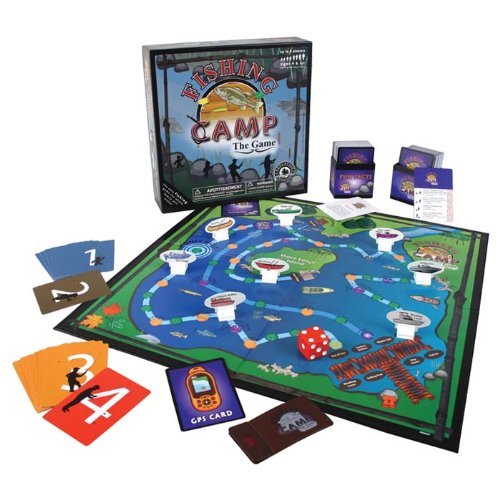 If you love to fish or simply want to teach your family more about the sport, this is a game for you.  This game is much like the Camp Board Game, great for all ages, but centered on fishing.  Enjoy the leveled trivia questions as players, in their chosen vessel, make their way to the island.   With this game, players will learn about the sport of fishing and fish species, while having a great time with family and friends.
3. Hit the Habitat Trail Board Game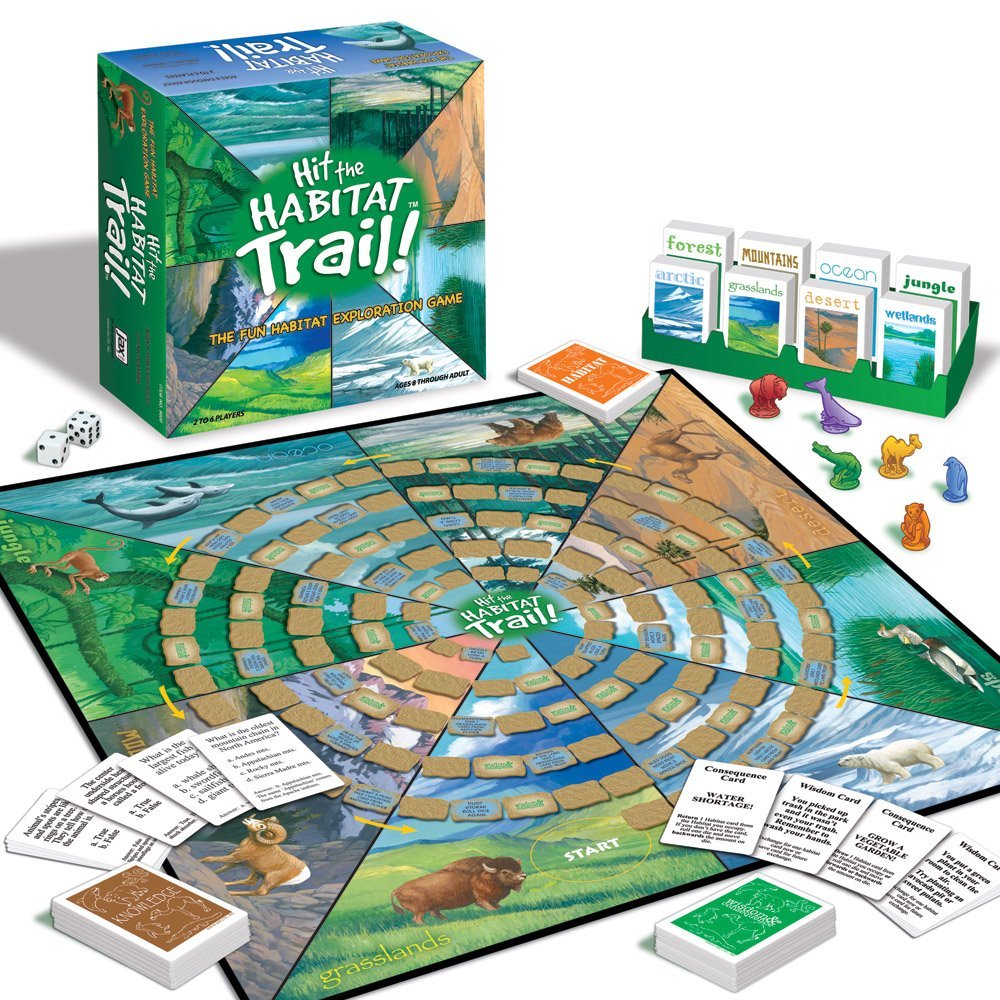 This is a unique game that involves learning about earth's habitats…wetlands, jungles, forests, mountains, deserts, oceans and the arctic.  Players follow a stone trail through the many habitats.  Moving through the game, you will learn about the environment and how to improve it.   Players collect the Habitat Cards after correctly answering knowledge card questions.  The winner is the player with most Habitat Cards.
4. Wildcraft! An Herbal Adventure Game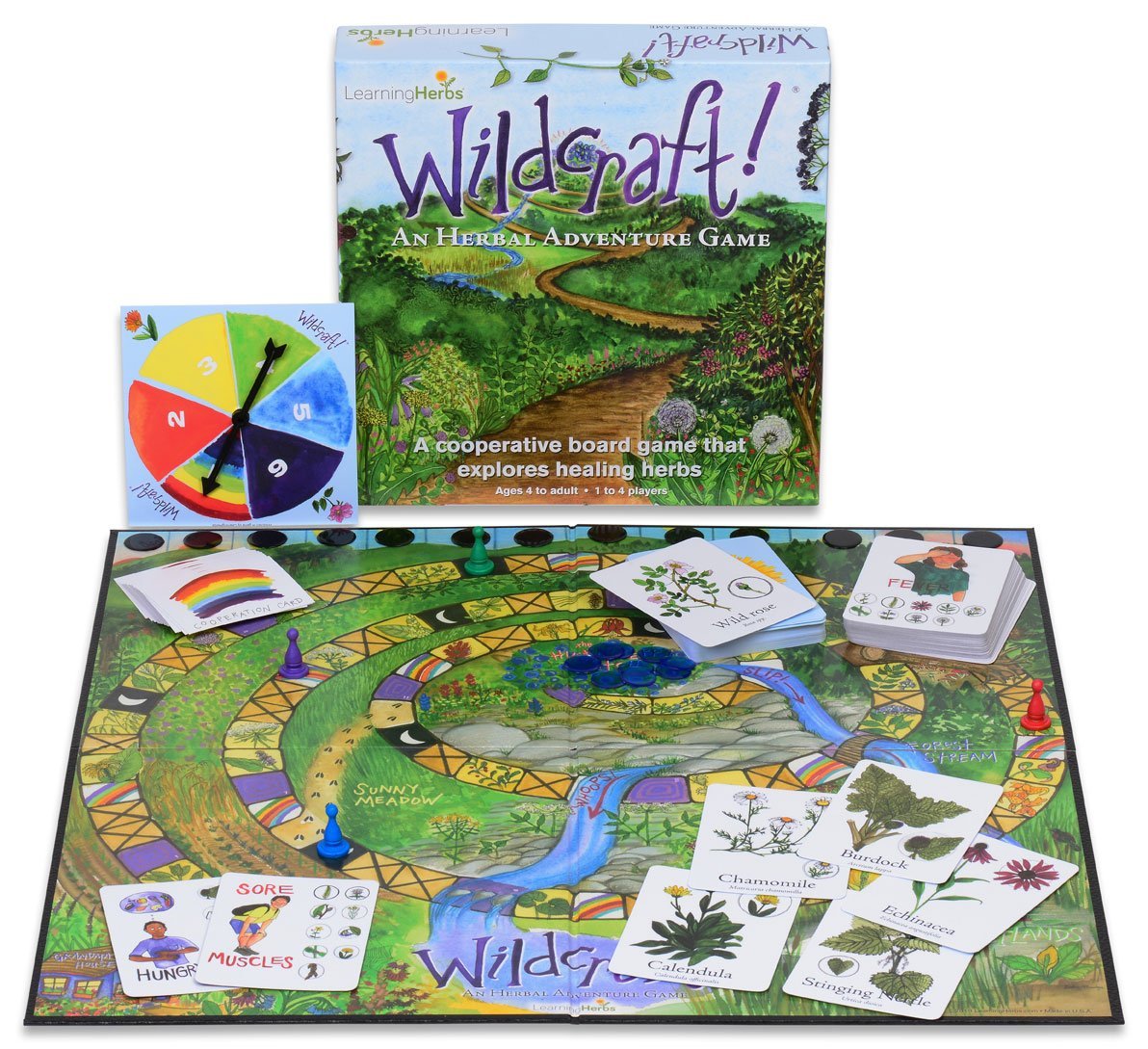 If you'd like to expand your knowledge about herbs and medicinal plants, this is your game!  Created for all ages (including non-readers), this game includes pictures and interactive materials to help players learn and identify herbs and medicinal plants.  In addition, players pair the herbs or plants with its most common use in first aid situations.
5. Education Outdoors – S'mores Card Game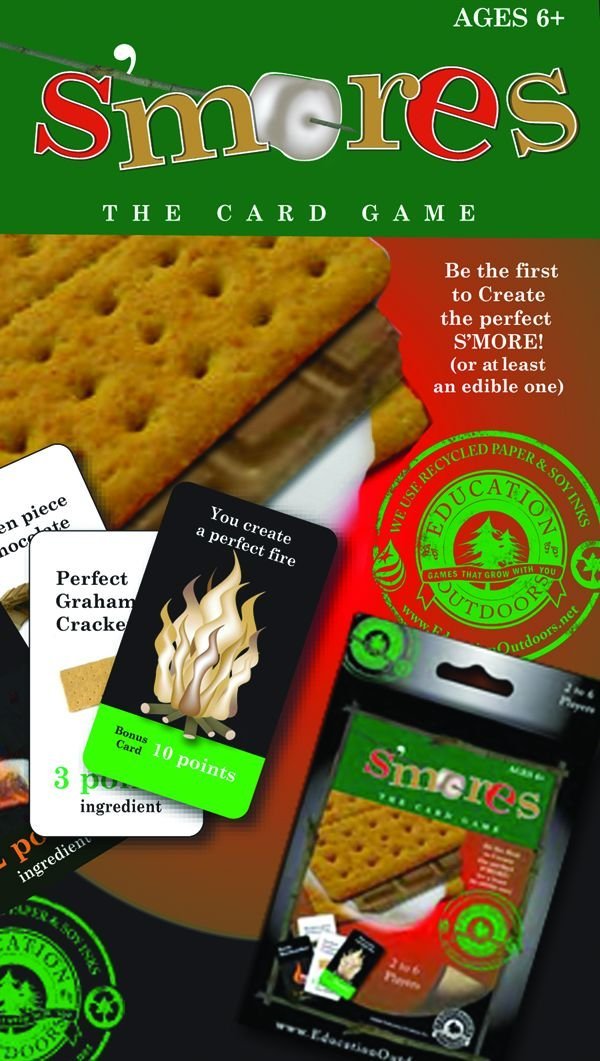 Our kids love this game.  A simple, fun and strategic card game, perfect for traveling!  In this game, players are challenged with the task of creating an edible S'more by collecting each of the four ingredient cards.  Be the first to call  out "S'more!" and you keep the point total for your complete S'more.  Be strategic, though, because, different ingredients mean that some S'mores are worth more than others!
6. Fish or Cut Bait Dice Game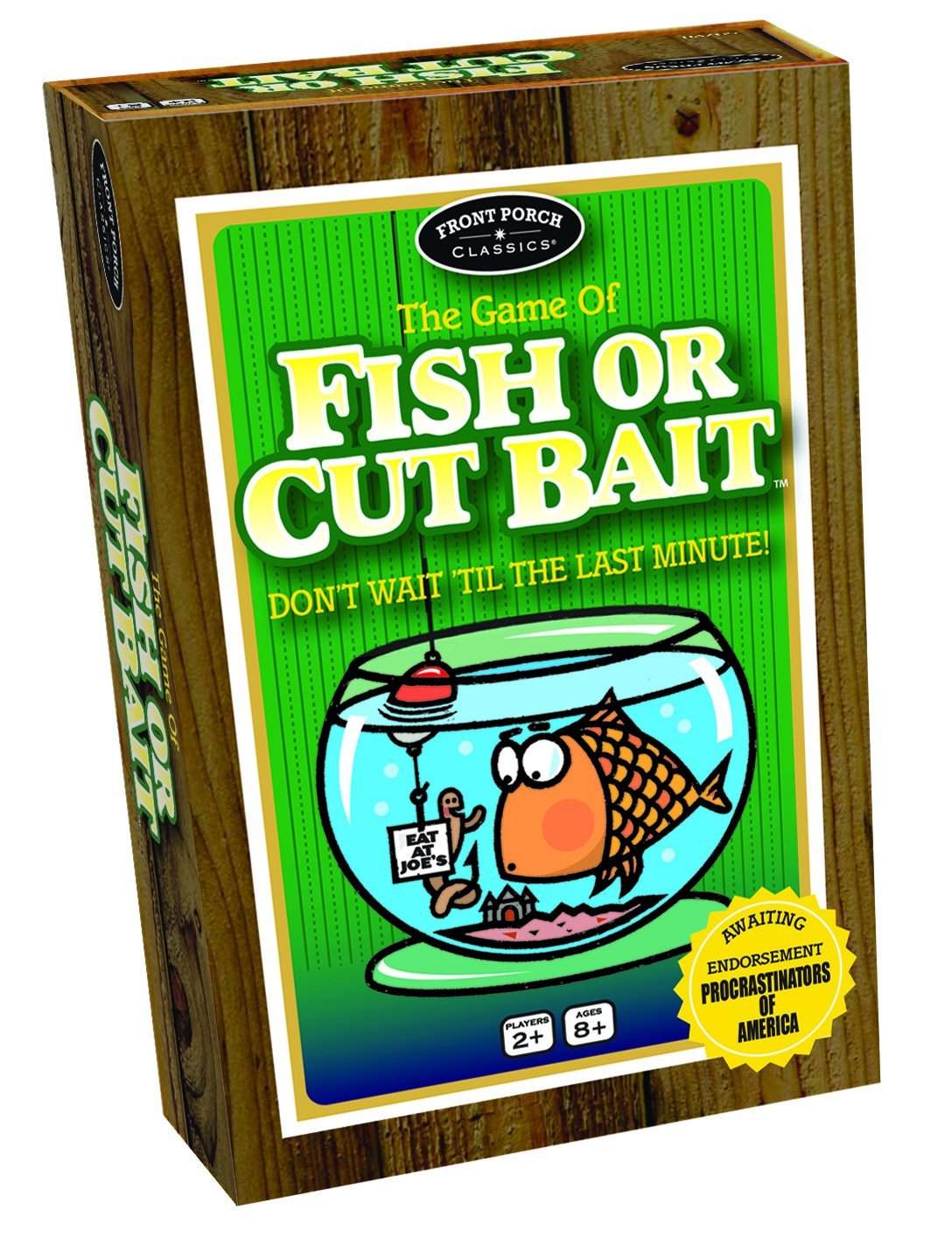 With a 45 second timer per turn, this is a fast paced, dice game!  Players roll the dice and, depending on the dice symbols, you 'catch' as many fish as you can before the timer runs out.
7. Deer in The Headlights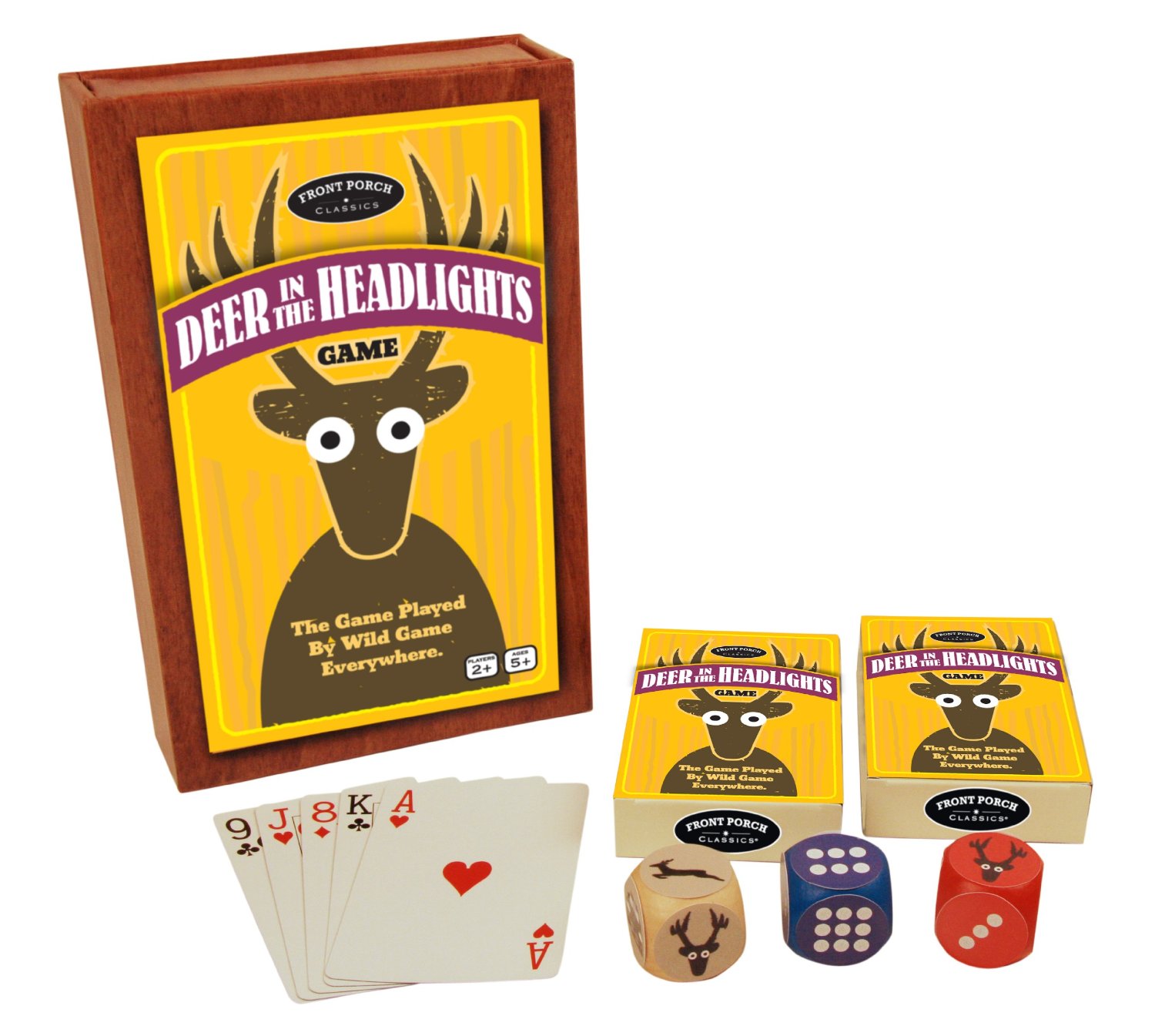 Can't decide between a card or dice game?  This fun, fast paced game, is a mixture of both!  Be the first player to discard your hand and you win the round.  But beware of the challenge presented by drawing a  'Deer In The Headlights' card.  Hear the laughter and frustration when you roll a 'running deer' or 'car' on the dice and get to change hands with another player.  An exciting, fast-paced game that is great for travel!
8. S'Quarrels: The Game of Absolute Nuts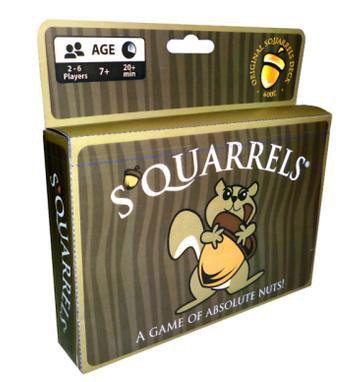 A 'squirrly' mix of Rummy, Old Maid, War and Slap Jack, this is another fun, fast-paced card game, perfect for young and old alike!  Players try to collect as many acorns as possible before the Winter card is drawn and the game ends.  Have fun with the many twists and turns that the action cards can create….from  "Ambush" to "Quarrel" to "Horde", this game keeps you on your toes!
9. Fish In A Barrel Game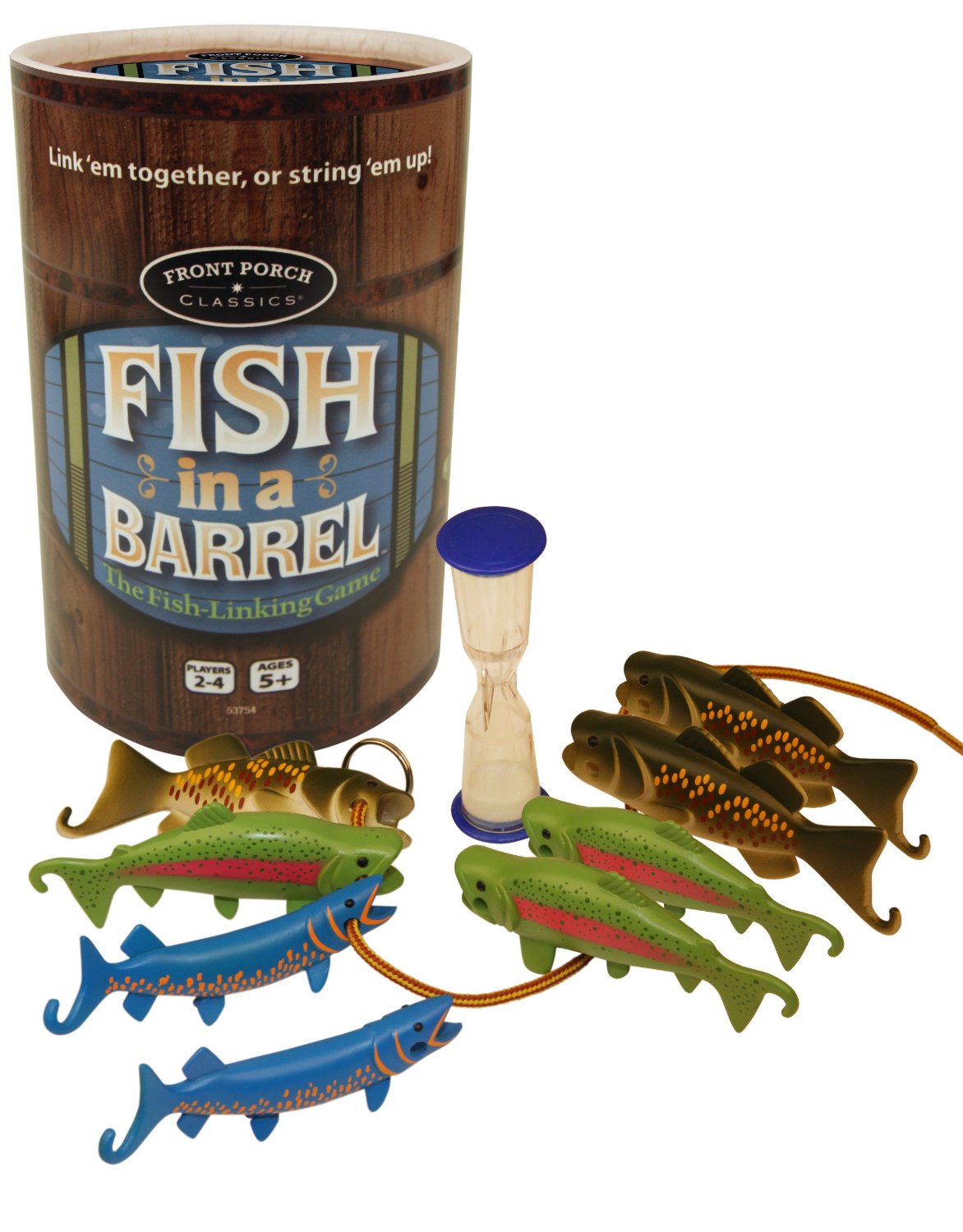 A beautifully designed linking game!  Simple to play and great for all ages. Players have 30 seconds to 'hook' as many muskie, trout and bass as possible.  Extra points are given if you can link by species!  The pieces to this game are easily stored in the container provided, making it great for travel!
10. Toasted or roasted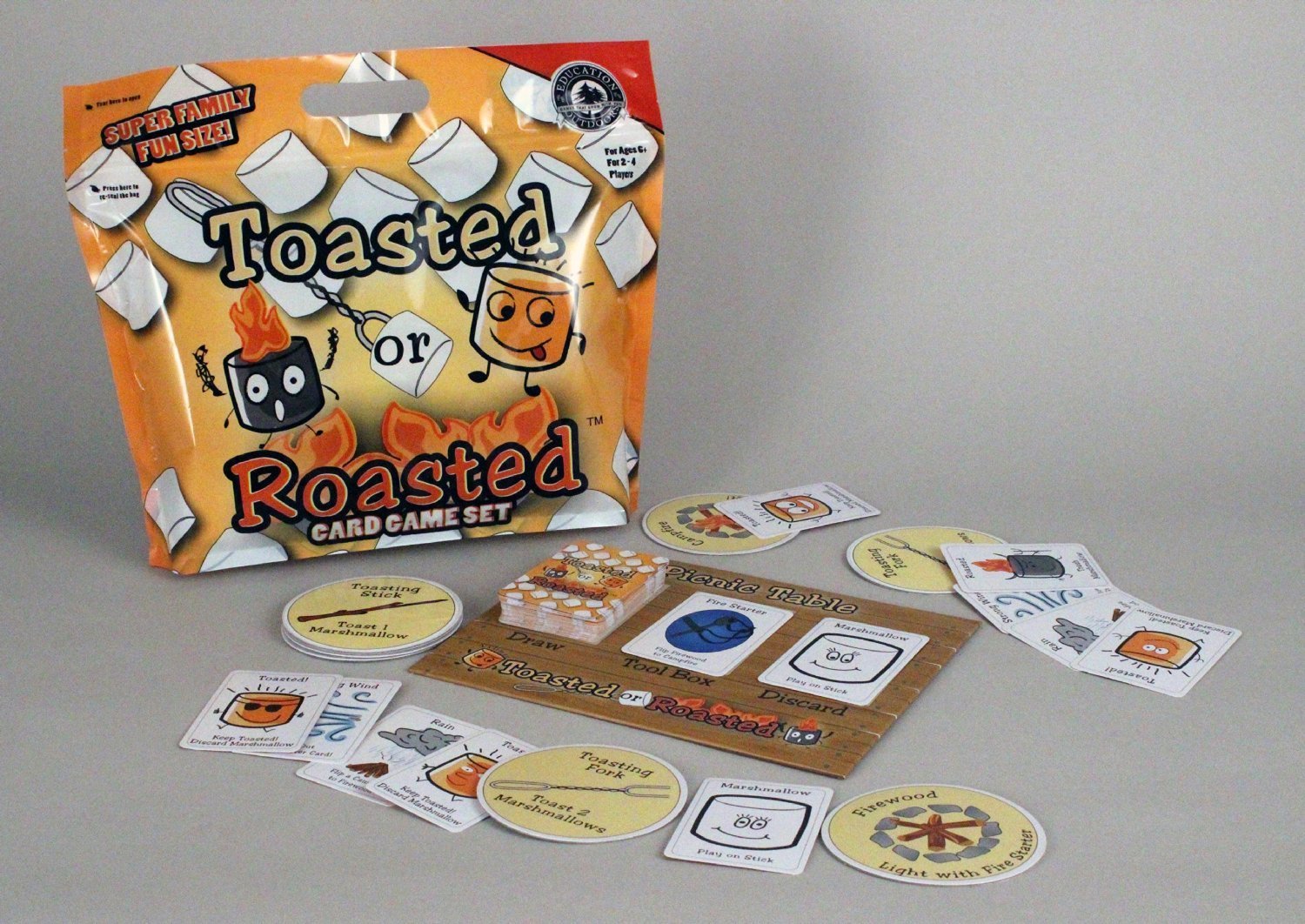 Another family favorite!  With a little luck and strategy, you can be the winner of this game!  Players try to collect the right combination of cards to start a fire and roast 3 marshmallows.  Beware, however, a strategically played 'strong wind', 'rain', or 'roasted' card can keep you from toasting your marshmallows!
11. Reel 'Em In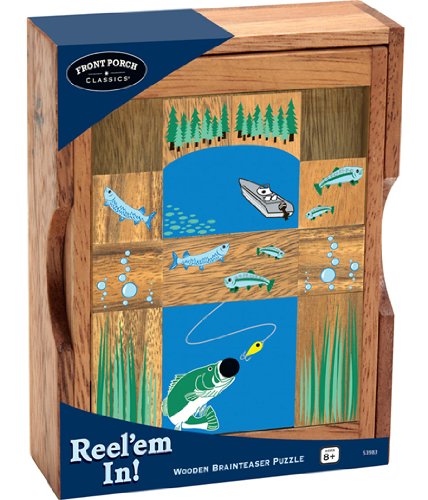 If you are in the mood for a brainteaser, this fishing themed game is for you! The challenge is to deposit the 'bait' into the hole by strategically moving the fish from bottom to top.  A slower-paced game, perfect for quiet, rainy days.
So, there you have it.  Pick a couple of board games to have on hand for those rainy days camping or at the cabin. You and the kids will have a blast and have a chance to bond over board games.  The kids as well as you parents (and grandparents) may even learn a thing or two about the outdoors.