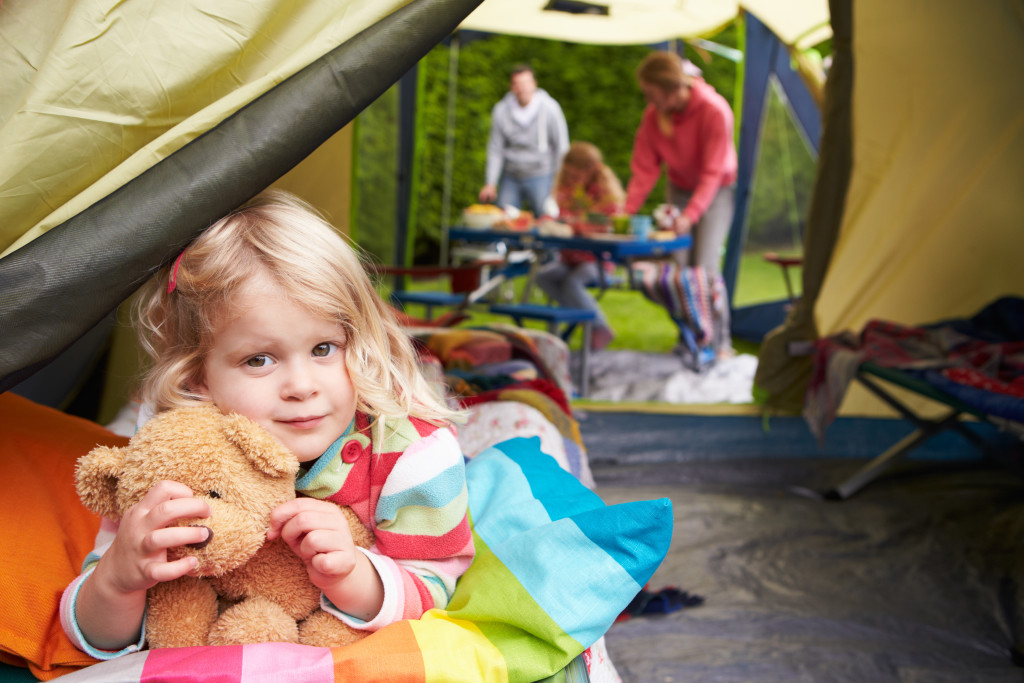 You've heard the call of the wild and gathered your courage. Your spouse agrees that it's time to introduce the kids to the Great Outdoors. But wait! Just as you pore over a map of local attractions and parks, you think hard. Do you really want to do it? Won't it be simply too daunting to take the young ones to an unstructured environment that is not, well, civilized?
Have no fear.
The wonders of kid camping await you and your family.
Here are 8 simple tips for enjoying nature without too many bandaids.
1. Choose a park close to home
For the first outing, choose a park that is fairly close to home.
A park that is less than a full day's travel away means that if all goes well, you won't be scurrying back ahead of schedule, but if the unexpected does occur, turning back is relatively simple.
2. Get settled before sundown
Arrive by late afternoon, so that you are not setting up camp in the dark.
If there is time, consider taking a brief tour of the park before setting up camp.  After a car ride, everyone will be ready to stretch their legs and become familiar with the new surroundings.
In our family, it seems that the kids do better with more understanding of where they are and what is around them.
So, go discover the bathroom, figure out the showers, find the trail-head and locate some fire-wood.  The kids will now be excited and have the energy to help set up camp!
Give the kids age-appropriate, simple tasks and the setup will go much faster.  Examples might be:  help unload the car, set out the tent stakes, or mind the baby as the adults do the heavy lifting.
3.  Be ready for down time
Down time.  Before a meal, while mom and dad are preparing food and fire.  Or tent set up, when only the taller, adult types can help.
These are the times when kids break down or declare boredom because the adults are distracted.
Be ready with a few quick, easy games and activities:
 4. Protect the kids from the sun
The sun can be friendly but too much can ruin the fun.
The first line of defense is to make sure that sunscreen of the proper strength is applied to each little arm and leg and tip of the nose. The kids may protest, but will appreciate fun in the sun with no adverse effects.
Other terrific options for sun protection are wide-brimmed sun hats, UV protective clothing and beach umbrellas.
In our family, taking a break from the sun's most powerful rays, typically between 1 and 3pm is helpful.  We often choose a quiet activity during this time:  reading, indoor game time or naps.
This serves a dual purpose:  sun rest and body rest!
5. Simplify Mealtime
Campfire meals are wonderful. These meals can require a lot of preparation and refrigeration.
Our advice for a successful first time camping trip is to keep it simple!
Plan one or two creative, campfire meals such as a tin-foil packet or orange roasted muffin.  But aside from that, go with simple, family favorites.   Sandwiches, salad, crackers and hummus, trail mix, whole fruit and veggies.
Spend more of your time hiking, swimming, biking and playing games.
Do not, however, forget about S'mores!
Need inspiration?
Check out these 11 Delicious S'more Recipes!
7. Think Safety
When it comes to safety, it is always best to be prepared.  The first, and most obvious, is a good 1st Aid kit.
Check your kit before you leave home to make sure it is fully stocked.  Taking an inventory and re-stocking the kit is a great task for kids.
Other items to consider in the safety category are flashlights, batteries and whistles.
Flashlights, lanterns, glow sticks and headlamps work great for keeping kids safe at night.
During the day, however, whistles are a nice safety option.
Tell the kids to blow the whistle three times if they are lost.  They are to stay in one place and you will will blow your whistle once to let them know you are on the way.
8. Prepare for sleep the right way
Ahh, it's time to sleep. Preparing for an uninterrupted night sleep actually begins before you leave!
Ask your kids to pack their favorite sleep toy, blanket or pillow.  A touch of familiarity will help ease them into slumber.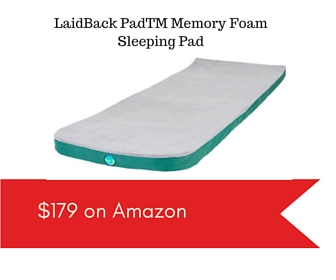 Consider comfort.  Yes, for you and the kids!  A cot, air mattress, or foam pad can help provide a sound night's sleep and, therefore, a more cheerful morning.
This does take up some space in the car, but might be well worth it for a positive first camping experience.