There are many factors to consider when picking out a six-person tent, from how much space is needed to having room for all your gear.
Features that you should look for when selecting the right tent for you needs are breathability, waterproof features, and durability.
Listed below are the best 6 person tents on the market.  We review the best 6-person family tents for under $200, $300 and $600.  So whether you are looking for budget or luxury, we've got you covered.
The Best 6-Person Family Tents for Under $200 Reviewed
If you are looking for a budget tent for your family, here are the best options available.
Coleman CARLSBAD™ FAST PITCH™ 6-PERSON DARKROOM™ TENT WITH SCREEN ROOM Review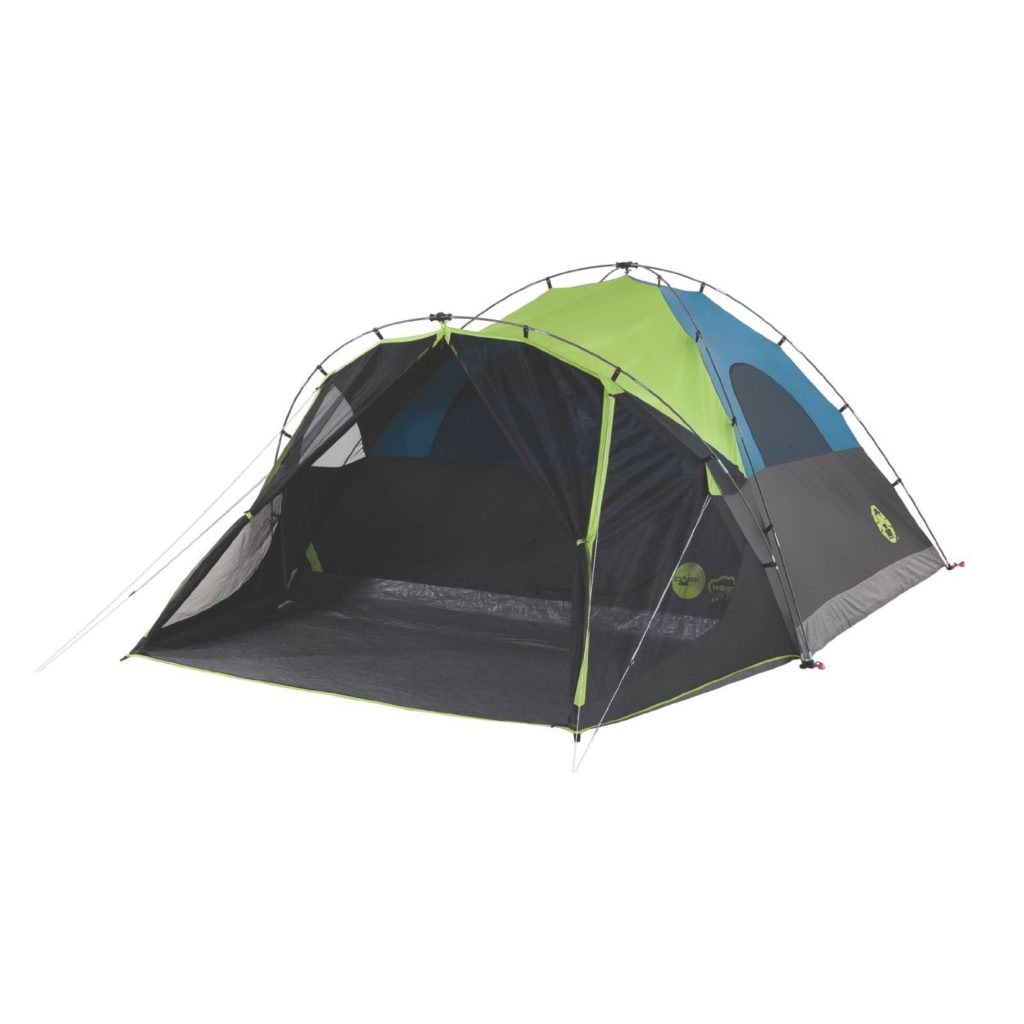 Only $192 on Amazon
Once again, Coleman tents were made with care and have many great features. This tent is no exception, it has special dark room technology, which blocks out 97.5% of sunlight. Great for sleeping in late! Enjoy the screen room with a full floor, for extra storage space or a great place to lounge when the bugs are bad. This tent has dimensions of 10 x 9 feet with a 10 x 5 foot screen room and 5 foot 8 inches of head room, which provides enough space for the whole family and gear.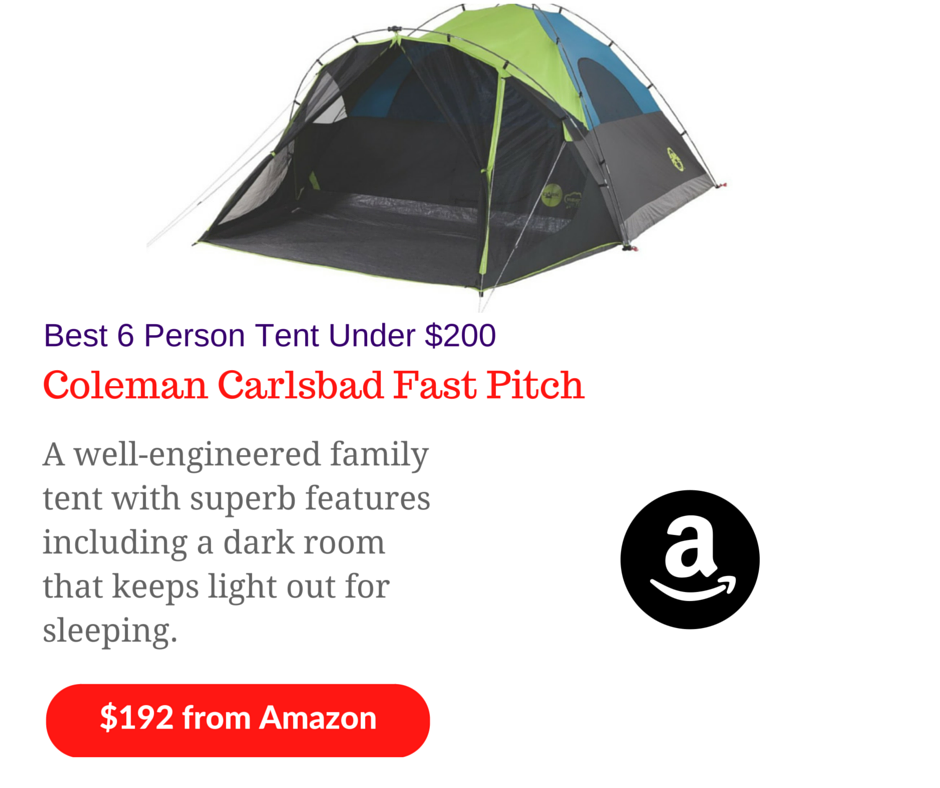 Pros
Rainfly adds weather protection

Perfect for early nights with small children

Only 20.9 pounds

Easy set-up with color-coded poles and insta-clip suspension

Weather Tec system will keep you dry

Reflective guy lines keep you safe
Cons
Back window does not zip up

Need to keep rainfly on for privacy and structural support

Too many guy lines
Kelty Yellowstone 6 Review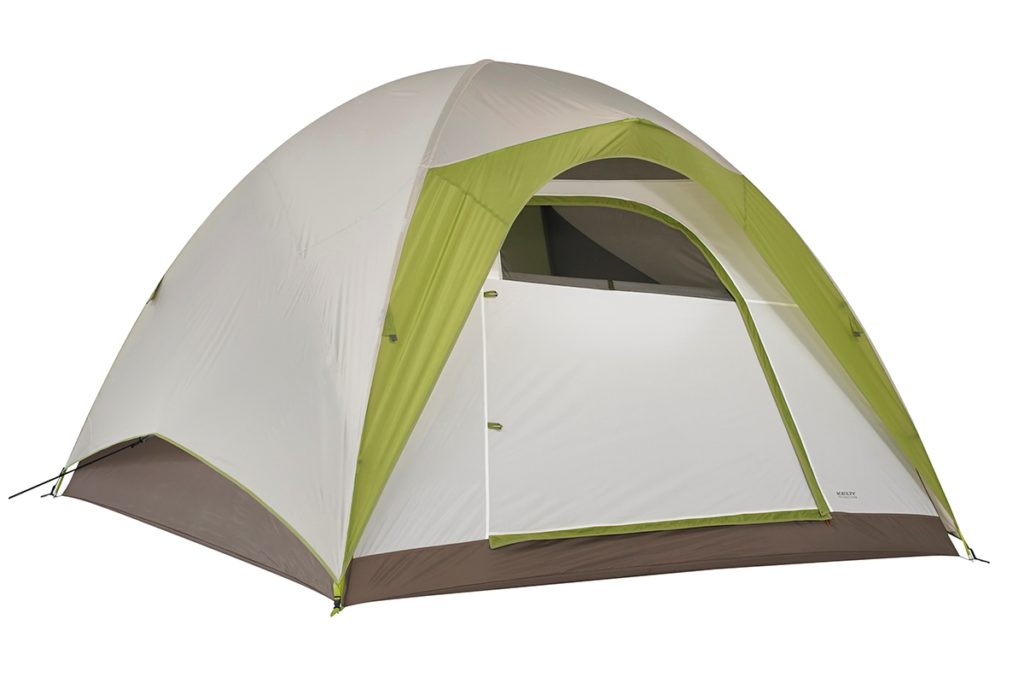 Available for only $172 on Amazon.
The Yellowstone tent is a great way to camp with a crowd, with 120 x 108 x 77 inches of room, you can all be inside without being "crowded". This tent is well-designed with many durable materials, like fiberglass poles and polyester walls. The large "D" style door makes entering and exiting the tent easy. Plus, you will be protected from the elements by the awning fly. Perfect for a family, with gear loft loops and many interior pockets, which are big enough for an iPad.
Pros
Color-coded clips and sleeves for easy set-up

A light 14.5 pounds

Waterproof features like a rainfly

Two windows for breathability
Cons
Only has one door

Rated 3 Season

Could use more ventilation
Evergreen 6 by Wenzel Review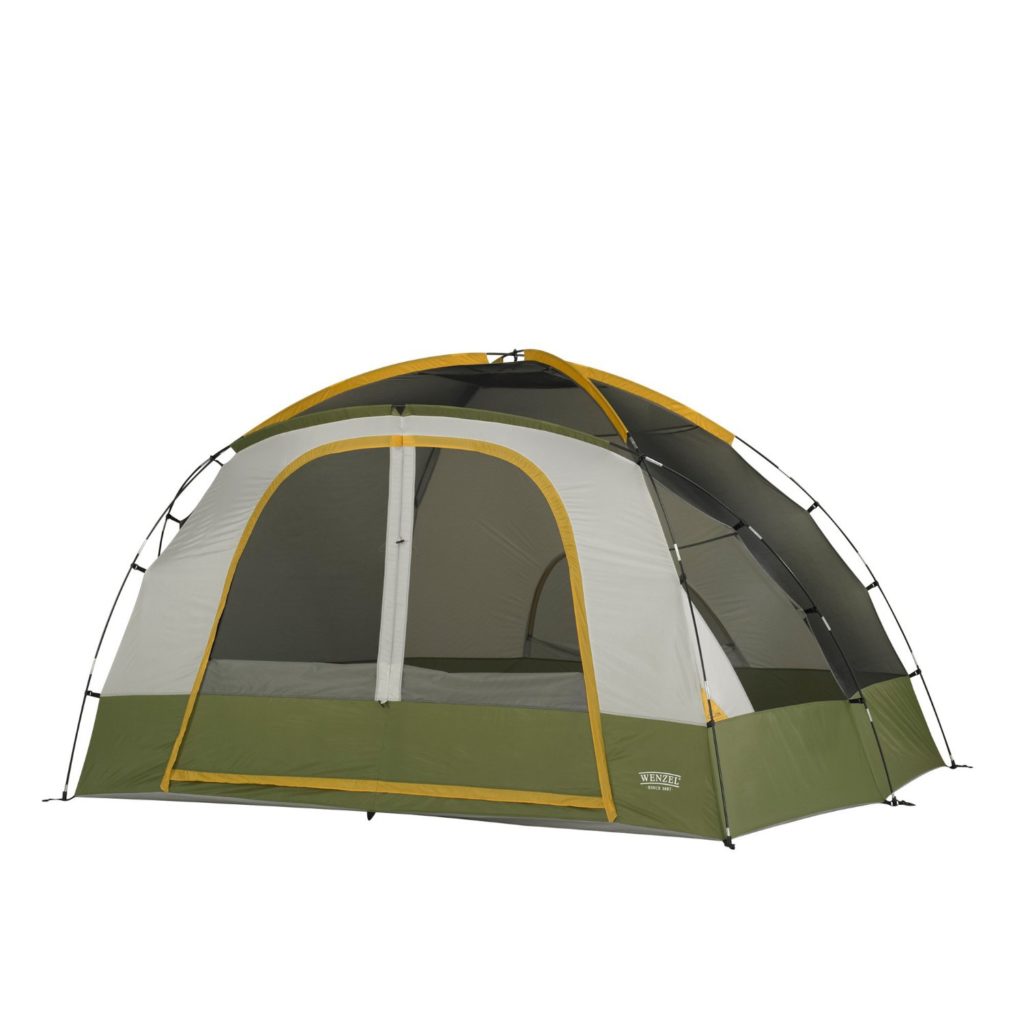 Only $124 on Amazon
Check out the amazing features of the Wenzel. First, it can be separated into two rooms, for added privacy. Plus, the gear loft is the perfect way to keep your stuff out of the way. The durable fiberglass poles and polyester fabric is coated with polyurethane, to stand up in all types of bad weather. However, this tent only has 11' x 9' inches of room, making it one of the smallest reviewed. On the other hand, the small size means that it is only 18 pounds, which is great for long backpacking trips.
Pros
Weather Armor rain fly for protection against the elements

Shock-corded poles for fast set-up

Hook up your electronics through the E-ports

Mesh roof and three closable windows

Two doors for easy access
Cons
Stitching may come undone

Poles are not that study and may bend or break

Zippers are not high quality

Not great for camping in the wind
Coleman ECHO LAKE™ FAST PITCH™ 6-PERSON CABIN WITH CABINET Review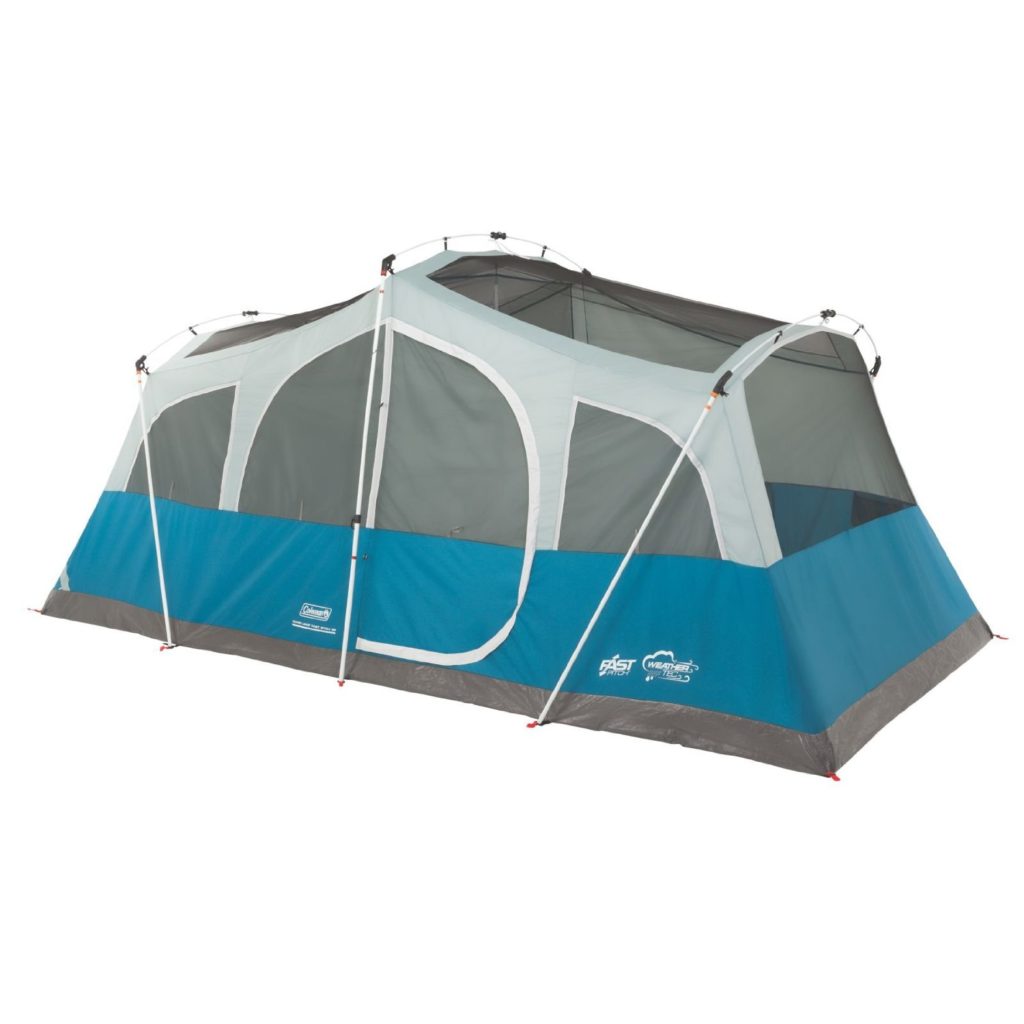 Available for $160 at Amazon.
Coleman's sleek design is made from durable, yet flexible materials, making this a great tent for all types of weather. Personally, I love the Coleman brand and have owned many products from them, from tents to grills. This brand is well-designed, with an exclusive WeatherTec system and a peaked roof to provide superior protection from the elements. This model comes with a built-in cabinet to store your extra gear, which is super convenient. The dimensions on this tent are 76 x 108 x 144 inches, which make it perfect for six people.
Pros
Fast and easy to pitch this tent

Lightweight and flexible poles are great for windy conditions

Illumine guy lines are reflective at night

Rainfly is made from polyguard that makes the tent waterproof

Spacious with room to stand and move about
Cons
This tent is heavy at 34.9 pounds

Only one door

Can be a bit complicated to set-up
The Best 6-Person Family Tents for Under $300 Reviewed
Kelty Acadia 6 Review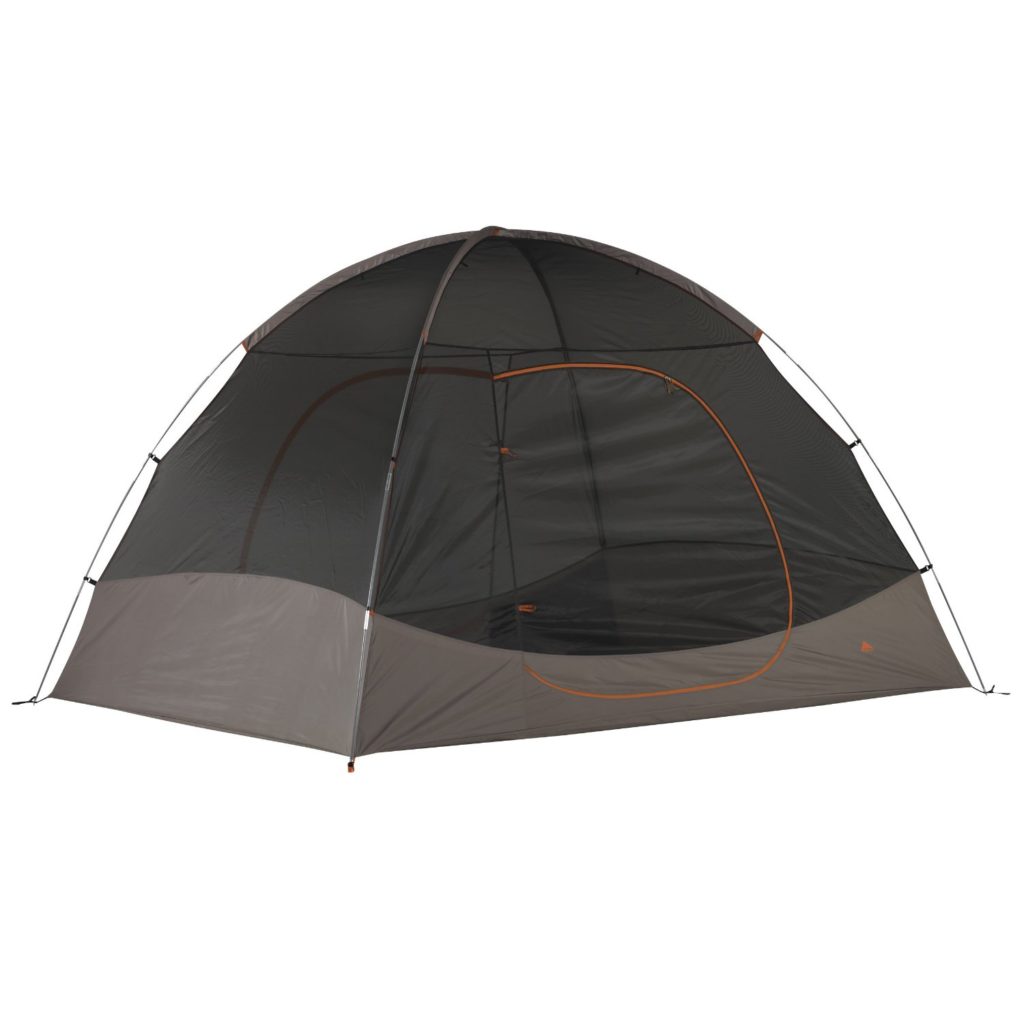 Available for $282 on Amazon.
I know a lot of hikers that love to go backpacking with this particular tent. It's lightweight (14.3 pounds) and easy to construct design is great for groups traveling through the wilderness. Perfect for those hot and humid days or windy wet ones. This tent is built to last. The two doors and mesh wall panels provide excellent ventilation and visibility. The durable and waterproof fabric will keep you safe and dry, no matter how bad the weather gets. If you happen to be stuck inside for a long time, the spacious design will help you feel comfortable, with 120 x 96 x 74 inches of room.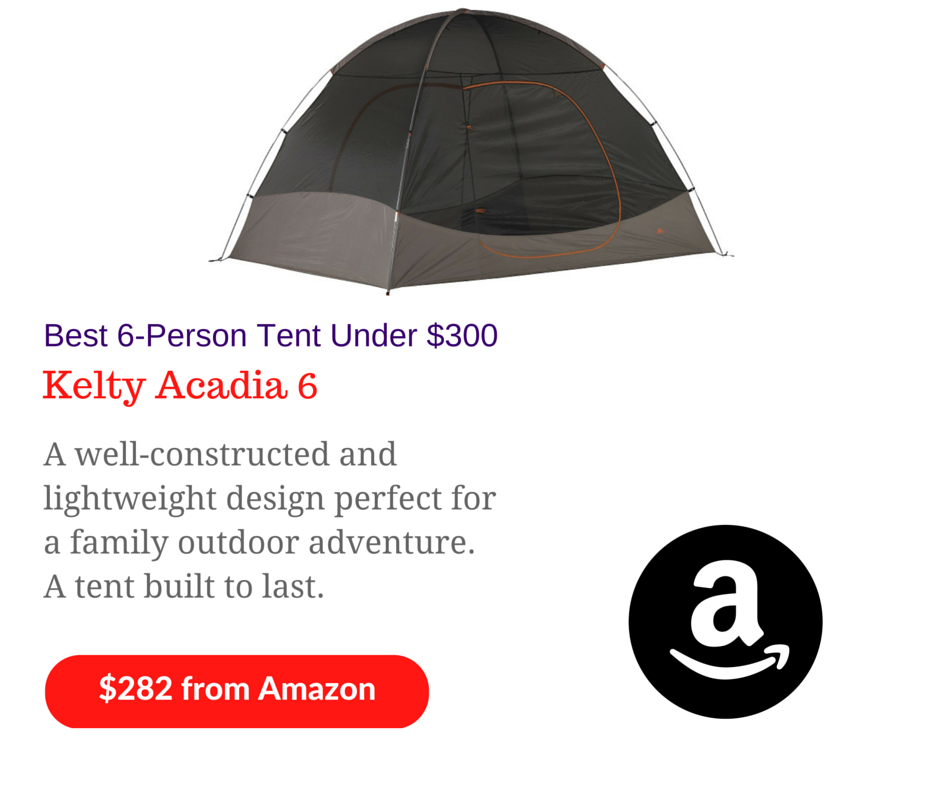 Pros
Easy set-up with only three poles

Waterproof tent and rainfly

Enough room for an adult to stand

Durable and sturdy
Cons
Ideal for 4 adults and gear

Manual is not helpful

Stakes are cheap quality

No privacy without rainfly

Takes two people to set-up
Rabbit Ears 6 by Big Agnes Review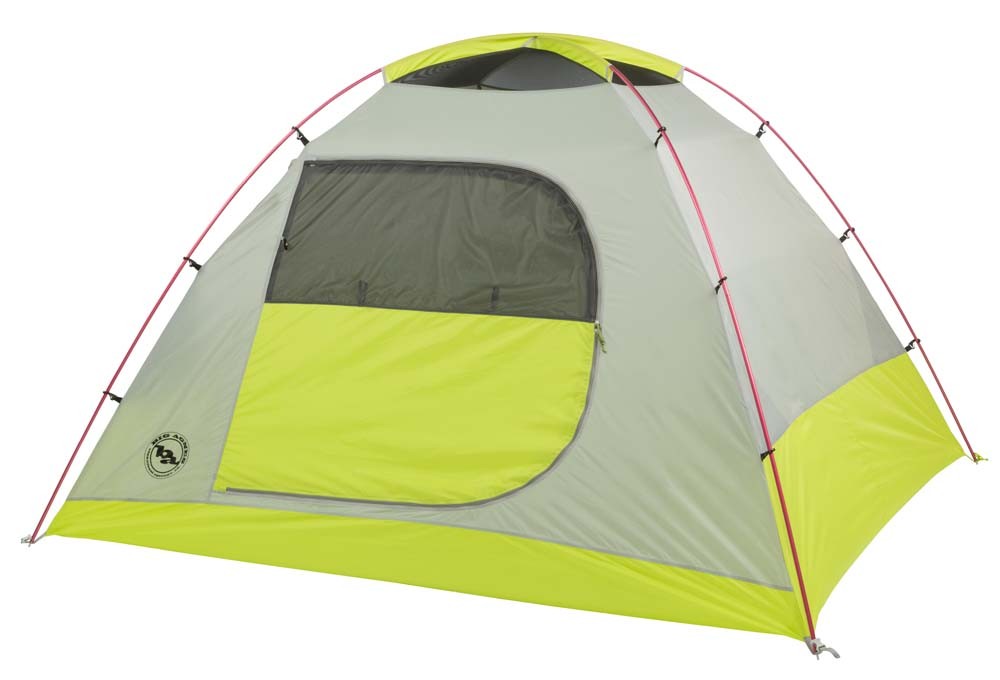 Only $299 on Amazon
Even though this tent only has one door, you can close it two different ways. Using either the mesh for ventilation or the polyester layer for protection. It also has a window across from the door to increase the amount of ventilation in the tent. This tent was built to withstand whatever mother nature can throw at it, with the waterproof seams, solvent-free polyurethane tape, ripstop rainfly, and coating on the floor. Enjoy the great outdoors without worrying about the weather in this tent from Big Agnes.
Pros
Quick stash makes stowing unzipped door easy

Reflective guy lines and tent corners increase visibility

Simple set-up with color-coded buckles and webbing

No PVC's or VOC's make this tent safe for your family

Weighs 13.7 pounds with dimension of 120 x 102 inches

Can stand-up with extra head room
Cons
Has only one door

Must be taken care of

Zippers might snag the fabric

Could be a bit more breathable
Coleman TENAYA LAKE™ 6P FAST PITCH™ CABIN WITH CABINETS Review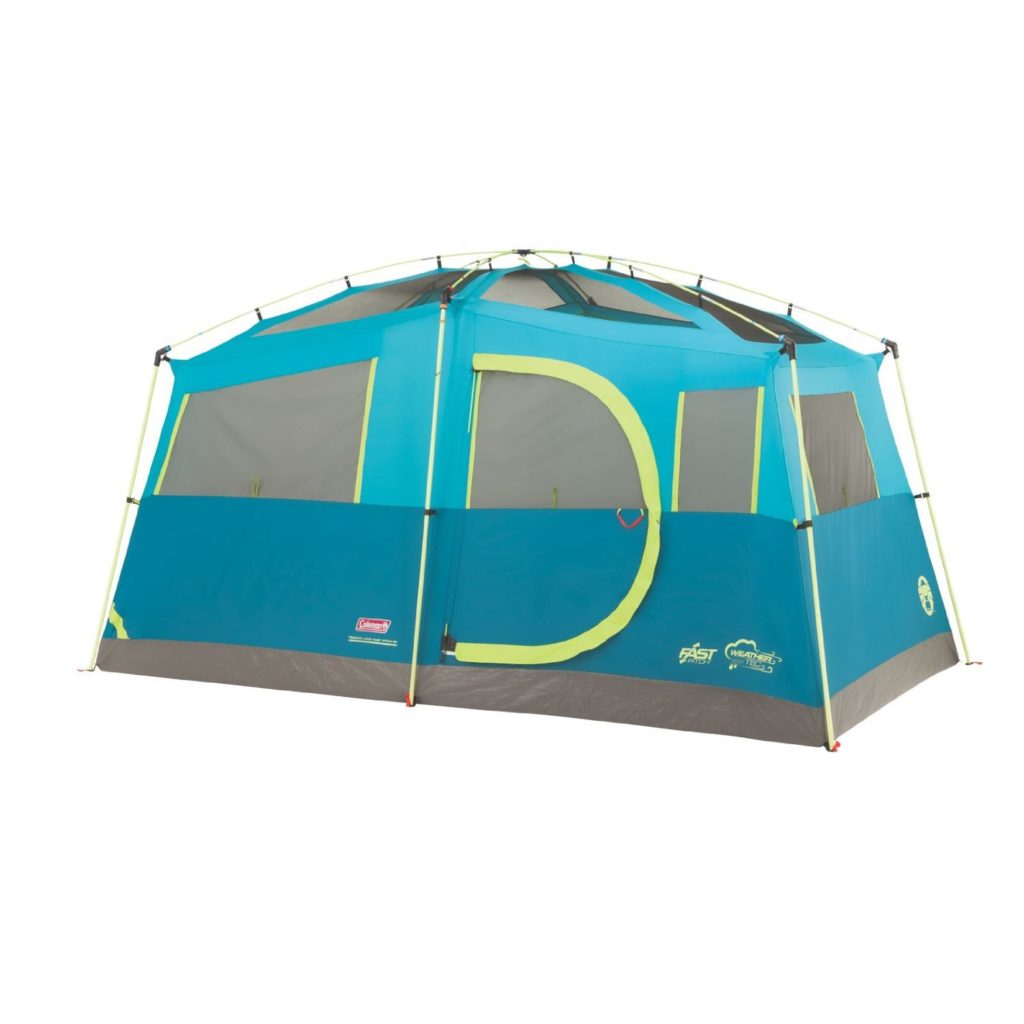 Available for $206 on Amazon.
This particular Coleman model comes with built-in cabinets but does not have the extra weight that other tents with cabinets do. As such, this tent is a great option if you are looking for extra storage and a light-weight model to carry around. At only 16.5 pounds it is one of the lightest in the list. With dimensions of 79 x 84 x 156 inches, this tent has enough room for the whole family and your gear. The durable fiberglass poles are pre-attached making set-up a breeze. The polyester mesh fabric and polyguard rainfly keep you dry but provide breathability.
Pros
Even the children can set this tent up

Reflective guy-lines provide visibility at night

Weathertec system protects you from the weather

Double zipper is a great feature

Lots of room to stand up and move about
Cons
Only one door

Pre-attached poles can be hard to work with

Instructions are hard to follow
The Best 6-Person Family Tents for Under $600 Reviewed
If you're in the market for a high-end 6-person family tent, here are several great options to consider. 
Flying Diamond 6 by Big Agnes Review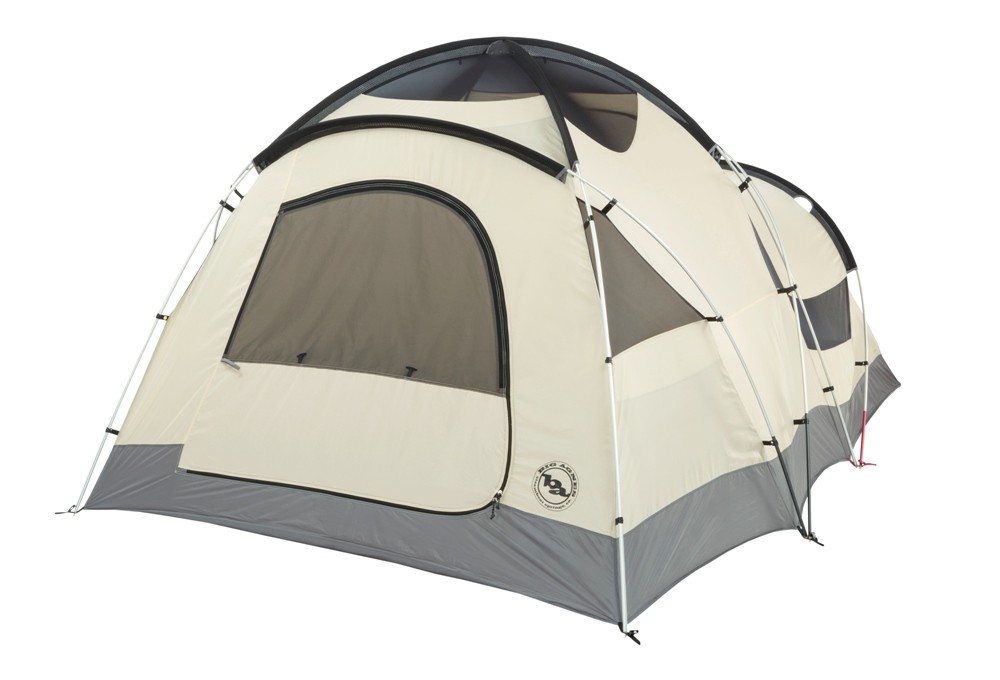 Available for $649 on Amazon.
I have had the luxury of sleeping in the Flying Diamond tent and have to say that I love the design. It is spacious and has lots of room, with dimensions of 84 x 150 x 96 inches, there is enough room to get dressed or just chill out in bad weather. The two vestibules provided the extra space that is needed for gear. The two doors provide the access you need, in case you wind up in a tight space, pushed up against your vehicle. Moreover, this tent was built for treks in the outdoors, with rip-stop fabric and mesh, waterproof seams and sturdy poles.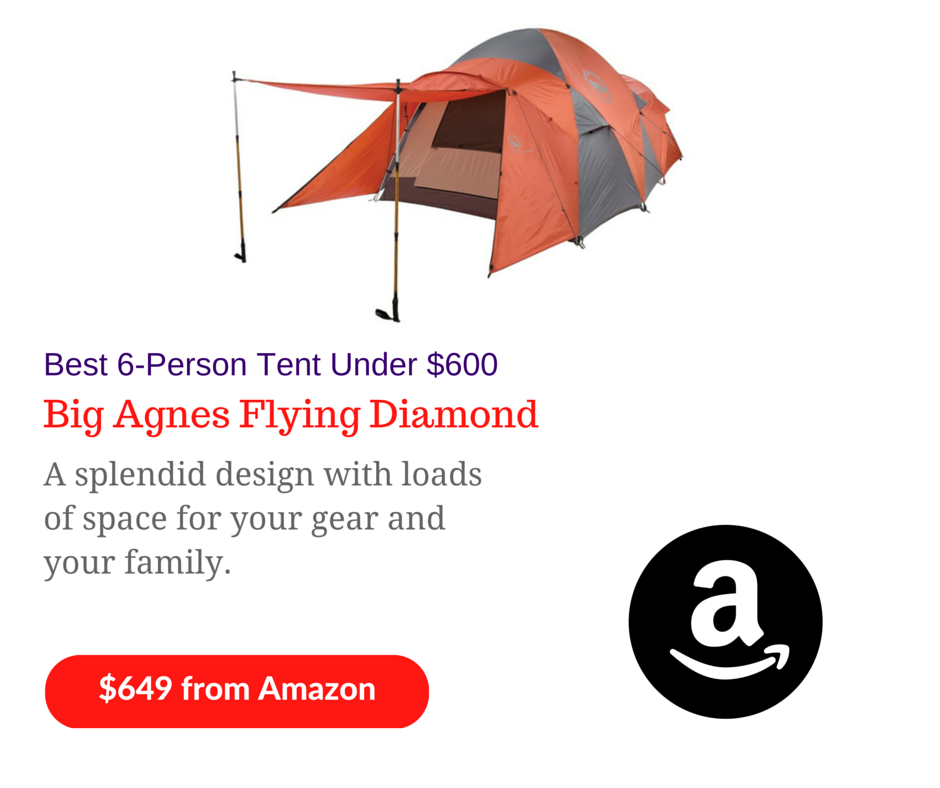 Pros
Waterproof polyurethane coating protects you from the weather

Solvent-free

Two closure options on door

Vestibule has storm flaps
Cons
Stakes may not stay in heavy winds

Not made for backpacking

Easier to set-up with two people

Pockets are flimsy
Kaiju 6 by North Face Review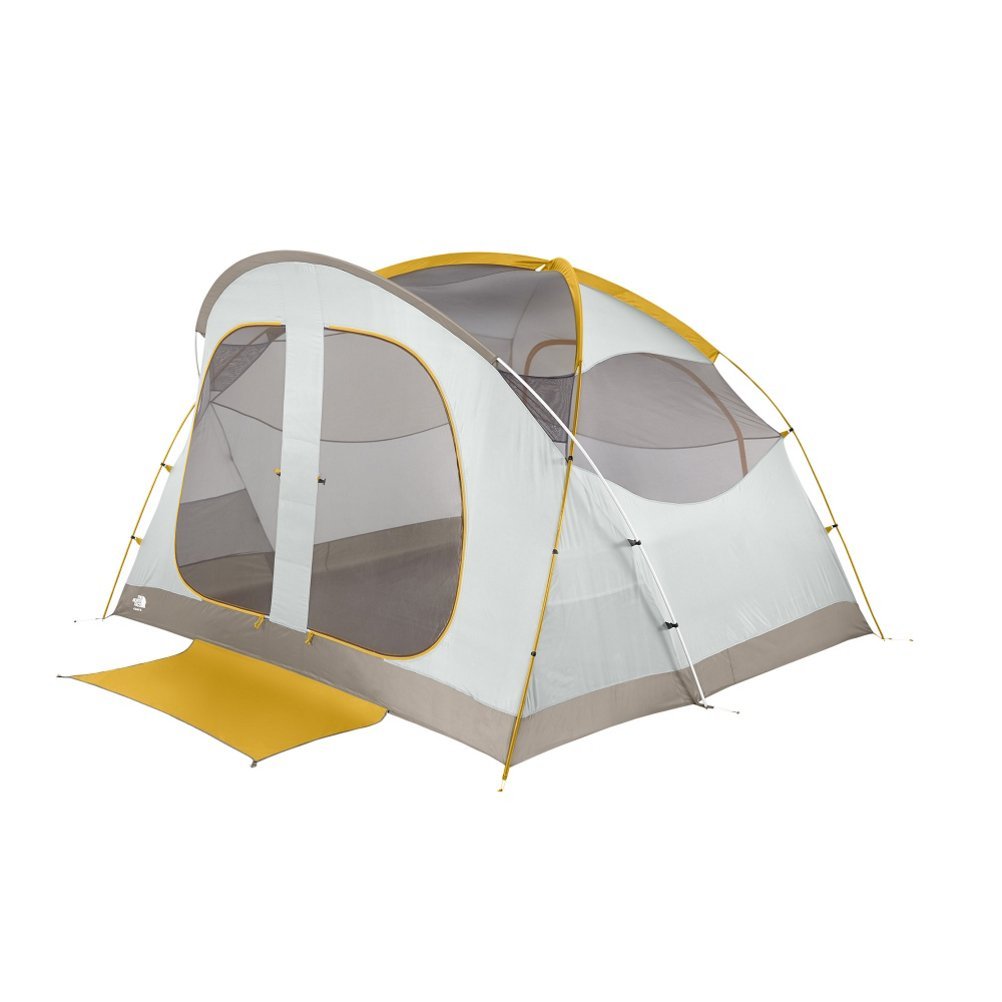 Available for $399 at Amazon.
Guaranteed to be a fun time, this easy pitch tent makes set-up a breeze, you can even include the whole family. This two door tent is spacious, with a floor area of 86.7 square feet, which makes it the perfect tent for a family of 4 with a bunch of gear, sleeping bags, or air mattresses. Plus, it's only 21.7 pounds. This makes it easy to lug around no matter where you might go. Overall, this tent is versatile and the high-quality material is durable, and should last for many years.
Pros
Color-coded poles make set-up easy

Enough room to stand up

Mesh pockets for tablets or other gear

Full rainfly makes it waterproof

Large sunshade is great in all types of weather

Fabric doorstep keeps the dirt out
Cons
Tight squeeze for 6 people with gear

Too much ventilation on cold nights
Limestone 6P by Marmot Review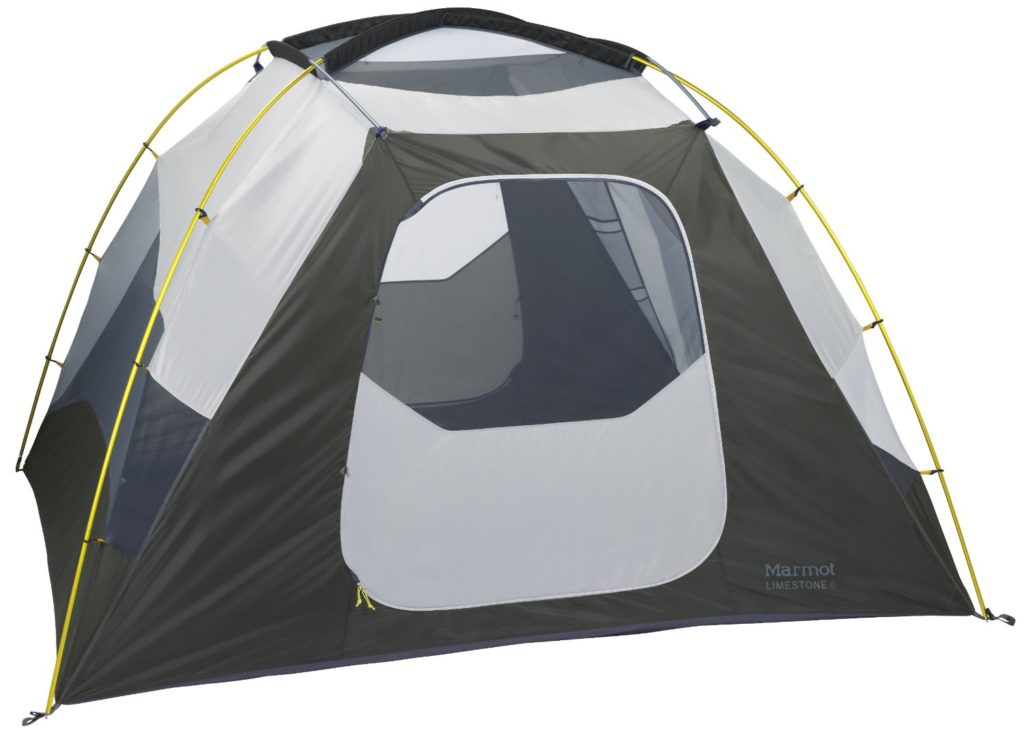 Available for $462 on Amazon.
This three season tent has two doors and two vestibules, which makes living with others that much easier. Setting up this tent can be a fun family activity, as it has an easy pitch design. It even has enough for the largest member of the family, with dimensions of 76 x 100 x 120 inches of room. Also, it's great for portaging as it only weighs 17.25 pounds. Thy nylon material is durable, it has a coated polyester rain fly and fully taped seams that ensure this tent is waterproof and breathable.
Pros
Color-coded poles, clips, and sleeves

Vestibules are a great place to store your gear

Reflective points prevent tripping in the dark

Large family members can stand-up

Can withstand wind and rain
Cons
Must keep gear in vestibule if you want to fit 6 people

Not All Season
Halo 6P by Marmot Review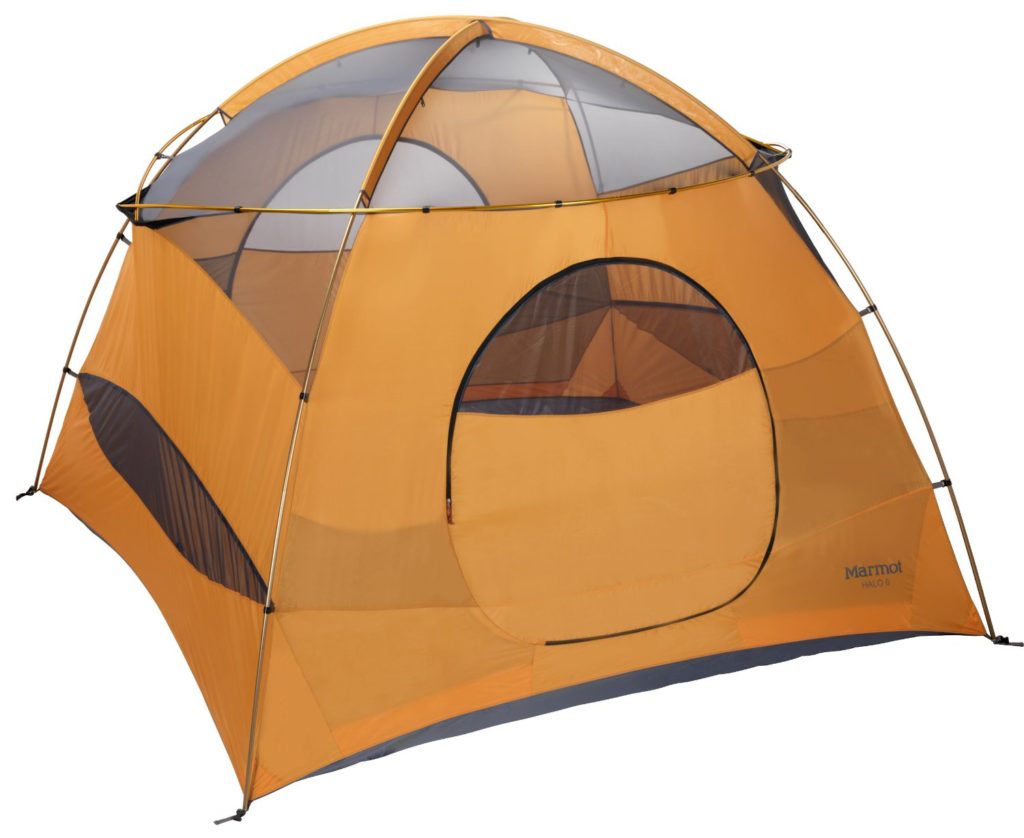 Available for $529 on Amazon.
Take advantage of the extra-large interior space in this tent, holding 6 people comfortably plus the gear. The sturdy design can withstand all types of weather, from rain to the wind, keeping you dry. The double-door and two vestibules make for easy entry and allow the tent to breathe. Even if you are stuck inside this tent all day, the 81 x 120 x 120 inch space, will have you playing cards or another game in style.
Pros
Room for an adult to stand

Side air vents provide circulation

Tons of pockets for gear

Rainfly makes the tent waterproof

Open roof is great for looking at the stars
Cons
Set-up can be a bit tricky

The guy-lines could be relocated

Can be a bit drafty when it's windy out

Straps and seams show wear and tear over time
Tensleep Station 6 by Big Agnes Review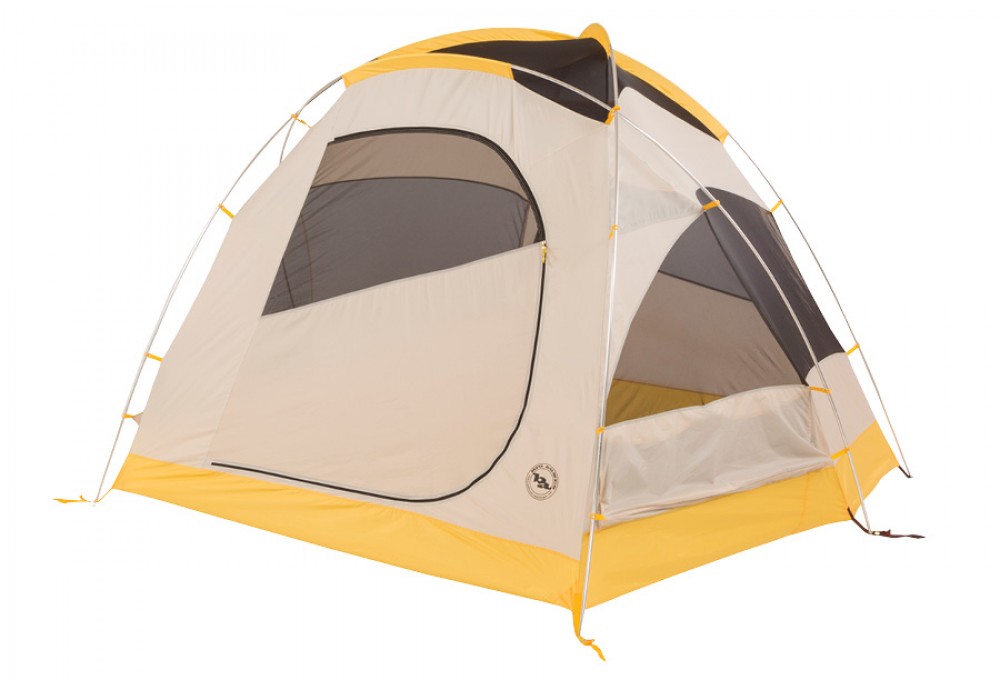 Available for $499 on Amazon.
This tent was designed with a family in mind, with dimensions of 96 x 122 x 115 inches, it has lots of space and a few special features. First, the front vestibule can be zipped up to create a porch that is screened in. Making a wonderful place to read a book or sip a cup of coffee while your family sleeps inside. On the other hand, the two vestibules can be used to store your gear. With two doors and a couple of mesh windows, this tent has great ventilation.
Pros
Lots of room to stand and move around

Great for backpacking or carrying around

Waterproof and durable

Color-coded poles and clips

Lots of room for people and gear
Cons
Two people needed to set-up this tent

Tent can be too big for some camping sites

Must watch out for guy lines and poles
Kelty Trailridge 6 Review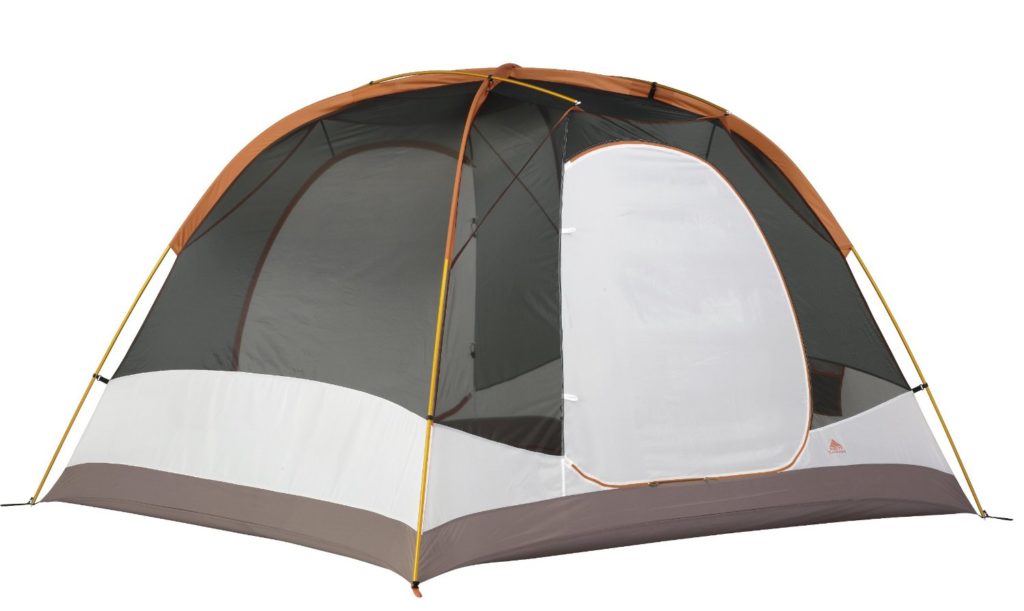 Available for $399 on Amazon.
With dimensions of 96 x 120 x 72 this tent has plenty of room for the whole family to relax and get a good nights sleep. Plus, the unique configuration of poles allows the tent to form a dome shape providing more livable room. What makes this tent ideal for families is the two large vestibules for storage, the gear loft, and the pockets on the inside. Not to mention, the quiet zipper pulls. You don't have to worry about waking anyone else up when you leave the tent to go to the bathroom or when you awake early in the morning.
Pros
Mesh windows for ventilation

Waterproof features like a rainfly

Clip-and-pole-sleeve system makes it easy to set-up

ArcEdge floor prevents water build-up

Just 13 pounds
Cons
Tight quarters for six adults

Low-quality stakes

The rainfly could be larger
Kelty Grandby 6 Review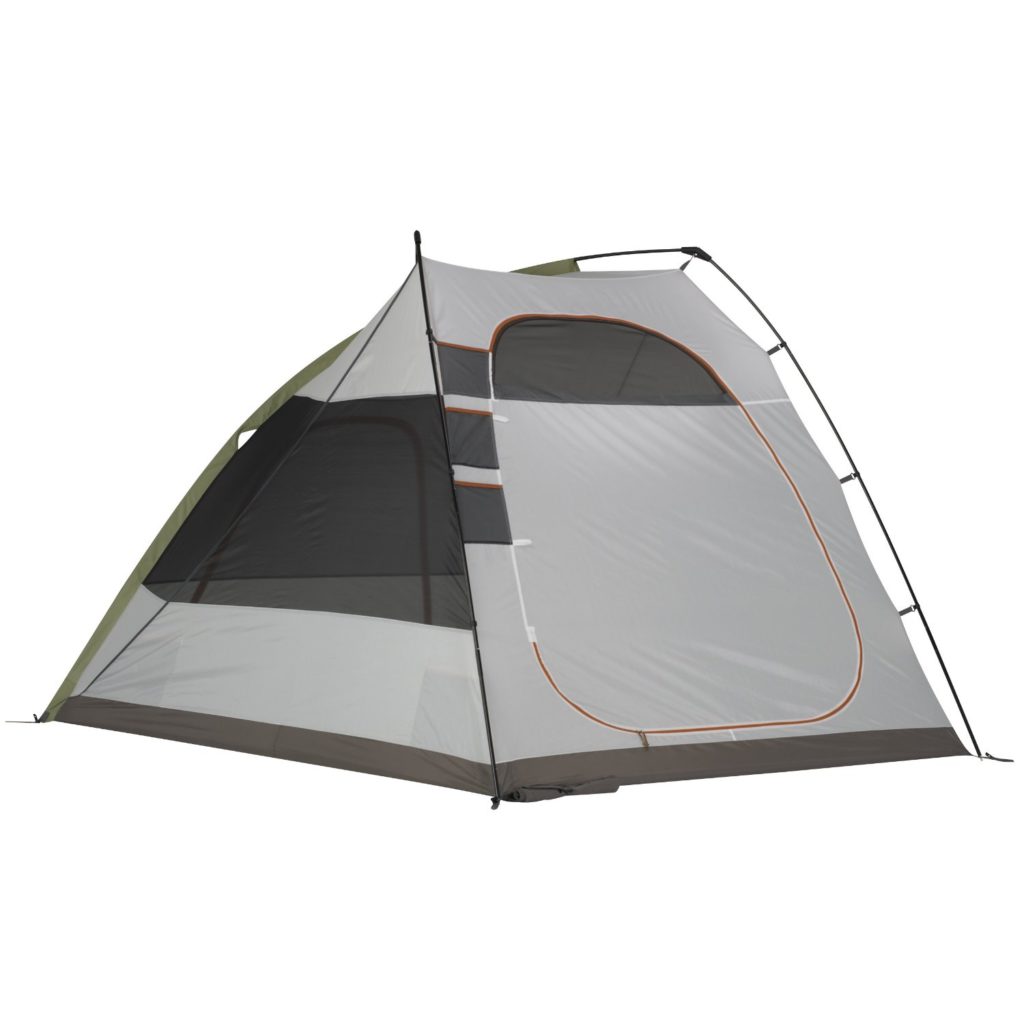 Available for $354 on Amazon.
This tent was made with a family in mind, especially one with small children. The gear loft helps you stay organized, but it also helps keep things out of reach like bug spray, medications, or sharp objects. The two doors and vestibules also give extra space for gear or just room to lounge. The large interior, with dimensions of 120 x 99 x 75 inches, gives enough space so you are not stepping on anyone when you step out.
Pros
Clear windows that are welded

Noiseless zipper pulls

Closeable mesh windows

Continous pole-sleeve system makes for easy set-up

Waterproof rainfly and tent

DAC Hybrid poles are durable and flexible

Mud-mat that rolls up
Cons
Just 3 season

Must be aware of all guy-lines and poles

Takes two people to construct
How to Choose the Right 6-Person Family Tent
Choosing the right tent can be easy if you know what you are looking for. Tents should have a waterproof rainfly, ventilation, and enough room for your whole family and gear. Most six-person tents are better for small families of four with luggage, as this allows all adults to sleep without being shoulder to shoulder. If you are uncertain, measure your mattresses and gear to determine how much room you actually need before you invest in a high-quality tent.
Tenting can be done by both the beginner to the outdoor adventurer, no matter what gets you out in nature having the right shelter will make all the difference. Hopefully, this review will help you purchase the right six-person tent for you.
Camping has always been a great way to get outside and enjoy the great outdoors with your family. There are many different ways to camp, but to really get in tune with nature, tenting is the way to go. It is important to have the right tent, especially when it comes to the ease of set-up or waterproof features, as the wrong tent can lead to wet and cold nights.
With many different models and styles of tents on the market, choosing the right tent can be challenging. I have compared the best 6 person tents out there and found that there are many key differences between the brands, from storage options to the overall quality.
Important Tent Features
The most important thing, in my opinion, is the dimension (L x W x H) of the tent. This is vital to determine if your sleeping bags, air mattresses, gear, and six people will all fit in the tent.
The second most important thing to consider is how the tent will stand up in all types of weather. Ventilation is key in the hot weather, and the more doors, windows, or mesh lining on the tent, the more breathable it will be. Furthermore, the tent must be waterproof and be able to stand up to all types of weather, from high winds to rain, sleet or even hail. However, most tents are only made for 3 seasons, which is not ideal for use in the cold winter months or in the snow.
Tips and Tricks on Tenting
To ensure that you can survive any type of weather, including torrential thunderstorms, you need to know some facts about tents.  To make sure your tent is completely waterproof, you need to follow some simple tips:
1. Make sure that you have a tarp laid out beneath your tent.
2. Ensure you pick the right spot to set up your tent. A gentle slope with no rocks is ideal, as the water will not pool up, but drain away.
3. The rainfly should not be touching the tent, as it drains the water away from the door.
4. When setting up your tent and rainfly, make sure that the fabric is not stretched too tight, this will prevent rips, tears, and potential leaks.