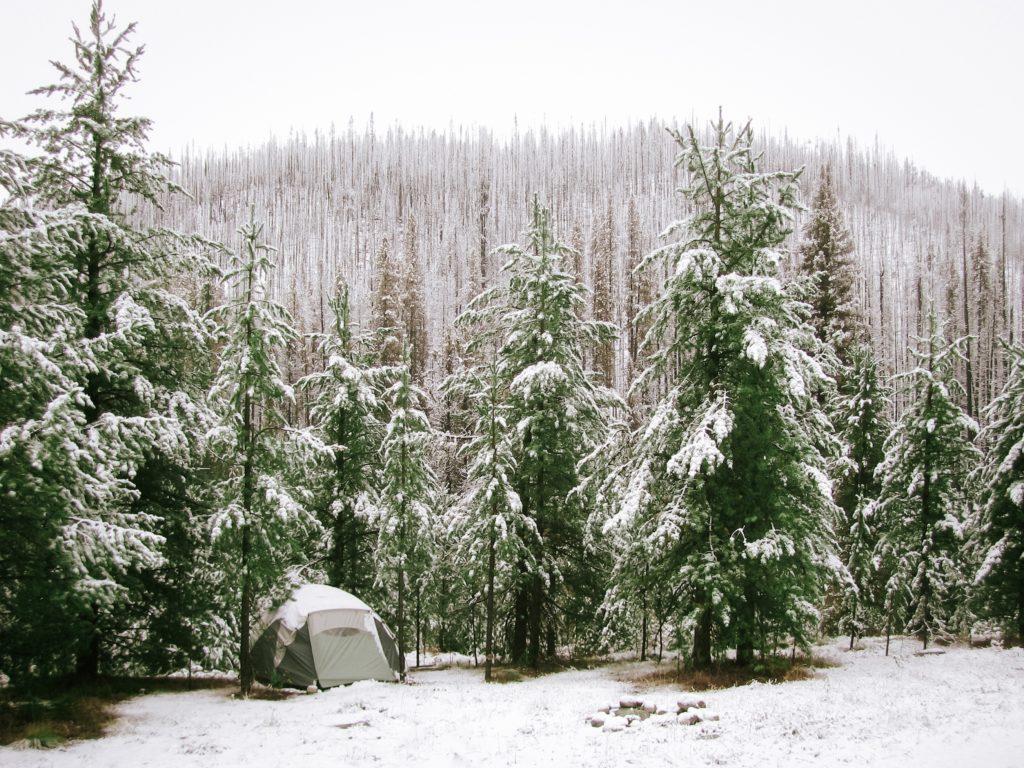 My husband and I have taken our kids on several winter camping trips by accident; meaning we did not pay much attention to the weather forecast in March and woke up to snow on the ground. My kids have fond memories of the times this happened, which led me to think that perhaps we could give true winter camping a try.
There are some great benefits to camping in the winter, one of which is the opportunity to enjoy the outdoors without crowds. I am not one of those people that love winter camping, though the reality is that I can't say that I have ever been truly prepared for such an adventure.
Fortunately, with some research I am able to learn how to do this right. I am hoping these tips for winter camping with kids will help others who are looking to give this a try.
Here are 10 tips for winter camping with kids:
1. If there is snow where you plan to set up your tent, pack it down before laying down your tarp or footprint.
Should your adventures include snowshoeing, strap them on as a quick way to pack down the area where you will set up your tent. If you don't have snowshoes with you, work together with your family to pack down the area with your waterproof boots.
2. Camp in a four season tent.
Four season tents may be single or double walled. Single wall tents are typically lighter and easier to set up, however double wall tents tend to be more durable and warmer. In our case, where I don't envision us doing long backpacking trips in the snow anytime soon, a double wall four season tent is the best option to keep us comfortable in the cold weather. Of course as with any camping that we do, we will want to make sure we have a tarp or footprint to set the tent up on.
3. Sleeping Pads are a Must.
When camping in the winter the ground will be cold. A sleeping pad (or two) will keep you off that cold ground and help you stay warm.  You can even layer blankets on top of the sleeping pad.
4. Make sure you have a sleeping bag rated for low temperatures.
It is recommended that you use a bag that is rated ten degrees lower than the coldest temperature you anticipate. Should you want to give winter camping a try before investing in new sleeping bags, another option is to rent sleeping bags that are appropriate for the cold weather. You can also bring blankets to lay on top of the sleeping bags. We have a few amazing wool blankets that will do the job. Sleeping bag liners are also something to consider for extra warmth. Some folks choose double sleeping bags in order to take advantage of one another's body heat. This is not a bad opportunity to get in some extra cuddle time with your kids!
5. Dress Appropriately.
When winter camping some planning is required. When heading to bed, put on your long underwear as a bottom layer and don't forget to wear a warm hat. Thick, warm socks are nice too. Depending on the temperature during the day, you might want to keep the long underwear, thick socks and hat on. And make sure everyone has waterproof boots!
Make sure to bring extra clothing, underwear and socks. With wet and cold conditions it is easy for one to get wet and stay cold. If you get wet, you will want to change immediately to retain your body heat.
6. Plan to make foods that will warm you up.
This is the time for chili, soups or stews. Make sure to bring coffee, tea, and/or hot chocolate, depending on your preferences. This will taste great and keep you warm. And the kids will likely be very excited at the prospect of hot chocolate. You will want to bring along some mugs with lids to keep drinks warm as they will cool down fast.
7. Make sure your meals are geared toward proteins, fats and carbohydrates.
When camping in the winter, your body needs extra calories to keep itself warm as well as to participate in the activities that you enjoy. Should you be snowshoeing for example, you will be using a lot of energy and need to replenish during and after your activity. To ensure you get enough protein, make sure to eat plenty of meats, dairy and eggs. Nuts and meats are good fats that are helpful for keeping up your energy. Carbohydrates like legumes, vegetables, nuts and breads are also good for energy.
8. Bring camping chairs.
When it is time to sit around the campfire (and in the cold you will certainly want a campfire), chairs will keep you off the cold and likely wet ground.
9. Have enough flashlights and headlamps to go around.
In the winter, it will get dark early. You will likely be doing some cooking in the dark, building your campfire in the dark, etc. You will want to be sure to have the ability to get things done, as well as enjoy reading or playing games in the relative warmth of your tent.
10. Make sure to bring activities to do after the sun goes down.
I am usually not able to fall asleep at five or six pm, and I doubt I am alone. There will be at least a few hours to fill with activities in the dark when camping in the winter. Make sure to bring books, a deck of cards, board games, a journal, art supplies, etc. Have your children choose a few toys to bring to keep them busy.
Ready for Adventure
These are the basics and are meant for camping where there is no backpacking involved. My family is not there yet. Taking the time to learn more about preparation has helped me to gain confidence in our ability to camp outdoors in the winter, avoid a lot of complaining from my kids AND even have some fun.